New ropes course brings people together through challenges
STOUGHTON — A new UW–Madison ropes course in Stoughton helps build community while challenging individuals to learn their limits, as they walk a catwalk 40 feet in the air, navigate a rock-climbing wall or fly along a zipline.
The course was built in a collaborative effort between the Division of Student Life, the Adventure Learning Programs (ALPs), and the Physical Sciences lab.  The course will be administered by ALPs, a student organization at UW–Madison.  ALPs provides free teambuilding and high and low ropes course workshops to UW–Madison students.  They also provide programming for a fee to non-student groups.
"ALPs serves UW by helping people discover more about themselves and one another, as well as build community and connection on campus and create a more inclusive space for all people," said Mo Kappes, advisor to ALPs.
ALPs is a sponsored student organization in the Center for Leadership & Involvement. On Friday the course hosted a grand opening where students, staff and faculty tried the various elements.
UW students hired as ALPs facilitators will lead the workshops scheduled throughout the season and work with groups to ensure safety and fun.
Facilitator Isabelle Johnson, a sophomore, said she enjoys working for ALPs because of the role she gets to play in helping establish coherency and closeness within groups. Johnson also said it's nice to see everyone take a role of their own and how different people can come together through the workshops.
"My favorite part of working at the ropes course is after a workshop we'll do what's called a 'debrief' and talk about how the communication and team-building skills they utilized in the workshop applies to their real lives," Johnson said. "Once we had a group of third and fifth graders in a workshop and they just had so much insight, and it's really cool to see how people can come in and grow here."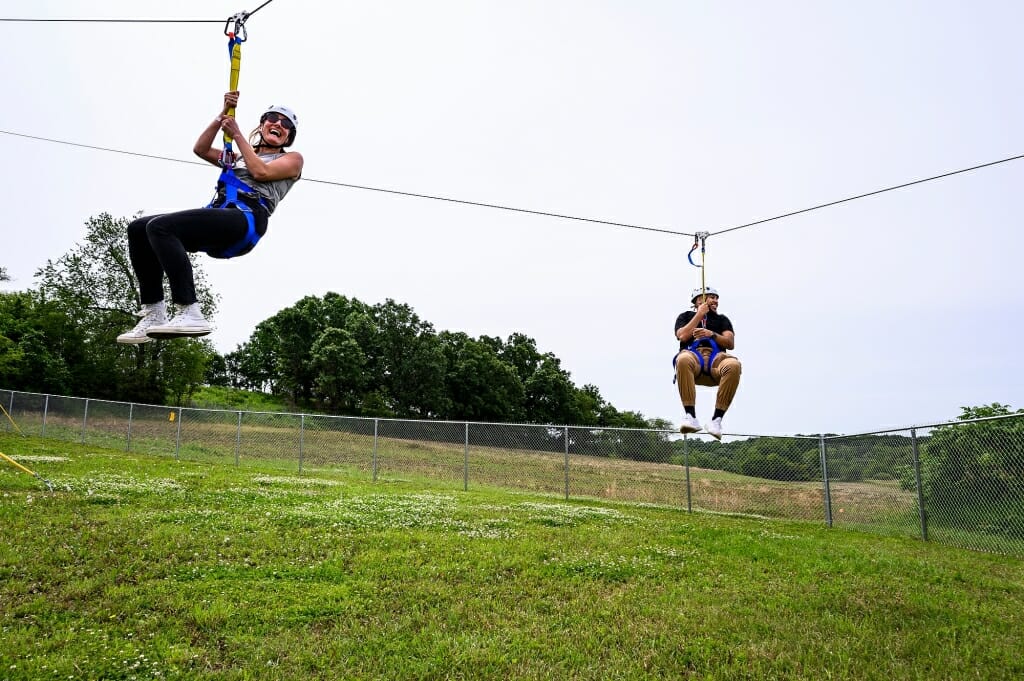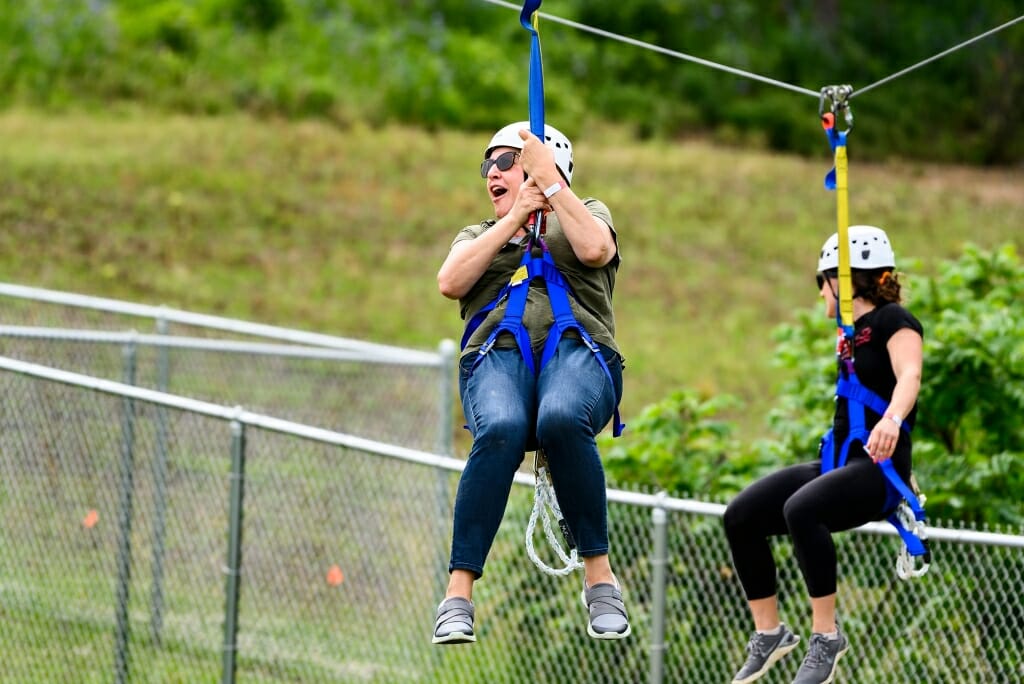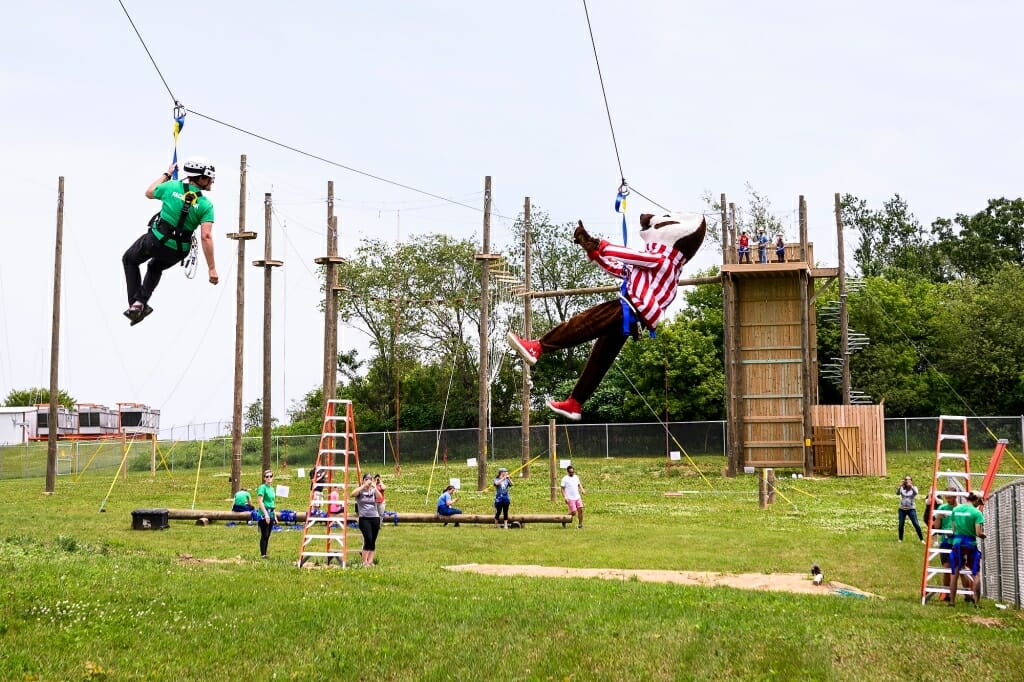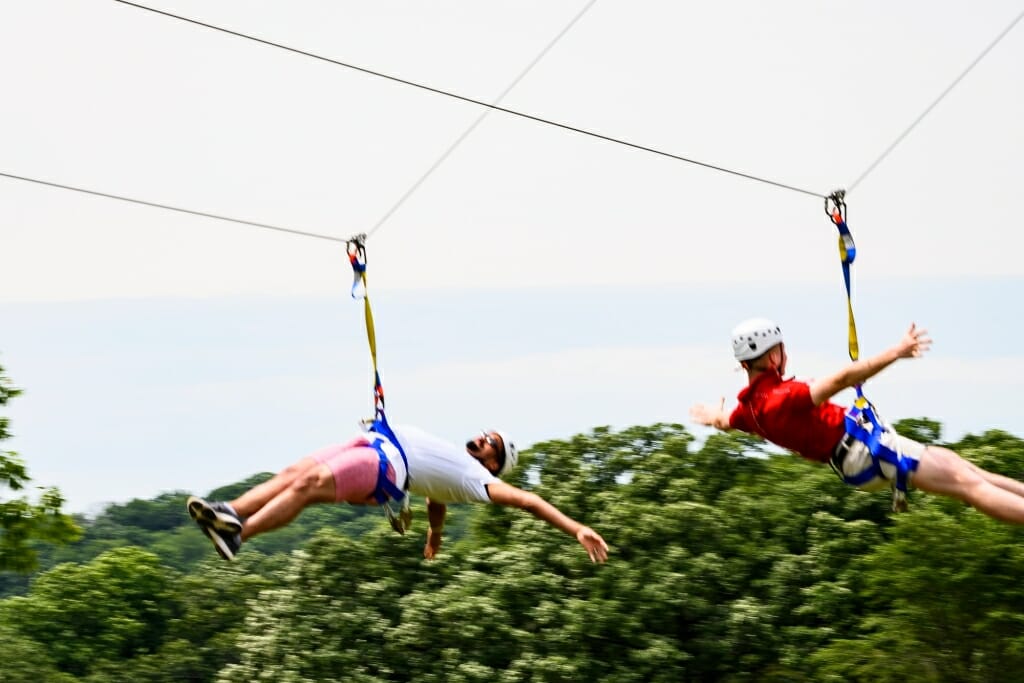 UW senior and ALPs Facilitator Leah Shapiro said she likes seeing people gain a different view on what leadership can be and push past their comfort zone to try something new.
"One of our mantras is 'choose your challenge' which really means everyone is supposed to challenge themselves to their own level and hopefully step out of your comfort zone but not into a panic zone," Shapiro said.
Shapiro said ALPs workshops try to eliminate any competitiveness and use the time as a chance to build cooperative skills and for groups to work together in a more compassionate way.
A large purpose of the workshops that take place on the ropes course is to build resilience, Shapiro said.
I tested several of the elements on the course, from a walk across floating platforms (called "islands") to climbing the rock wall to get to high-five Bucky Badger, before being sent down the zipline. My favorite element was the quadrophenia —  one to four people climb to the top of a 25-foot vertical telephone pole and stand on top of the pole together.  If possible, they hold hands and lean out in a star-like configuration.
The experience brought me very close both physically and emotionally with the other members of my group by attempting to balance ourselves on the small platform at 25 feet.
To learn more about the Adventure Learning Programs (ALPs) , the high ropes course, and the programming available to your organization or group, visit the website or email alps@studentlife.wisc.edu.