New, innovative School of Nursing building opening for fall semester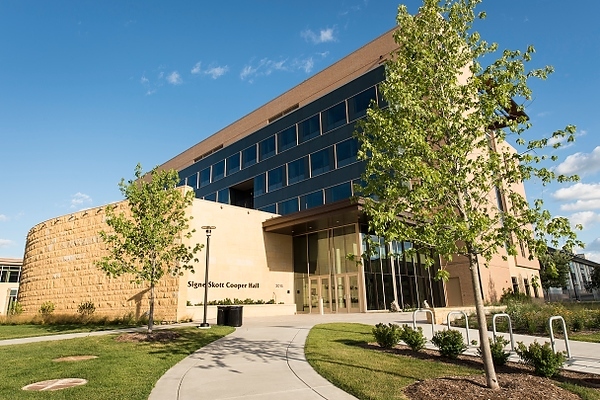 The 166,348-square-foot, $52.8 million Signe Skott Cooper Hall, the new home of the School of Nursing, will be dedicated in a ceremony Saturday, Aug. 23.
Photo: Jeff Miller
Signe Skott Cooper Hall isn't just a new building. It's a place where students at the University of Wisconsin–Madison's School of Nursing will learn using the latest technology.
"Our focus here is not so much technology for its own sake but rather tools that make teamwork and collaboration easier," says George Jura, director of academic technology for the school.
The 166,348-square-foot building, located at 701 Highland Ave., opens to students this fall with a dedication Saturday, Aug. 23. Tours will be available from 9 to 10:45 a.m. with the official dedication at 11 a.m.
It is named after Signe Skott Cooper, who devoted more than 60 years of her life to nursing education at UW–Madison and within the UW System. In 2000, Cooper — a UW–Madison graduate — was inducted into the American Nurses Association Hall of Fame. In 2003, Cooper was named a "Living Legend" by the American Academy of Nursing. She died July 16, 2013, at the age of 92.
Signe Skott Cooper
The $52.8 million, five-story building is located just south of the School of Pharmacy. General Fund Supported Borrowing accounted for nearly $35 million of the cost, with $18 million in private funding.
The space includes 34 interactive student tables in the building's active learning classroom complex (ALC). Each table will seat nine students and is equipped with power and data access for student laptops, a large flat screen for projecting images from them or from the instructor's computer, a video-switching panel and microphones. The state-of-the-art facility is designed to support 30 percent growth in faculty numbers, research programs and enrollment.
One of the largest known active learning classrooms of its kind, the ALC provides the environment and technology for students to develop the skills necessary to work effectively in teams, and to quickly analyze, discuss, understand and solve complex, real-life challenges in health care.
"High-performance teamwork among nurses, physicians, pharmacists, other health professionals and family members is necessary in this complex health care system, not only to improve outcomes, but also to prevent harm," says Katharyn May, dean of the School of Nursing.
A usable green roof covered with plantings is one of the features of the new nursing building.
Photo: Jeff Miller
Similar to the ALC, Cooper Hall's Center for Technology-Enhanced Nursing, or CTEN, offers students and faculty the best available tools for engaging, team-based, interactive, problem-focused learning. CTEN helps to prepare students for high-pressure, complex care situations where the consequences of nursing decisions are very real.
The simulated hospital suite features four fully equipped hospital rooms with five high-fidelity human patient simulators that can stand in for patients at different stages of life — from birth and childhood to adulthood and advanced age. Each simulator can play out one of more than 80 scenarios developed by teams of nurses, physicians and pharmacists, to which students must respond in real time. What students decide, say and do is simultaneously recorded by three cameras placed at different angles in each hospital room and a camera next to the nurse's station so that no detail is missed.
"Our focus here is not so much technology for its own sake but rather tools that make teamwork and collaboration easier."
George Jura
The simulated hospital suites, along with the simulated home environment and eHealth laboratory, address health care's new standard of excellence: team-based, patient-centered care that stretches from the first clinic visit or hospital admission to in-home monitoring, encompassing the entire continuum of care. Research shows that students whose education includes simulated clinical experience score higher on tests, and do better in real life situations, than students whose learning takes place in more traditional and less engaging classroom settings.
With its open, airy design, Cooper Hall was expressly designed to promote faculty and student interaction and collaboration. It meets the highest current standards for green engineering and sustainability and includes a 300-seat auditorium, high-tech conference rooms, dozens of project offices, a usable green roof, and many flexibly designed spaces to accommodate the work of faculty and students.
As one of the most innovative and advanced teaching and academic research facilities in nursing across the nation, May says, Signe Skott Cooper Hall ushers in a new era of possibility in nursing and health care at the UW–Madison.
"Nursing's powerful story stretches behind us and we use that inspiration as a way to take innovation and excellence forward," the dean says.
—Mary Anderson