New initiative to boost middle class in Dane County announces finalists
UW–Madison has chosen three finalists for a national competition seeking ideas to expand and strengthen the middle class in Dane County and beyond.
Last April, Schmidt Futures, a venture facility for public benefit founded by Eric and Wendy Schmidt, awarded UW–Madison $1.5 million to produce innovative ideas over two rounds of competition for increasing the net income of 10,000 Dane County families by 10 percent. The project is known as DreamUp Wisconsin, and is part of Schmidt Futures' Alliance for the American Dream.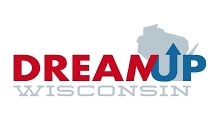 The university solicited proposals requiring partnerships between the campus and community. After review by a 12-person committee made up of community leaders and university faculty and staff, three finalists were chosen to pitch their ideas in Phoenix on Jan. 29. Schmidt Futures has committed to further support the efforts of at least one team from each of the four partnering universities: UW–Madison, the Ohio State University, Arizona State University, and the University of Utah. The winners will be given the chance to further develop their plans and compete for funding to support a full-scale implementation in summer 2019. A second round of competition will take place beginning in early 2019.
DreamUp Wisconsin will host a showcase later this winter to celebrate advancing teams and promote the range of high-quality proposals in this year's challenge, with the goal of securing alternative funding and resources for those ideas.
The finalists 
"LIFT (Legal Interventions for Transforming) Dane," Legal Action of Wisconsin, UW Law School, and Employment and Training Association (EATA) of Dane County.  
A suite of free legal services using a data and technology-driven approach to eliminate legal barriers to employment and opportunity.
"Thousands of Dane County households are weighed down by fixable civil legal problems—such as suspended driver's licenses, consumer debt, child support arrears, and criminal records—that prevent them from advancing in the workforce, securing housing, and stabilizing their families. LIFT Dane will make data about these problems accessible to everyday residents; conduct holistic legal checkups to identify problems with legal solutions; and connect people to free legal aid to address these fixable legal problems. By removing barriers to finding and retaining a job, LIFT Dane's low-cost, high-impact, tech-driven vision will boost local incomes, transform the middle class, and become a national model," said Vicky Selkowe, Director of Legislative, Rulemaking & Training Compliance at Legal Action of Wisconsin.
"We Care for Dane Kids," the Wisconsin Early Childhood Association, Reach Dane, the UW Schools of Social Work and Education, the City of Madison, and Madison Out-of-School Time.
A multi-pronged approach to transforming the early childhood and after school care sectors that would supplement income for workers and child care costs, reduce operating expenses for facilities, and create a child care benefit program.
"Child care and out-of-school time care is expensive and hard to find, but absolutely essential to how our county's economy functions.  Despite the critical role this sector plays in our community, the workers who do this work still don't earn enough. The DreamUp challenge brought us together to find ambitious solutions to the dramatic under-investment in child care and out-of-school time. We are excited about the opportunity to solve these problems that impact so many households in Dane County," said the We Care for Dane Kids team.
"EARNDane," Urban League of Greater Madison, United Way of Dane County, Latino Academy of Workforce Development, Dane County Human Services, Workforce Development Board of South Central Wisconsin, Common Wealth Development, American Job Center Network, Dropp, American Family Insurance, the City of Madison, and the UW Center for Financial Security.
A program to help employees advance in their jobs, EARNDane will develop an app that is "part LinkedIn for entry-level workers and part FitBit for your finances" to help those on the cusp of the middle class build their professional networks and make career and financial empowerment plans. The app will be supported by a robust engagement campaign that leverages the extensive reach of the Dane County Employment & Training Network, area employers, and the partners listed above.
"EARNDane's plan to combine the strengths of our community-based partners with technology and innovation is an exciting opportunity that can support our company's workforce development, diversity and inclusion strategies," said Sarah Condella, Senior Vice President for Human Resources, Exact Sciences.
"DreamUp is a shining example of the Wisconsin Idea in action – a true university-community partnership to improve the well-being of Wisconsin residents, with high potential to produce innovative initiatives that could be implemented in other places around the country," says UW–Madison Chancellor Rebecca Blank. "I was pleased to see so many first-class proposals submitted in partnership between community organizations and UW employees. Choosing among these proposals was a daunting task, as so many held promise to substantially benefit our community. But I believe we have selected three proposals that address serious problems in very different domains and that have a high probability of success if implemented in the community."
Lawrence Berger, director of UW–Madison's Institute for Research on Poverty, added, "We look forward to working with the three finalist teams to prepare for future rounds of competition and, we hope, implementation at scale. More importantly, we also plan to continue working with the many incredible teams who participated to further refine and seek resources to implement their proposals, whether as pilots or at scale. We are also excited to learn more about the second Schmidt Futures challenge, which will be announced this winter."
For more information on DreamUp Wisconsin, visit https://www.irp.wisc.edu/dreamup/.
For more information on the Alliance for the American Dream, visit https://schmidtfutures.com/our-work/alliance-american-dream.
For more information on Schmidt Futures, visit www.schmidtfutures.com.