New faculty focus: James H. (Jay) Ford II
Title: Assistant professor, Social and Administrative Sciences Division, School of Pharmacy
Hometown: Rome, Georgia
Educational/professional background: I am a trained health systems engineer. I have worked in acute health care settings and more recently in behavioral and long-term care. Over the years, I have served as a process improvement coach to over 150 substance abuse and mental health providers and taught staff how to apply quality improvement tools and techniques to improve systems of care. I am a Fellow in the American College of Healthcare Executives and a Life Fellow of the Healthcare Information and Management Systems Society.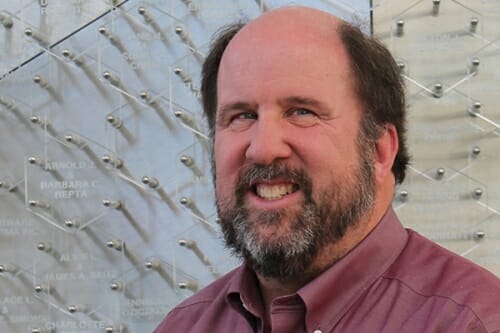 Bachelor of science in health systems engineering, Georgia Institute of Technology, 1983. Master of science in industrial engineering with engineering management focus, University of Tennessee, Knoxville, 1989. Ph.D. in industrial engineering, University of Wisconsin–Madison, 2004
Previous position: Associate scientist, Center for Health Systems Research and Analysis, University of Wisconsin–Madison
How did you get into your field of research? I spent 17 years working for the Baptist Memorial Health Care System in Memphis, Tennessee. While there, I was able to work directly with Dr. Harold Dickson, one of the most brilliant individuals I have ever met or worked with. He had a vision for improving health care through a multifaceted health services research perspective. As a health systems engineer, I was able to apply my skills and expertise to improve existing and establish new systems of care. These experiences carried forward to being part of a team of UW researchers who established the Network for the Improvement of Addiction Treatment. NIATx was a unique national partnership between the Robert Wood Johnson Foundation and the Center for Substance Abuse Treatment in the Substance Abuse and Mental Health Services Administration that taught substance abuse providers how to apply quality improvement to improve access to and retention in treatment. The work was a natural segue into my current research in the area of dissemination, implementation and sustainment of organizational change.
What attracted you to UW–Madison? The reputation of and opportunity to learn from the faculty, at the time, in the Industrial Engineering Department.
What was your first visit to campus like? I first visited the campus about a year before starting my Ph.D. program. On our way to visit family in northern Wisconsin, my family stopped for a visit with Dave Gustafson (my Ph.D. advisor). We picnicked outside WARF and visited Eagle Heights. It was a wonderful experience.
Favorite place on campus? Picnic Point, Memorial Union, walking in the woods near Eagle Heights.
What are you most enjoying so far about working here? The people that I have met and had the opportunity to work with on a daily basis.
Do you feel your work relates in any way to the Wisconsin Idea? Absolutely. Efforts to empower individuals to identify opportunities for change and teaching how to implement small simple changes in different health care environments represent a crucial aspect of my work. As such, they become part of the team working together to improve systems of care that we or our family members may one day need along our health care journey. To me, it represents the very heart of the Wisconsin Idea.
What's something interesting you can share about your area of expertise that will make us sound smarter at parties? Customer walkthroughs provide a unique window into how they perceive your processes and often help identify "hidden" opportunities for improvement. Try it, you'll like it because it brings a new perspective to problem identification, no matter how small, through your eyes, if they are open, as the customer.
Hobbies/other interests: Reading, traveling, gardening.