New chancellor launches 'Blank's Slate' blog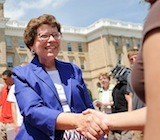 UW-Madison Chancellor Rebecca Blank today launched a new blog on her official UW website to stay in regular, online communication regarding the issues the university is facing.
"Blank's Slate" will be updated several times a month. Her first post covers her first week on the job and the challenges ahead.
"Building relationships is my top priority in the next few months," Blank writes. "That includes meeting as many faculty, staff and students as possible; starting to build relationships with leaders in the community and the state; and finding ways to connect with the many UW alumni around the globe."