Nearly 1,000 students new to UW–Madison this fall are in the first class of Bucky's Pell Pathway recipients
For a class assignment in fifth grade, Tanner Popp penned a letter to his future self. He would become a veterinarian, he wrote, and he would attend the University of Wisconsin–Madison.
"I wanted to get into UW–Madison so badly that it inspired me all through high school in everything I did," says Popp, of Coloma, Wisconsin. "I just kept pushing."
That hard work has paid off. Today, Popp is a freshman at his dream school. He's also one of 977 students new to campus this fall — 829 freshmen and 148 transfer students — benefitting from Bucky's Pell Pathway, the university's newest financial aid initiative.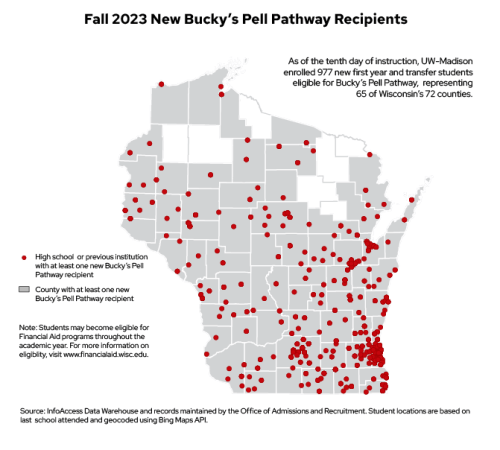 Bucky's Pell Pathway is designed to guarantee Wisconsin residents financial support — after other scholarships and grants — to cover not only tuition and fees but also housing, food, books and most other educational expenses. Eligibility is based on whether a student qualifies for federal Pell Grants, which play a crucial role in expanding college opportunity for students in low-income households.
"We're thrilled to be able to offer this pathway to a debt-free bachelor's degree to talented Wisconsinites," says Chancellor Jennifer L. Mnookin, who announced the initiative in February. "Many Wisconsin residents have the misapprehension that UW–Madison will be financially out of reach. Bucky's Pell Pathway makes sure that if Pell-eligible students do the hard work to get accepted here, we will meet their full financial need."
Stellar students
Popp is among the exceptional students in this first class of Bucky's Pell Pathway recipients.
He graduated in the top 10 of his class at Westfield High School, where he was a member of the National Honor Society. He excelled in the music program and took on numerous student leadership roles, including president of the school's drama club. Just like his fifth-grade self, he still wants to be a veterinarian.
"When I learned I'd receive Bucky's Pell Pathway, I thought, 'OK, wow, this is going to cover pretty much everything,'" says Popp. "It is such a relief. I wanted to go to a school that matches my academic needs and not have to worry about working all the time or taking out a lot of loans."
The financial boost has freed up time for Popp to enjoy more of the opportunities offered at UW–Madison. He auditioned for and was selected as a member of the Wisconsin Singers, the university's Broadway-caliber pop music ensemble — a significant accomplishment for a freshman.
Statewide representation
This year's Bucky's Pell Pathway recipients hail from 65 of the state's 72 counties — and from big cities and small towns.
Nick Kaska set his sights on UW–Madison in fourth grade when he saw a video of the UW Marching Band. He grew up in Kennan, a village of 135 people in Price County in northern Wisconsin.
"Since a young age, I've always wanted to go to college," says Kaska, who is interested in political science. "Growing up in a small town, I've always had this dream of living in a big city like Madison. I can hardly believe I'm here, and Bucky's Pell Pathway is a big reason why it happened."
Eagle Scout Noah Buendia hails from Milwaukee, where he spent considerable time these past few years volunteering all over his hometown and giving back to his community. He collected 42 bins of hygiene supplies and clothes for a men's shelter and helped nearly 100 young people register to vote. He was named the Milwaukee Boys and Girls Club Youth of the Year for his high school.
He was accepted to five other universities but chose UW–Madison in part because of the excellence of its environmental engineering program, his major.
"It's one of the top 10 public universities in the country and has one of the best engineering departments in the country," Buendia says. "And I love the culture and the social life here. You get to meet new people every single day. It's amazing."
'I've worked so hard for this'
Mattie Place, a freshman pre-business major from Platteville, was class president all four years at her high school, played flute in band, worked on the yearbook staff and participated in numerous clubs, including Future Business Leaders of America and the Fellowship of Christian Athletes.
"I've worked so hard for this," she says of her college dreams. "It's been quite a journey, but I've always put my education first."
Her family's finances haven't always been stable, Place says. Bucky's Pell Pathway was an unexpected gift.
"When I initially saw it, I was in complete shock," Place says. "I remember telling my mom, 'This is huge!' It allows me to take a deep breath and enjoy my college experience a lot more."
Aaliyah Golden-Whitehead, a freshman botany major from Kenosha, says COVID-19 hit her family's finances hard. She worked as a pharmacy technician to save money for college while maintaining a tight focus on her schoolwork and extracurricular activities. A double-bass player, she received her school's National School Orchestra Award.
"It makes me so happy that Bucky's Pell Pathway is available because there are so many students like me who need to focus on helping their families financially," Golden-Whitehead says. "They might not even think of attending college because they know what a burden it could be."
Wisconsin focus
Bucky's Pell Pathway expands on Bucky's Tuition Promise, now in its sixth year. Bucky's Tuition Promise guarantees scholarships and grants to pay for tuition and segregated fees for Wisconsin residents with household adjusted gross incomes of $65,000 or less. That's about half of the state's households. There are 884 new students on campus (737 freshmen; 147 transfer students) receiving Bucky's Tuition Promise this year.
While Bucky's Tuition Promise and Bucky's Pell Pathway have different eligibility criteria, there is significant overlap among program recipients, with some students qualifying for one of the two programs and many students qualifying for both.
"Together, almost one in four Wisconsin residents new to campus this fall will be covered by either Bucky's Tuition Promise or the new Bucky's Pell Pathway," says Derek Kindle, vice provost for enrollment management. "Our emphasis on providing access to a top-notch educational experience is helping to retain and support some of the state's most impressive students. We feel very fortunate that these students have chosen UW–Madison to continue their education."