MLK Symposium: How the right mindset can continue MLK's legacy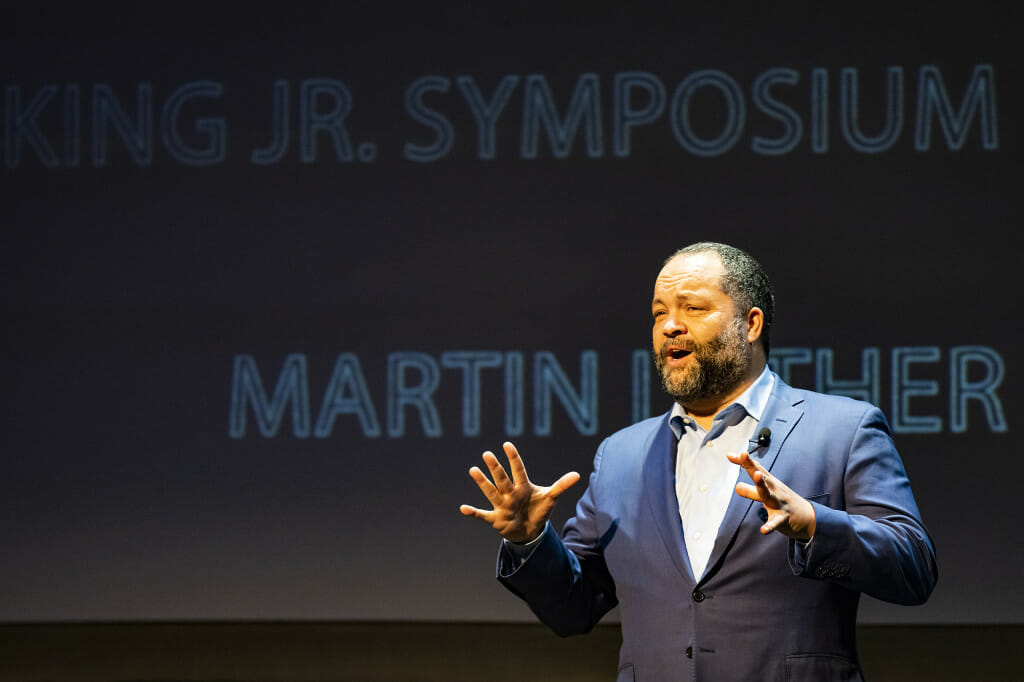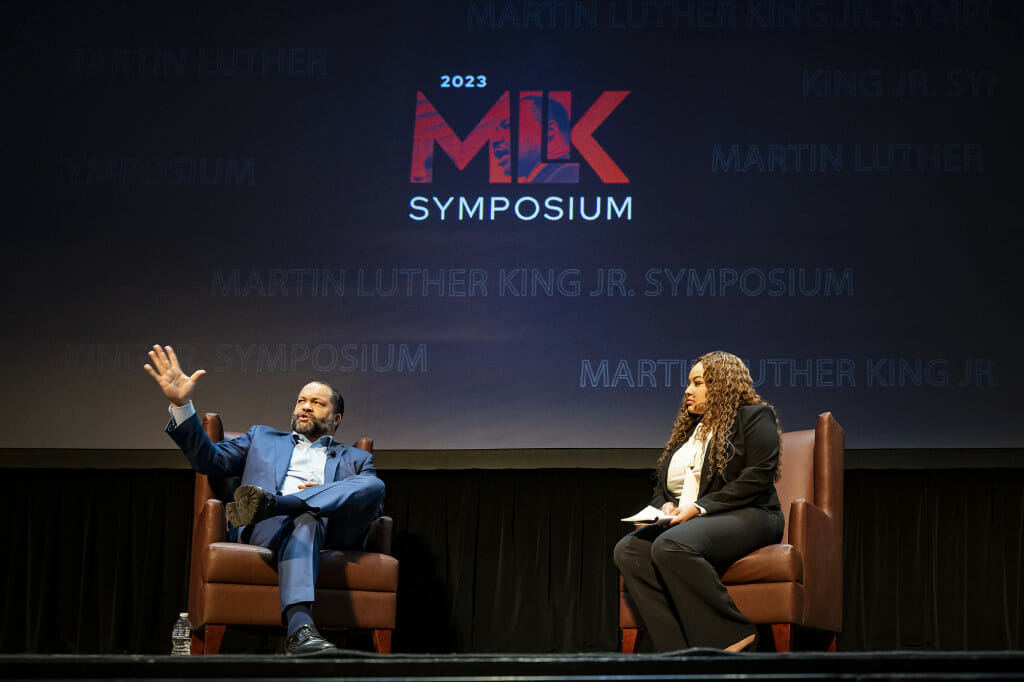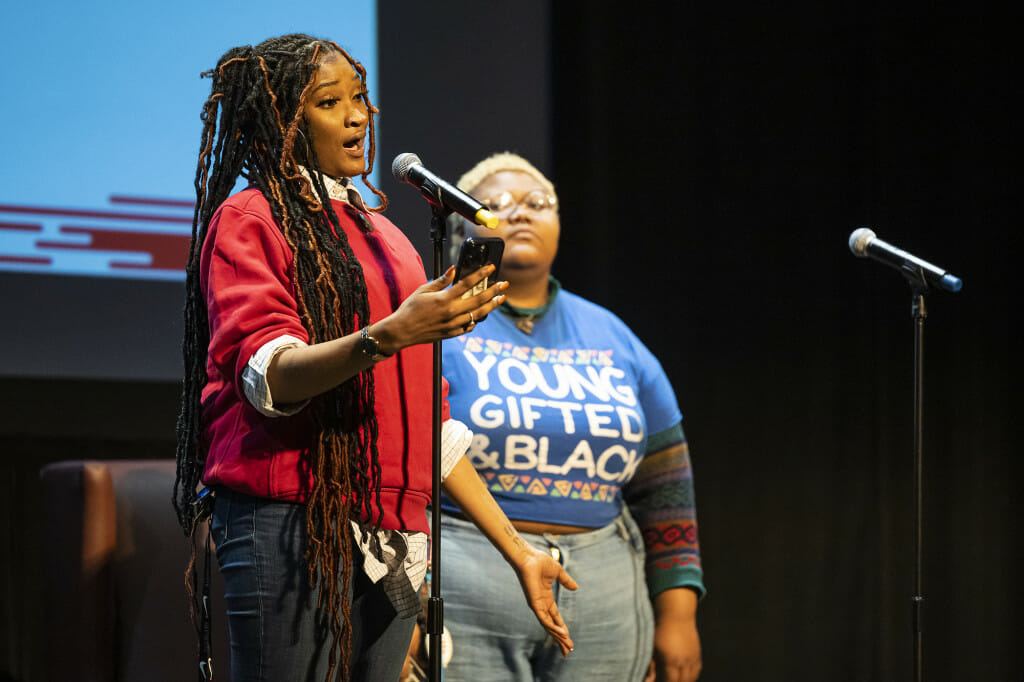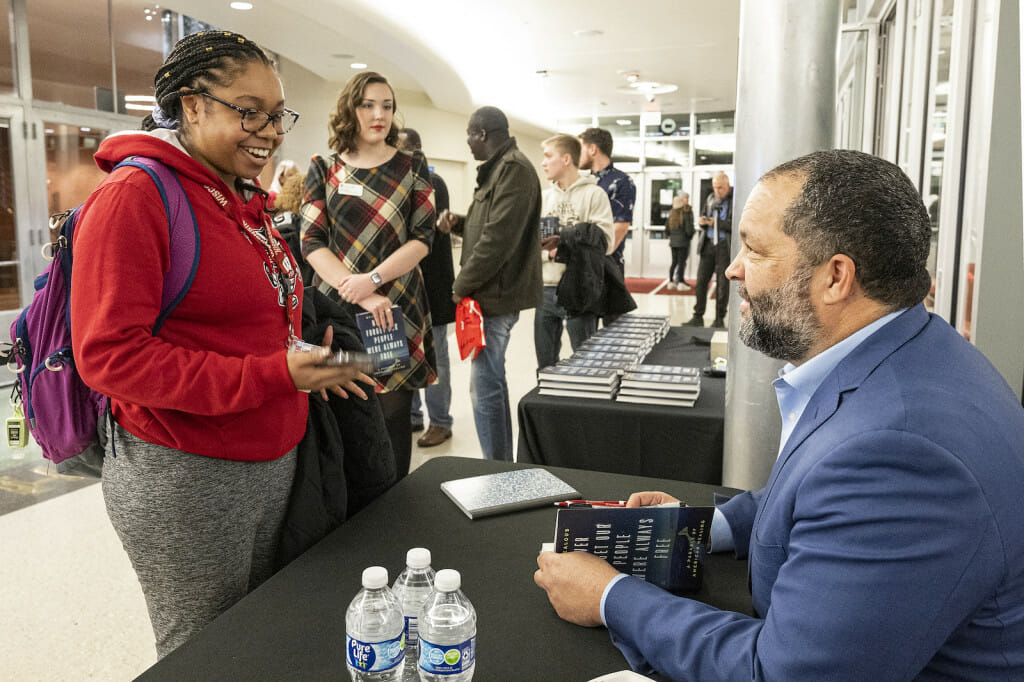 "If the mindset is wrong, the enterprise will fail."
Social entrepreneur, changemaker and former NAACP president Benjamin Jealous spoke those words as he graced the stage at Shannon Hall in the Wisconsin Union Theater for the 2023 MLK Symposium.
Hosted by Student Affairs and the Division of Diversity, Equity and Educational Achievement, the MLK Symposium's speaker is invited to connect their work and experiences to the life and legacy of Dr. Martin Luther King Jr. Students, faculty, staff, and community members gathered for the event while others watched online.
This year's event included performances by student artists in the First Wave Hip Hop and Urban Arts Scholarship Program, the only one of its kind in the country. Kai Brown from the 15th cohort and Alpha Stokes from the 12th cohort read poems focused on Black beauty, resilience and current social ills.
Jealous, a former investigative journalist and Rhodes Scholar, has dedicated his life to bringing people together, building diverse coalitions for change, and holding government leaders accountable to the needs of everyday people. Jealous said he succeeded by presenting the keys on how each of us can unlock our ability to have a maximum impact on the world for the better, and how Martin Luther King Jr.'s teachings can help us learn about which social justice issues need our attention the most.
Jealous discussed his activism as a community organizer with the NAACP and as editor of the Jackson Advocate newspaper in Mississippi, his encounters with the Ku Klux Klan and the unlikely allies that empowered his fight to build a large coalition that has successfully shrunk prison systems in parts of the South.
Jealous emphasized the importance of doing things that scare you every day because courage is like a muscle that must be exercised to become stronger. Intersectionality and interdependence can hinder a movement if not properly weaponized, he said.
"Ben Jealous reminded us that the trademark of a leader is someone who can be calm when everyone and everything else is in an uproar," said LaVar Charleston, Deputy Vice Chancellor for Diversity and Inclusion. "Because leading for justice requires successfully inspiring others toward a shared vision of equity, equality and community, Jealous' assertion that leaders must be clear about their intentions and that clarity will naturally attract other people resonated with me."
Jealous said when a person is clear about the difference they intend to make in the world, they will attract others to them who are having similar experiences. That interconnectivity that will help us all to be productive in dismantling of society's greatest social and racial issues.
This year's event concluded with a Q&A facilitated by UW–Madison journalism student and Posse Scholar Brooke Messaye.