Meet the people who make Safer Badgers work, part four
It's a big job to help keep campus safe through the pandemic.
As part of UW–Madison's Safer Badgers effort, people are needed to answer questions over phone and email, staff the testing sites, support the app, manage building access and more.
Meet some of the people who make this effort work and help keep our whole campus community safe. (For more profiles, see this.)
Kacee, DoIT Help Desk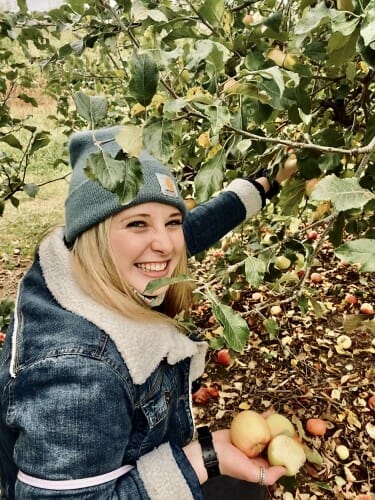 Kacee graduated with just 10 classmates from her rural high school in Kiowa, Kansas — a wheat farming town of about 1,000 just north of the Oklahoma state line. So when she walked into Camp Randall for the first time, attending her first football game as a freshman, Kacee was awestruck.
"It was so surreal to me, being in the enormous student section — and the feeling that I finally made it here," says Kacee, now a senior majoring in industrial engineering.
It was a difficult transition, jumping into a university community about 70 times the size of her hometown, but Kacee's found her second home at UW–Madison — and with DoIT's Help Desk. She enjoys the challenge of being a student team lead, helping fellow students, faculty and staff navigate technical issues, including troubleshooting the Safer Badgers app.
"It's always satisfying to resolve even the smallest of customers' issues," Kacee says. "But when I am able to resolve more complex issues, it feels so rewarding, knowing I helped someone in a way many people might not have been able to."
When she's not busy studying optimization modeling in her engineering classes, she likes to apply slightly simpler equations in the kitchen, making delicious food on a college budget. (On the menu this week? Tom yum Thai soup and bacon balsamic deviled eggs.)
Hopeful that the new testing requirements and Safer Badgers measures will soon pave the way for a more vibrant campus life, Kacee looks forward to expanding her Kiowa-to-Madison horizons even further.
"I want to attend as many local concerts as possible—or listen to live music anywhere I can find it!"
Josh, locksmith for University Housing
As a locksmith for University Housing, Josh's job involves physically securing spaces on campus—installing and repairing locks, managing masterkey systems, issuing and returning keys, and everything in between.
And with the new COVID-19 testing requirements, Josh also helps make sure Safer Badgers testing sites are up and running, by providing keys and access to these critical spaces for the staff that run them. Working on campus throughout the spring and fall semesters last year, Josh also found himself in the position of converting residence halls into isolation spaces to support students with COVID-19, finding unique solutions to lock off common areas to limit gatherings, and anything else necessary to ensure student, staff and facility security.
"I find that the variability of the challenges provides a rewarding work environment that helps me grow and become better at what I do," says Josh, who has worked for UW–Madison for two years. "I'm proud of what I've been able to do to help keep Housing operating during the pandemic. It has taken a large, skilled team to accomplish this, and I am glad to have played a part."
A flute player since high school, Josh has a bachelor's degree in music education from Southern Illinois University of Carbondale. His favorite piece to listen to is the Carl Philipp Emanuel Bach Flute Concerto in D minor — and when the pandemic turns around, he looks forward to joining his fellow members of the Madison Flute Club to perform other (sometimes original) compositions.
Meanwhile, Josh enjoys being able to work on campus, contributing the safety of UW–Madison's operations while getting to know all its nooks and crannies.
"I enjoy finding the quiet, less traversed places that my position leads me to," Josh says. "Often I get to see the inner workings of our buildings where few ever need to go."
Jenna, Holt desk supervisor
As the fourth-generation woman in her family to attend UW–Madison (all born exactly 30 years apart!), you might say Jenna's got a soft spot in her Badger heart for this campus.
And in her role as Holt desk supervisor, the junior from Oconomowoc is forging her own unique path at UW—working to create an inclusive, organized, upbeat and COVID-safe environment for the residents and desk workers she serves.
"I find it extremely rewarding," says Jenna, who's studying psychology and human development and family studies. "And I'm incredibly thankful for the efforts the university has put in place to make our campus as safe as possible."
"It's comforting to know that students are being tested regularly, and are required to follow the guidelines to keep our community healthy."
A member of the Alpha Phi Omega service fraternity, Jenna values opportunities to engage in the greater Madison community and gain leadership experience. And in her downtime, you might find her at a piano bench, trying her hand at Taylor Swift songs (current favorite: "ME!" from the album "Lover").
She'd love to go to a concert with friends again, but meanwhile, Jenna's making the most of socially distanced campus life—getting creative in the kitchen perfecting her from-scratch mac and cheese, and taking the opportunity to call home more often. Mom's solid UW-grad advice about pandemic life? "Only worry about what's IN your control!"
Jen, DoIT Help Desk
Ever call the DoIT Help Desk and wonder if the agent helping you has a tattoo of a jackalope named Meredith?
Well, if you're on the line with Jen, you're in luck! A student developer from Waukesha majoring in software development at Madison College, Jen's passion for helping people is perhaps matched only by her love for these mythical creatures from folklore (rumored to be a jackrabbit with antelope horns).
In her Help Desk role, Jen thrives on the fact that there's always an accomplishment to strive for, while working in a fun-yet-always-productive environment. "Bonus points because being productive usually involves helping people," Jen adds.
"It's really rewarding, and it makes me feel like I'm engaging with my community," says Jen, who enjoys studying user interface design to maximize usability and improve user experience. "With everything online since March, it's also really refreshing to be able to have constructive—and often really wholesome—conversations with people."
For socially-distanced fun in her downtime, Jen enjoys cooking and playing Red Dead Redemption and Final Fantasy XIV online with friends. But she can't wait to get back to the concerts at the unions put on by WUD (Wisconsin Union Directorate).
"I really, really miss those shows right now!" Jen says. And this may be a tall tale, but we heard Meredith does, too.