Max Kade Institute finds new home in University Club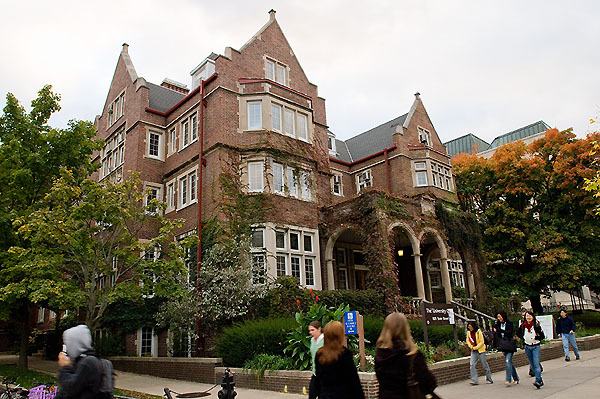 The University Club, on the State Street Mall in the heart of campus, is the new home of the Max Kade Institute.
Photo: Bryce Richter
After 31 years in the historic Keystone House, the University of Wisconsin–Madison's Max Kade Institute for German-American Studies has moved to a new home in the heart of campus: the University Club.
The move, completed in July, marks a much-needed expansion. Major private and federal funds helped the institute complete renovations to the fourth floor of the University Club. Currently, the institute has five staff members who help support the growing collections, research and programming.
The historic Keystone House, former home of the institute, on the West Campus.
The MKI Library and Archives, open to the public, hold one of the largest collections of German-language materials published in North America, as well as a growing number of primary source documents such as letters, diaries, photographs, and business records. The North American German Dialect Archive contains several thousand hours of recordings of immigrant German dialects from the mid-1940s to the present.
The Max Kade Institute's mission is threefold: scholarly research of German-speaking immigrants and their descendants in a global, multicultural, and interdisciplinary context; preservation of American print culture and personal documents in the German language; and outreach through publications, community programming and education, in the spirit of the Wisconsin Idea.
"Having the institute on central campus makes it easier for our patrons to reach us, especially those who are also doing research at the Wisconsin Historical Society or Memorial Library," says Antje Petty, assistant director and educational outreach specialist. "We work closely with students, particularly undergraduates, who now no longer have to look for us on the very west end of campus. Most importantly, in our new location we have the space to archive and display our collections properly—and we have room for people to use them and work with them. It's a major improvement."
The institute and the Center for the Study of Upper Midwestern Cultures (CSUMC) had resided in the Keystone House since 1983. CSUMC has also moved to the University Club.
An open house to welcome the campus community to the institute's new location will be held on Friday, Oct. 31 from 3-6 p.m. The event will begin in the club itself with a reception and presentation, then move upstairs to visit the institute's new quarters. All are welcome; please RSVP to Antje Petty at 608-262-7546 or apetty@wisc.edu.