Mainstay clerk celebrates 50 years of reliability at UW Hospital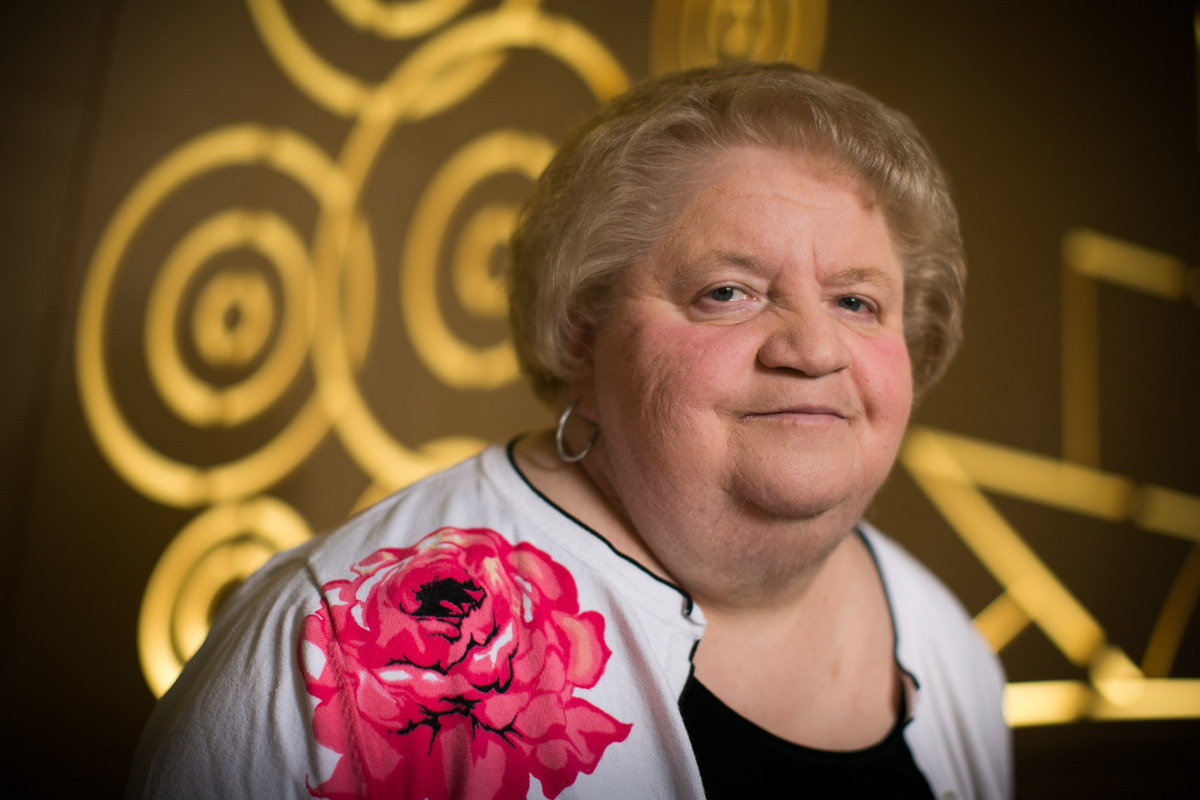 The UW Hospital has experienced plenty of transformations over the past 50 years, but clerk Sharon Dickey remains a constant. "She's unflappable and infallible," former UW nurse Bev Reynolds says, "the mainstay of the unit."
Photo: John Maniaci
The Neurosciences ICU on the fourth floor of the University of Wisconsin Hospital and Clinics is normally a hushed and darkened spot.
It's kept that way for the comfort of patients, who have recently survived brain surgery, stroke or some manner of head trauma.
But on a Thursday in May, there was an uncharacteristic party going in the employee break room. It was a celebration of health unit clerk Sharon Dickey's 50th anniversary at the hospital. Everyone was there — from the newest resident to the emeritus chairman of neurosurgery, Manucher Javid, who was Dickey's boss back when she started working at the old University Hospital in 1964.
Sure, it's incredible to find a person working in the same job for a half century, but that is far from the most important message from Dickey's colleagues.
"This is not about longevity," says Robert Dempsey, chairman of neurosurgery for the past 19 years. "She's the core of our team, our mother figure. She's the one who brings us together as a family, and that consistency is what is so important for our patients."
"When I see her at the desk, I always know it's going to be a decent day."
Michael Garske
Her colleagues describe her as part Radar O'Reilly from the television show "M*A*S*H" and part scary office manager from the movie "Monsters, Inc." She pilots the ship of the Neuro ICU with an uncanny ability to order fresh IVs before the nurses know they're running out, and have orders for a CT scan waiting when a resident is still figuring out that the patient needs one.
Nearly every fresh-faced resident or new nurse has a story about being scared to death of Dickey at the start.
"You betcha I was scared,'' says Michael Garske, a veteran nurse of 20 years. "I'm a big, strong guy, and when I made a mistake, it was like being a little kid and having your mom catch you."
But slowly, Garske learned the secret that everyone does: Under Dickey's gruff exterior beats an even softer heart.
"Once she takes you under her wing, you have it made," Garske adds. "She always keeps her cool, no matter what is happening. When I see her at the desk, I always know it's going to be a decent day."
Sharon Dickey is a familiar face at the Neurosciences ICU, located on the fourth floor of the UW Hospital and Clinics.
Photo: UW Health
Dickey's first years at the old University Hospital coincided with the student unrest of the 1960s. The hospital was located across the street from Sterling Hall, home of the Army Math Research Center, a focal point for protests. It was bombed in 1970, killing a researcher.
"I remember when they were rioting outside and we had to put up fans to keep the pepper gas out," she says. She married Laurence Dickey in 1968, and he passed away in 1980 after receiving a heart transplant at the UW Hospital. His hospital room was not far from the D4/4 location of the former Neuro ICU.
"What he really needed was a heart and lung transplant, and those weren't available yet," she says. "He had excellent care here."
And since then, the Neuro ICU has been her family. She works all the holidays, making sure there's turkey on Thanksgiving, and pizza and cakes for all other important occasions. She brought an American flag cake when a nurse passed her citizenship, and purchased many residents their first stethoscopes or their first boot of beer at the Essen Haus or fish fry at the Esquire Club.
Former UW nurse Bev Reynolds drove into Madison from her retirement home in northern Wisconsin for Dickey's party. Her assessment of her former co-worker was echoed by many:
"She knows what the doctors want before they know they want it. She's unflappable and infallible, the mainstay of the unit."