Madison Police ask for help in locating missing woman
Madison Police are asking for the campus community's help in locating Kelly Nolan, 22, a UW-Whitewater student who was last seen in downtown Madison around midnight on Saturday, June 23.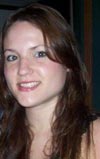 Nolan
According to police, Nolan is 5 feet 6 inches tall and weighs about 125 pounds. She has brown eyes and brown hair. She was last seen wearing a green, sleeveless top with a scoop neck, a light pair of jeans, sandals with a heel and carrying a slate gray purse.
Authorities are asking anyone with information on Nolan's whereabouts to call Crime Stoppers at 608-266-6014.
For more information, a photo and updates on the search, Facebook users can visit this site.