Local high school students participate in UW-Madison paid internship program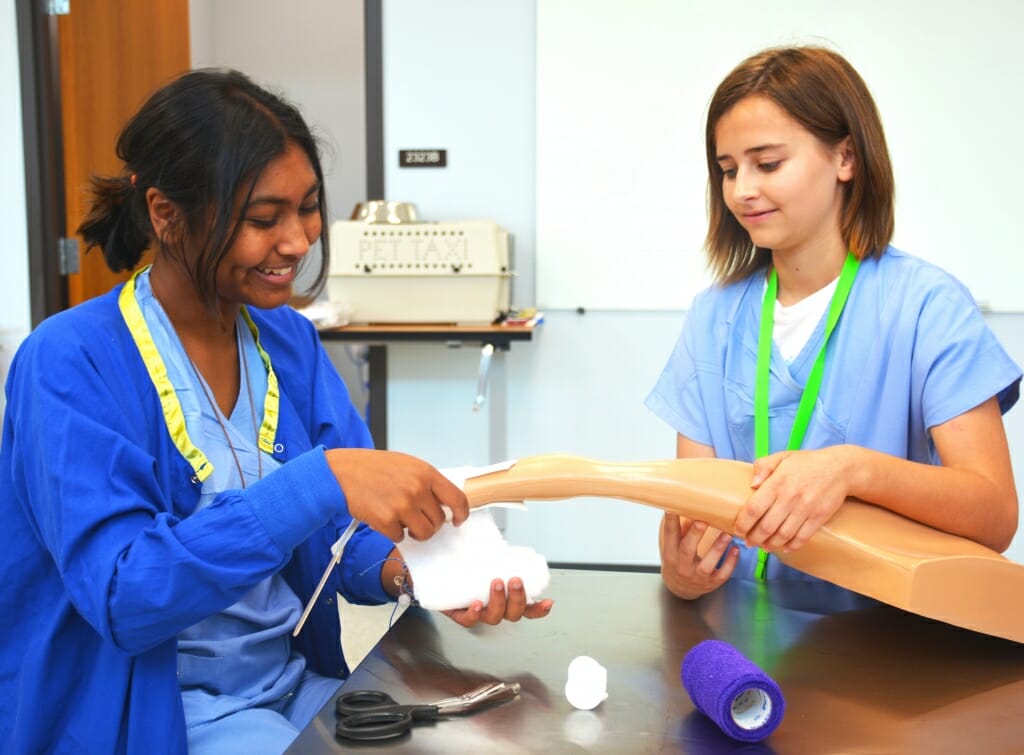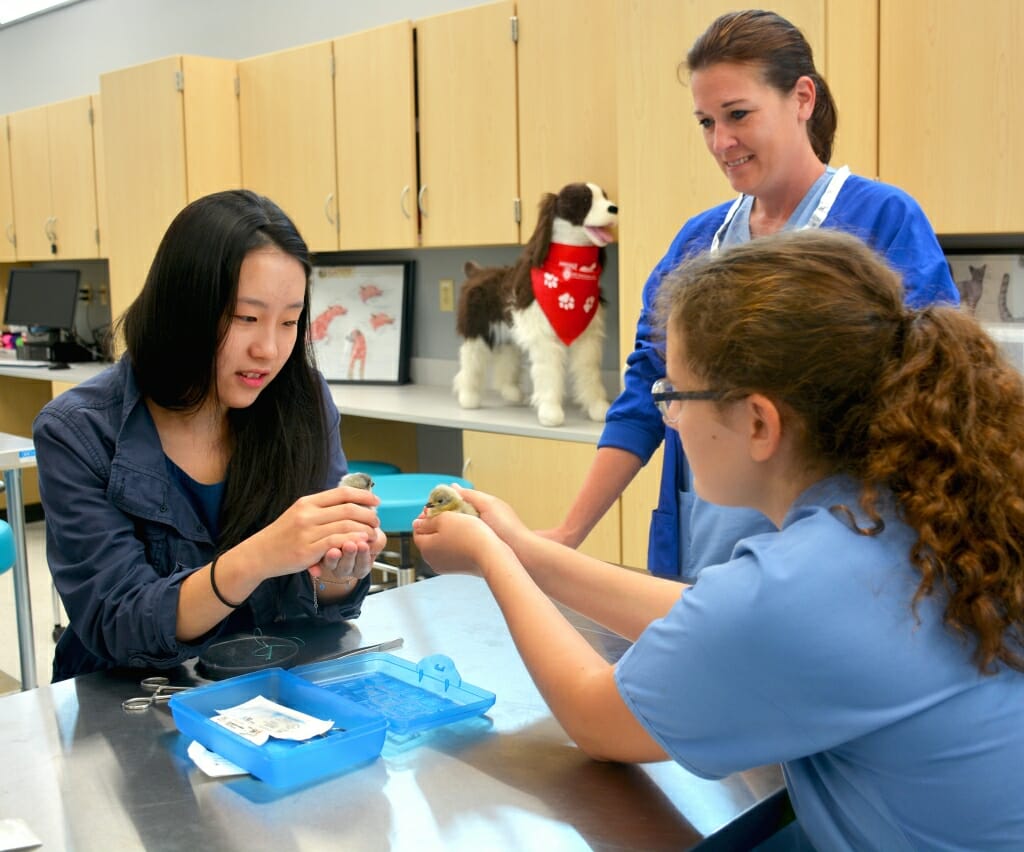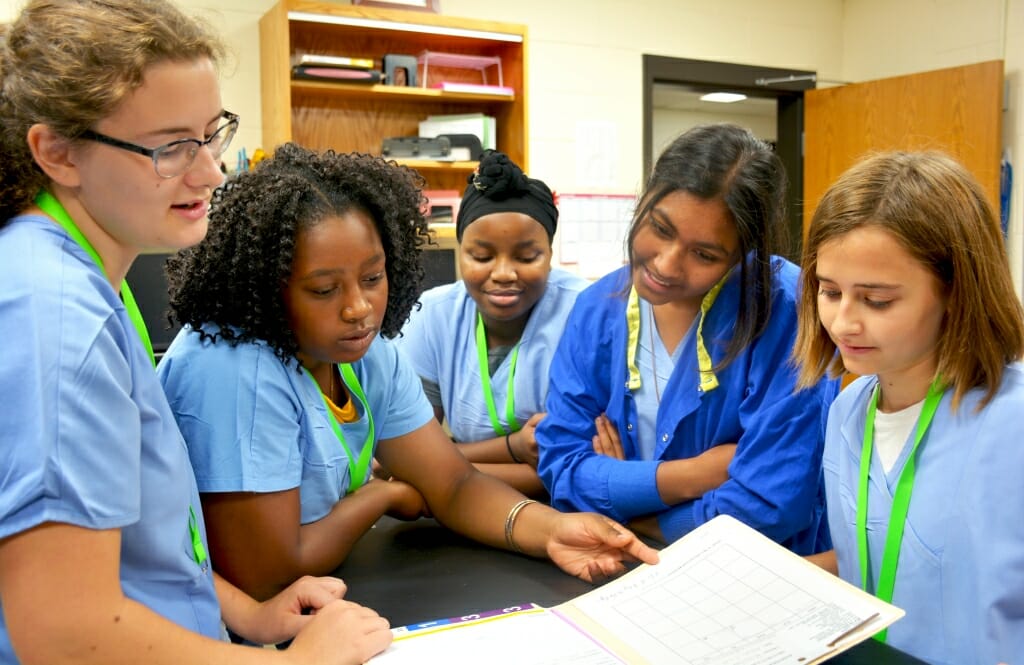 The UW–Madison Small Animal Clinic is filled with dogs, chicks and other cuddly creatures. For the past six weeks, the clinic has also been occupied by seven incoming juniors in the Madison Metropolitan School District.
The students are taking part in LEAP Forward — a six-week paid internship hosted by UW–Madison and MMSD's Personalized Pathways, a program that exposes high schoolers to careers and curriculum in the health sciences.
With seven different internship sites on campus, LEAP offers students hands-on medical experience and explores a variety of career options in the health sciences field. The Veterinary Medicine program, in particular, allows interns to work in an actual clinical setting at the university's Small Animal Hospital.
For Lizzy Schmidt, a junior at La Follette High School in Madison, the opportunity to work in the clinic has been a "once in a lifetime experience." She says the program has shown her what it's like to be a veterinarian, and now, she hopes to become one in the future.
"I wasn't completely certain what I wanted to do as a career and had no interest in being a vet before, but this internship has really helped me figure it all out," Schmidt says. "It has solidified my interest in the medical field and even being a vet."
Ruthanne Chun, director of UW Veterinary Care, says the interns have many responsibilities that expose them to what a veterinary career entails and helps them to identify their interests. Some of the students' tasks include cleaning kennels, drawing up vaccinations and assisting the veterinary technicians, as well as interacting with the animals.
LEAP also gets high schoolers outside of their comfort zones and teaches them practical skills that go beyond the medical field, Chun says. Schmidt is a testament to the impact the internship has on its students.
"I'm a very shy person and I don't like asking for help," she says. "But by being in this environment, I've learned that you have to put yourself out there and you have to know how to ask a lot of questions."
While the Veterinary Medicine program centers around bolstering skills essential for a veterinary career, LEAP has another important focus — to promote students in thinking about their futures, from post-secondary education and beyond.
As part of the internship, students participate in a one-credit UW–Madison course through the School of Education, where they are exposed to various opportunities at the university and careers within the health sciences. Guest speakers from around campus, including representatives from the Division of Enrollment Management, also come to share about the admissions process and financial aid opportunities, as well as discuss future career possibilities.
"We wanted the interns to feel like they could walk away not only gaining hands-on experience but also gaining future connections that can help them through the admissions process," says Justin Mumford, assistant director for Student Employment. "The goal of the conversation is to increase their awareness from an early age in order to set them up for success when applying to colleges."
According to Mumford, the partnership benefits both the school district and the university. He says reaching out to MMSD ensures that UW–Madison continues to grow and diversify its student population. And by offering a wage and course credit, LEAP gives everyone an opportunity to participate in the program and allows them equal access to the university, he says.
"The more that we can provide opportunities to students that are historically underrepresented, the more we can continue to enhance our diversity," Mumford says. "It is incredibly beneficial for UW–Madison because it allows for us to really connect within the community and most importantly, support our community."
The university will continue to be a partner in MMSD's Personalized Pathways in upcoming years, he says, and there are already plans for the internship program to continue again next year.