Jerlando F. L. Jackson: Driven for diversity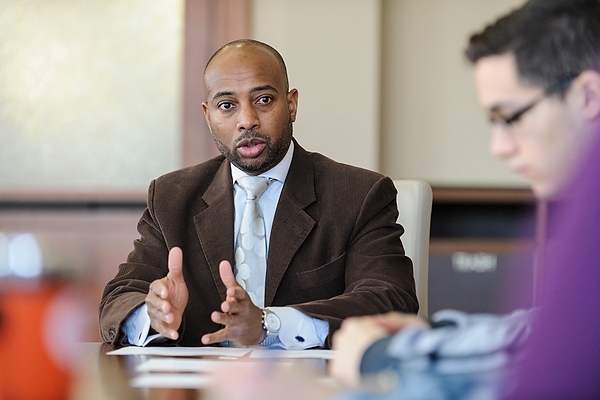 Jerlando F. L. Jackson chairs the Equity and Diversity Committee as the group meets in the Education Building.
Photos: Jeff Miller
The son of a drill sergeant in Fort Benning, Ga., Jerlando F. L. Jackson quickly learned the value of structure and organization. But there, in a rural area of the Deep South, deeper lessons about inclusion and diversity took root.
Diversity issues were front and center in Jackson's life at the Army base, as it was also home to the School of the Americas, a training center for police and military officials from around the globe. Jackson found himself in a community of children from different nations and cultures.
"Growing up in the South shaped the lens through which I see the world," he says. "But my childhood was not a stereotypical experience."
Jackson, the Vilas Distinguished Professor of Higher Education at the University of Wisconsin–Madison, often works seven-day weeks – another carryover from his Army-base upbringing – studying the effects of diversity in the workplace and academia.
"In my research, I'm looking for insight into what it takes to change a culture," Jackson says. "What I've found is that oftentimes, what it takes is someone willing to go it alone, because usually, when you're the first to do something, you're doing it alone."
His commitment is reflected in his style. Jackson works with an urgency.
Jackson is known for barraging unwitting collaborators with phone calls, text messages, or emails at all hours of the day or night, sharing his excitement about a new idea or impatiently seeking an answer to a suddenly pressing question. He refuses to settle for a good discussion, demanding from himself and his colleagues "actionable solutions to change the world."
Jerlando Jackson meets with Karen Hansen, a prospective graduate student visiting from Colorado, in Jackson's office in the Educational Sciences Building.
Jackson's dissatisfaction with the pace of change is also reflected in his hefty workload.
The first African American in the Department of Educational Leadership and Policy Analysis to earn tenure and gain a named professorship, Jackson is involved in at least a half-dozen major projects.
They include an exploration of glass-ceiling effects in academia, an initiative to encourage more African American students to pursue computer science, and a survey of hiring practices in Division I, II, and III athletic departments.
When Jackson completed his undergraduate work, he enrolled at Auburn to pursue a master's degree in higher education administration. After graduating, though, he still wasn't convinced he wanted to become an academic.
"One particular event caused me to reconsider," Jackson says. "One of the most revered and feared faculty, who did not traditionally give A's in her course, left a note on my final assignment that said, 'One day you will make a significant contribution to the study of education.'"
The note lit a spark. Inspired by George Washington Carver's legacy, Jackson pursued his Ph.D. in higher education administration at Iowa State University. He excelled in his studies, and before he had even received his degree, he had an offer to become a visiting assistant professor at UW–Madison.
At first, Jackson was unaware that he was the first African American the Department of Educational Leadership and Policy Analysis had ever hired. When he found out, it motivated him to aid his department in improving its diversification efforts.
"I was determined to be a part of a new future, and to the credit of my departmental colleagues, they were also committed to that goal," Jackson says.
Around the time he arrived, his department made substantial changes to its hiring and student recruitment strategies, Jackson said, resulting in a much more diverse faculty and student body.
The number of ethnic minority and international students has risen to more than 25 percent of the department's enrollment, and admissions figures show that the program is showing much higher yield percentages of minority students than 10 years ago.
"In my research, I'm looking for insight into what it takes to change a culture. What I've found is that oftentimes, what it takes is someone willing to go it alone, because usually, when you're the first to do something, you're doing it alone."
Jerlando F. L. Jackson
"Once the department put recruitment efforts into place for diverse groups, and worked to create a space that was clearly supportive of its minority students, the results have been immediate and significant," Jackson says. "You see it in the classroom. You see it on graduation day."
Jackson insists there's still a lot of work to be done, though he admits it might just be in his nature never to be completely satisfied.
"Still, it's amazing to me how much time and effort the entire department puts into our students, and that's exactly the environment that diverse students do better in," Jackson says. "That commitment is just so unusual to find in a program of the caliber that we have at UW–Madison."
Jackson's work at UW–Madison reaches beyond his department. He is a faculty affiliate for the Wisconsin Center for the Advancement of Postsecondary Education. He is also the founder, director, and chief research scientist of Wisconsin's Equity and Inclusion Laboratory, also known as the Wei LAB, which designs, conducts, and disseminates research on the best ways to promote equitable and inclusive learning and work environments in education.
Since its founding, it has attracted external grants to explore workforce diversity and workplace discrimination in higher education, and develop interventions that will broaden participation for underrepresented groups in the scientific workforce.
Additionally, the lab has shared its expertise within the university, helping to shape programs at UW–Madison such as the PEOPLE Program, the Center for Academic Excellence, and the Beyond the Game Initiative.
LaVar J. Charleston, Wei LAB's assistant director and senior research associate, says Jackson's work and career have inspired him and other minority students and faculty members at UW–Madison and nationally.
"It is hard to believe the depth of support Dr. Jackson willingly pours into his students and peers," Charleston says of his mentor. "His scholarship, leadership, and mentorship are equally pervasive amongst both new students and senior scholars. His body of work continues to transcend the pages of his publications to positively impact real people, policy and change; especially as it relates to issues around diversity, equity, and inclusion."