In the classroom, lab and community, UW graduates excel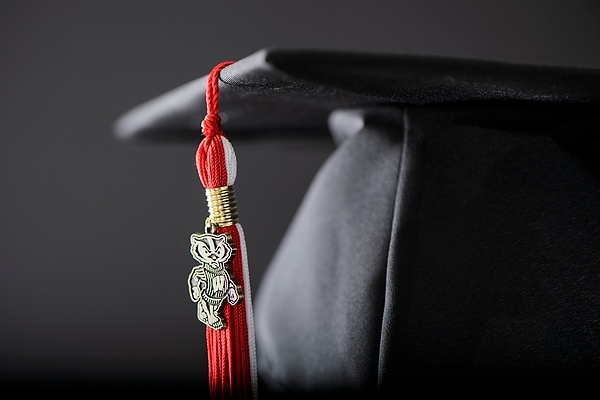 The Class of 2014, some 6,400 strong, is full of graduates with stories of success and inspiration. This year's Commencement for bachelor's and master's candidates will be held outdoors at Camp Randall Stadium at noon on Saturday, May 17. Doctoral, MFA and professional graduates will have their graduation ceremonies at 5:30 p.m. on Friday, May 16 at the Kohl Center.
Photo: Jeff Miller
This weekend's spring Commencement marks a new beginning for students whose time at the University of Wisconsin–Madison has been a transformative experience.
They've excelled in the classroom, the laboratory and, taking to heart the spirit of the Wisconsin Idea, they have often reached out into the community to make a personal investment in improving the lives of others in Wisconsin and beyond.
Here are just a few of the many inspiring and interesting stories of students in UW–Madison's Class of 2014:
Sue Montgomery, Cottage Grove, Wis.
Sue Montgomery
After a 20-year career practicing family medicine, Montgomery has removed her doctor's coat to instead work to create a healthier environment.
She says access to clean, fresh water is a major health concern of the 21st century, and she sees a direct connection between her interests in medicine and the environment.
Montgomery is graduating with a master's degree from the Nelson Institute in water resources management (WRM).
"There are already global problems with the availability of clean, fresh water, and that's going to get worse, particularly with climate change and population growth," Montgomery says.
As part of the WRM summer workshop, a culminating experience that offers students the opportunity to collectively study a contemporary water resources problem of concern to a Wisconsin community, Montgomery and classmates assessed potential methods for trapping transient sediment in Dorn Creek within the Six Mile Creek watershed.
This Dane County watershed extends south from Waunakee before draining into Lake Mendota, and its phosphorous-heavy sediment pollutes the lake, contributing to the growth of detrimental algae and weeds.
She now plans to gain professional experience in water resources management and hopes to found her own organization focused on water and health.
Jessi Kendall, Madison, Wis.
Jessi Kendall
Kendall is a nontraditional student whose early attempts at college were complicated by depression.
She stumbled into waitressing and found it offered a therapeutic challenge. More than that, she discovered joy in connecting with people, and a decade of sharing the thrills and tragedies of life with her regular customers transformed her. With a changed perspective, Kendall successfully returned to UW–Madison part-time in 2009.
She applied to the School of Nursing after her mother-in-law's fight against stage-four lung cancer and her daughter's birth in 2010 showed her the impact of patient- and family-centered nursing care. As a nursing student, Kendall found that her affinity, developed as a waitress for older adults, grew into a passion for geriatric nursing and transitional care. Psychiatric nursing and end-of-life care are also interest areas.
After graduation, Kendall will enter the prestigious Nurse Residency Program at the UW Hospital and Clinics.
She hopes to build a solid foundation of clinical practice, to develop expertise as a patient-and-family educator and advocate, and to participate in interprofessional practice. Inspired by the work being done at the School of Nursing in geriatrics, Kendall notes that she may return as a graduate student soon. 
Jacqulene J. White, Milwaukee, Wis.
Jacqulene J. White
White is one of five children who comes from a single-parent household in Milwaukee.
She will graduate with a degree in rehabilitation psychology and with aspirations to help low-income, minority, children with disabilities. After commencement, White will return to her home town and serve as a special education teacher for Teach for America. She will also be working on her master's degree. 
She began participating in the PEOPLE Program in high school. Upon graduation from Riverside High School in 2010, and after spending three high-school summers at UW–Madison, she knew UW–Madison was the university for her.
She is the recipient of the YMCA Sponsor a Scholar, Riverside University Alumni Association, Kelben, and PEOPLE Program scholarships.
During her time at UW–Madison she has worked as an inclusion staff member for water therapy and a program leader for the Madison School and Community Recreation Program.
She has served as president and secretary of the University Gospel Choir, volunteered at the Family Voices Program at the Boys and Girls Club of Dane County, has served as a mentor for children with disabilities at Black Hawk Middle School in Madison.
Holly Hovanec, Newton, Wis.
Holly Hovanec, in Camp Randall Stadium with radio tracking gear.
While fox sightings have become a fairly regular occurrence on the UW–Madison campus over the past year, nobody has seen them as frequently – or as close-up – as Hovanec.
Hovanec, who is graduating with a bachelor's degree in wildlife ecology, has been involved in a unique capstone research experience through the Department of Forest and Wildlife Ecology: to gather information about the home range, activity patterns and general health of the foxes and coyotes that call campus home.
It was the perfect project for Hovanec, combining a number of her interests. From the moment she stepped on campus, Hovanec knew she wanted to be a wildlife ecology major.
She got involved in the UW student chapter of the Wildlife Society, holding a number of leadership roles over the years, and also participated in her home department's summer wildlife field course, among other activities.
During her junior year, Hovanec fell in love with veterinary medicine after job shadowing a dairy veterinarian. Since then, she's worked in two vet clinics, experiences that helped prepare her for her unique capstone project, which required giving foxes and coyotes physical exams before putting radio collars around their necks.
She was recently accepted into the UW–Madison School of Veterinary Medicine.
Kaylie Duffy, Fort Atkinson, Wis.
Kaylie Duffy
Throughout college Duffy, who graduates with dual degrees in geography and environmental studies, has volunteered for the Literacy Network in Madison; tutoring English as a second language.
Her passion turned into a job at the Greater University Tutoring Service as the Conversational English Hour coordinator. She's enjoyed hosting events, outings, and tours for international students, faculty, and visiting scholars.
Duffy's love of languages also led her to study Russian and eventually study abroad in Saint Petersburg, Russia. There, her fascination with architecture and urban planning grew, and upon returning home she began an internship with the land-use advocacy group 1000 Friends of Wisconsin.
Duffy feels her undergraduate experience has given her a good understanding of geographic information systems and urban environments, preparing her for her next goal – achieving a master's degree in urban planning.
"When I was a child, Harry Potter taught me that perseverance and a strong team will help anyone overcome the most intimidating obstacles," she says. "I carried this message with me throughout college, and hope to transfer it into my professional career as a geographer and writer."
Wally Graeber, Twin Lakes, Wis.
Wally Graeber
Graeber, who is graduating with a bachelor's degree in landscape architecture with a certificate in environmental studies, would like to see America's educational system transformed to include more hands-on lessons that involve growing food.
 "I think growing plants is a much more engaging and effective way to learn all kinds of core subjects—including math, science, art, engineering and many other life skills," he says.
Much of his extracurricular work at the College of Agricultural and Life Sciences has focused on this goal.
As a Wisconsin Idea Undergraduate Fellow through the Morgridge Center for Public Service, Graeber taught cooking and gardening to kids at the Boys and Girls Club of Dane County's Allied Family Center, and then later assisted in the installation and activity planning for two vegetable gardens for the Club.
As part of an international internship, Graeber set up an aquaponics system—a food production system that incorporates both fish and plants—at a university in Kochi, India to use as an innovative agricultural education tool for area schoolchildren.
Back in Wisconsin, he then set up similar systems in the UW–Madison's Wisconsin Institutes for Discovery building and the Madison Children's Museum that serve the same purpose.
Graeber also teamed up with CALS emeritus professor Paul Williams to help expand William's "bottle biology" project, a science outreach project that distributes mini-greenhouses made from old water bottles to area K-12 students.
Brendyn Reinecke, Sugar Land, Texas
Brendyn Reinecke
A third-generation UW Law School student with a passion for patent law, Brendyn Reinecke will receive his law degree at spring commencement.
Earlier this year, Reinecke worked with law Professor Shubha Ghosh to write an amicus brief on a patent case coming before the U.S. Supreme Court.
The brief Ghosh filed, which argues that overreaching patent systems stifle invention, was based on Reinecke's 2013 submission to Wisconsin Law Review.  It won him the journal's George Laikin Award for Best Student Article. 
Reinecke graduated from The Citadel in 2008 and worked as an electrical engineer before entering law school. That experience, combined with his interest in law, landed him an internship with the law firm Foley & Lardner.
He'll continue working there as a patent attorney after graduation. Reinecke values the opportunity to continue learning.
"In patent law, you're dealing with inventions that supposedly no one's ever thought of before. As long as clients keep developing new ideas, you get to keep learning," he says.
Karma Palzom, Madison, Wis.
Karma Palzom
Palzom is a Tibetan refugee from a resettlement camp in Pokhara, Nepal. 
Through the Tibetan-U.S. Resettlement Project, she moved to Madison in 1998 at the age of six with her mother and sisters to join her father, who had been living in a sponsor home here. 
As a new immigrant, Palzom faced the challenges of learning English and living in a new, culturally different place.
Today, she is a graduating senior, majoring in history and history of science who will continue her studies at UW–Madison next fall as a graduate student in history.
Getting into UW–Madison with the academic and financial assistance from the PEOPLE program introduced her to the issues of diversity and inclusion.
As one of 10 Tibetan students at UW–Madison, she collaborated with fellow students to form the Tibetan Students Association of Madison. The group's goal is to inform the students of UW–Madison and the public about Tibetan culture and to raise awareness of the human rights issues in Tibet.
Michael Wauters, Bainbridge Island, Wash.
Michael Wauters
Wauters will graduate from the School of Medicine and Public Health after winning a pair of prestigious scholarships.
He recently earned two national awards, a National Health Service Corps Students to Service Scholarship and an Excellence in Public Health Award from the U.S. Public Health Service Physician Professional Advisory Committee.
The scholarship – for $120,000 – begins after completion of medical school.  In return, graduates make a commitment to work in a Health Professional Shortage Area for three years following residency training.
The Excellence in Public Health Service Award will be presented on May 15 for Michael's service in underserved communities.
He is a Training In Urban Medicine and Public Health (TRIUMPH) student, and spent that last two years of his medical training in the greater Milwaukee area.
As a TRIUMPH student, Wauters was engaged in a population health community project where he worked with community members to explore how to get locals to take advantage of bicycles to lower pollution and help curb obesity.
Jamie Ritchart, Horicon, Wis.
Jamie Ritchart
Ritchart has battled physical adversity on the way to graduating with a bachelor's degree in social work.
She was born with a congenital birth defect of her right leg called fibular hemimelia. Four years ago this month, Ritchart had her leg amputated, but it has not stopped her from achieving her goals.
She hopes to apply the social work values she has learned by improving current social policies. From her life experiences Ritchart has an intimate understanding of the life of a person with a disability.
She has tried to spread that knowledge to her classmates by giving presentations on health disparities and people with disabilities.
Additionally, Ritchart is a member of the Amputee Coalition of America, and currently interns at a law firm that helps people with low-income or health care issues obtain health coverage and care.
The National Honor Society graduate hopes to attend the La Follette School of Public Affairs to get her master's in public affairs, and a doctorate in social policy. She hopes to eventually work for the federal government.
Janetta S. Pegues, Chicago, Ill.
Janetta S. Pegues
A former librarian in Chicago, Pegues developed a passion for providing library services to the public.
During her time at UW–Madison, she took two mission trips to Haiti and won the Rovelstad Scholarship, which will enable her to travel to Lyon, France and gather knowledge about starting a public library system in Haiti.
She will graduate with a master's degree in library and information studies this spring.
Pegues was also active in library and community activities as a volunteer with the Jail Library Group and as a "Bookless Volunteer" in copperation with the Madison Public Library.
Her service to the general public while attending UW includes presenting at International Women's Day and singing in the community choir for the annual Martin Luther King Holiday Observance. 
Max Salick, Hartland, Wis.
Max Salick
Salick has earned a reputation as a tremendously versatile student on the way to receiving a Ph.D. in materials science.
"Unlike many students who attain a strong GPA by focusing only on coursework, Max took very challenging technical classes in addition to being heavily involved with extracurricular activities both as an undergraduate and graduate student," says engineering Professor Wendy Crone.
Salick has been the lead graduate student in Crone's research group for the last several years, functioning as lab manager and assisting with duties in a broader multi-faculty research collaboration with BIONAnocomposite Tissue Engineering Scaffolds in the Wisconsin Institutes for Discovery.
He provides training to new graduate students as well as assistance with a number of biocompatibility projects. He is the co-author of several manuscripts that have been submitted for publication, the most recent of which has been published in the journal Biomaterials.
As a graduate student, he has contributed to outreach both on campus and off, in addition to excelling at research. He was actively engaged with Engineers Without Borders as an advisor, group leader, and lead designer, traveling several times to Haiti.
Salick also contributed to numerous outreach events, including several in the Wisconsin Institutes for Discovery, to engage the next generation of students with science concepts.  Additionally, he was a recent winner of the campus' Cool Science Image contest. 
Maimoua Xiong, Fresno, Calif.
Maimoua Xiong
Xiong is a daughter to Hmong parents who immigrated to the United States as a result of the Vietnam War.
Her parents were refugees who strongly supported her education and taught her the value of hard work. What they couldn't do was offer advice on how to navigate higher education.
When she graduates in human development and family studies, she will be the first in her family to obtain a bachelor's degree.
While she faced difficult transitions throughout her undergraduate career, she felt fortunate to receive support from faculty and staff such as her research mentor, Alberta Gloria and her McNair advisor Maya Holtzman, whom she credits for validating her socio-cultural identity and providing her with institutional resources to succeed.
She feels that her experience has been an inspiring, demanding, yet challenging one that allowed her to grow and achieve her goals. She will be attending California State University-Fullerton in fall 2014 to pursue a master's degree in higher education. She wants to gain a further understanding of the challenges that racial and ethnic minority students experience and face in higher education.
Felicia R. Leroy, Sturgeon Bay, Wis. 
Leroy is a glass artist who challenges the media with which she works.
Her studies have led her to investigate the qualities of luminosity in glass through the use of fiber-optic cables.
"Specifically: can fiber optic cables be mixed with concrete in order to create a quality of translucency in the concrete material?" she asks. "I have felt compelled by the challenge of glass to investigate what the limitations of the material are."
After graduation, she will attend the Rhode Island School of Design to continue her practice in glass and gain a master of fine arts degree.
Melinda Mutschler, Prescott, Wis.
Melinda Mutschler
If there's one thing that Mutschler, a senior graduating with a bachelor's degree in nutritional sciences, loves to do, it's to help people—and she managed to find many ways to do so throughout her UW–Madison college experience.
During the school year, she worked as a nursing assistant at Catalyst Home Healthcare and as a student medical assistant at University Health Services.
During summers, she worked as a nursing assistant at a summer camp for special needs children and adults.
While balancing work and academics, she also took on leadership roles in Healthcare Occupation Students of America, a healthcare-focused UW–Madison student organization, and volunteered with the South Madison Coalition for the Elderly and with Meriter Hospital's Hospital Elder Life Program. Her next step is to attend Northeastern University in Boston to pursue a master's degree in physician assistant studies.
Ye Du, Zibo, Shandong Province, China 
Ye Du
Ye Du came to UW–Madison in 2010 from Shandong Province in China and wasted no time in her efforts to improve awareness of issues involving her homeland.
She was president of a student organization called China Economic Forum-Madison. She was able to cooperate with the Wisconsin China Initiative and planed annual campuswide conferences, promoting awareness on China, Sino-US relations and global issues.
During her two-year internship at the Wisconsin Alumni Association, Ye contributed to WAA's student campaign with an international perspective. She initiated a WAA Open House to International Students and increased the attendance of the bi-annual International Student Graduation Celebration by threefold.
She is now the marketing director at "Channel C WISC," a YouTube channel producing thought-provoking video dialogues between Chinese international students and the American hosting body.
Within one year, the channel created a YouTube sensation with more than 3,800 subscribers, attracted viewers globally and has been frequently featured in local and national media outlets.
She is graduating with a bachelor's in journalism and mass communication and a certificate in German.
She is interviewing for job opportunities in Chicago. She is looking forward to a career in marketing and strategic communication, while continuing her effort in international student advocacy.