Honor flight doctor carries father's memory to monument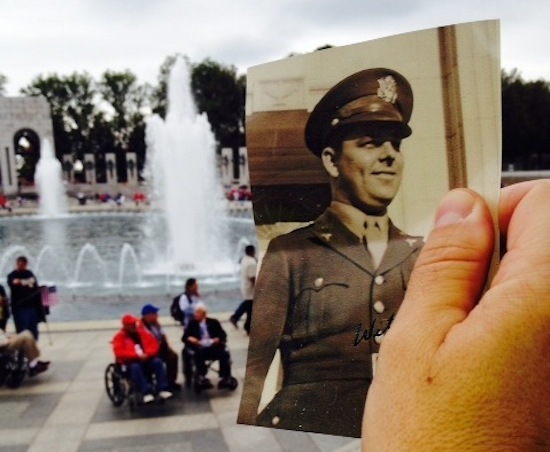 Mike Garren, a volunteer doctor on a recent Honor Flight, holds a picture of his late father, Army surgeon John T. Garren Jr., at the World War II Memorial in Washington, D.C.
Photos courtesy of Mike Garren
When Mike Garren was growing up in Kenosha, he knew that his father, Dr. John T. Garren Jr., had served as an army surgeon in the Pacific theater of World War II.
He knew his dad performed battlefield surgeries in places such as the Philippines and Guam. He remembers that his dad didn't care for the hit television show M.A.S.H., knowing too well that life in a mobile Army field hospital was nothing to joke about. But Mike Garren was just 9 when his father died of pancreatic cancer, a disease that he diagnosed himself — leaving his youngest child with his Army memorabilia, and many unanswered questions.
"Like a lot of members of the Greatest Generation, he just didn't talk about the war,'' says his son, who followed in his father's footsteps and is now Dr. Michael Garren, a surgeon at University of Wisconsin Hospital and Clinics.
So when Garren learned that the "Honor Flights" that bring veterans to Washington, D.C. to see their memorials needed medical staff, he was thrilled to volunteer. The Badger Honor Flights out of Madison are typically staffed with volunteers from the William S. Middleton Memorial Veterans Hospital, as they know many of these veterans on a personal and professional level. Garren thought he might not get his chance.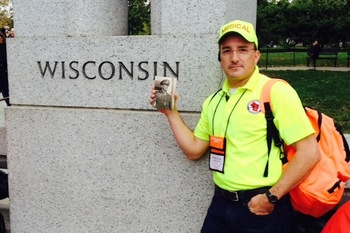 Mike Garren at the Wisconsin monument in the World War II Memorial.
But last year Garren's wife, Patti, was escorting her father, Dick Jahnke, on the Old Glory Honor Flight out of Appleton and learned they needed more medical volunteer help. Garren seized upon the opportunity to fly on Old Glory's 19th mission along with his wife and father-in-law.
He spent that day escorting a Sturgeon Bay veteran named Gordy as they visited the battlefield memorials of Washington, as well as Arlington National Cemetery. He says that as the guard changed at the Tomb of the Unknown Soldier, the guards clicked their heels to salute the older generation.
"The veterans knew that was their way of saluting them — and you could just see the reverence in their eyes,'' Garren says. For many of the men on the trip, it was the first time ever that they shared stories of what had happened to them so long ago, when many of them were younger than today's college students.
While the trip is free for veterans, medical and other volunteers pay $500 to cover their airfare and other expenses — a tiny price, in Garren's view.
"It was literally the best day of my life,'' Garren says. "To see them in their memorial for the first time, to hear their stories, was an incredible honor, one that I will never forget."
"It was literally the best day of my life. To see them in their memorial for the first time, to hear their stories, was an incredible honor, one that I will never forget."
Mike Garren
This year, he was asked to join Badger Honor Flight, which made the trip from Madison on Saturday, Oct. 19. Because the veterans are at an age when they are fragile and medically complex, the medical team meets each veteran and guardian ahead of time to plan for their needs. Of the 88 World War II , Korea and Vietnam veterans on the flight, a majority use wheelchairs, and others were on oxygen or in need of special care on the plane and buses.
Garren says the end of the government shutdown was good news for the veterans — having the restrooms barricaded at the monuments was a major worry for them. The Oct. 19 flight was special because it included two women veterans — both of whom were cryptographers during the war, and one of them a member of the Ho-Chunk Nation, which donated $20,000 to sponsor the flight.
Oct. 19 was special to Garren for another reason. It was the 40th anniversary of the day John Garren died. So on Saturday, Mike Garren carried his father's army photo to the World War II Memorial that his father never saw.
Garren says it was hard to keep his composure when he saw that the Wisconsin monument in the World War II Memorial was crowded with young Wisconsin alumni living in the D.C. area, wearing red Badger sweatshirts and waiting to cheer the veterans from their home state.
"They really weren't expecting that,'' he says, adding that the "Washington Ground Crew" makes sure the veterans are greeted at Reagan National Airport and at the monument. "Every step of the way, people thanked the veterans for their service."
An even bigger surprise waited back home in Madison. The veterans were each escorted down the escalator at Dane County Regional Airport by an active- duty military person. Little did they know that the first floor was jammed with a throng of cheering people, a band, and Bucky Badger, all waiting to welcome the heroes home.
"By the time they got halfway down the escalator,'' Garren says, "most of them had tears in their eyes. This was the homecoming they deserved."
The end of a memorable day, and a fitting tribute to a great generation.