Highlights start early in four-day Wisconsin Science Festival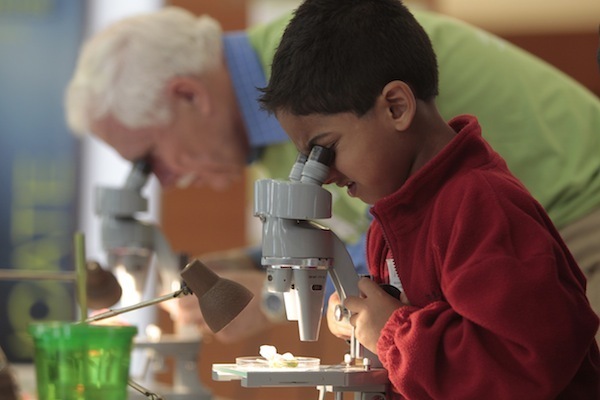 Science enthusiasts of all ages are encouraged to attend the 2014 Wisconsin Science Festival, which will run from Thursday to Sunday, Oct. 16-19, in 25 cities throughout Wisconsin. 
Photo: Wisconsin Alumni Research Foundation
You name it, and the fourth annual Wisconsin Science Festival has it — dance, stargazing, fossils, art, museum and stage shows — spread over four days and 25 Wisconsin cities.
While the curious of all ages immerse in hands-on exploration, and visitors marvel at the research underway and specimens on display around campus and the state, several of the festival's marquee events may be of interest to faculty, staff and students on campus. The festival runs from Thursday through Sunday, Oct. 16-19.
Visit the festival's website for the full schedule, but consider a few of these highlights featuring faculty and focusing on a spirit of collaboration and sharing science:
"Communicating Science: Talk and Panel Discussion"
Ever wish you made more sense to a 9-year-old (or a 90-year-old, for that matter)?
From asking middle school students to quiz scientists and employing techniques from improv comedy, Stony Brook University's Alan Alda Center for Communicating Science doesn't mind using some unorthodox methods to employ the current generation of scientists in inspiring the next.
Alda Center faculty will reflect on what they've learned about connecting effectively with a wide range of audiences, followed by a panel discussion with some of the UW–Madison faculty's best communicators on why it's crucial for practicing scientists to communicate more.
Date and location: 2:30 p.m. Thursday, Wisconsin Institutes for Discovery, 330 N. Orchard St.
Panelists include: Lynda Barry, cartoonist, author and assistant professor of art; Toby Campbell, associate professor of hematology and oncology; Bret Shaw, associate professor of life sciences communications; Steve Ackerman, professor of atmospheric and oceanic sciences and associate vice chancellor for physical sciences; and the Ald Center's Evonne Kaplan-Liss, Valeri Lantz-Gefroh and Steven Reiner.
"Rise Over Run" and "Big Ideas for Busy People"
UW–Madison dance professor Li Chiao-Ping first performed "Rise Over Run" in May, spreading a troupe of dancers throughout the Discovery building, but the unique, roving dance production is part of the official kickoff for the 2014 Science Festival.
The production emphasizes "spirit, community, strength and hope, while exploring perspectives of identity, space and place," according to Li, taking advantage of the Wisconsin Institutes for Discovery's focus on innovation and experimentation.
The dance runs for an hour, and on Thursday will be followed by a group of UW–Madison's leading researchers and "Big Ideas for Busy People," a series of high-tempo presentations of their work.
John Durant, director of the Massachusetts Institute of Technology Museum and founder of the Cambridge Science Festival, will moderate the talks, which will include Q&A opportunities with each of the UW–Madison faculty members.
Date and location: 7 p.m. Thursday, Wisconsin Institutes for Discovery, 330 N. Orchard St.
Speakers include: Steve Ackerman, associate vice chancellor for physical sciences and professor of atmospheric and oceanic sciences; Lynda Barry, cartoonist, author and assistant professor of art; Irwin Goldman, professor of horticulture; Laura Kiessling, professor of chemistry and biochemistry; David Krakauer, director of the Wisconsin Institute for Discovery and professor of genetics; T. Rock Mackie, director of medical engineering at the Morgridge Institute for Research; Li Chiao-Ping, professor of dance; and Constance Steinkuehler Squire, president of the Learning Games Network and associate professor of educational psychology
"Discovery, Technology, Collaboration and Caving to Uncover Fossil Remains in the Cradle of Humankind"
Last fall, National Geographic Explorer in Residence Lee Berger put out a call for scientists with a unique set of skills: archaeology training, caving experience and narrow shoulders.
Spelunkers in South Africa had seen a few bones in a cave, but they were on the other side of gap in the rock as narrow as 7 inches.
UW–Madison grad student Alia Gurtov answered, and over the course of several weeks she and five other diminutive volunteers carefully squeezed into the cave to retrieve an astounding haul of more than 1,200 fossil bones from hominids, early primate relatives of humans. The bones that made their way from the depths to a science tent to be studied first by Berger, UW–Madison anthropology professor John Hawks and others.
The Rising Star Expedition became the largest hominid find in South Africa. On Saturday, Hawks will treat a Science Festival audience to a story of modern anthropology and open science, staring Berger and the "underground astronauts" and the dig that captivated an audience around the world.
Date and location: 10:00 a.m. Saturday, Wisconsin Institutes for Discovery, 330 N. Orchard St.