Help us capture 'One Summer Day' on campus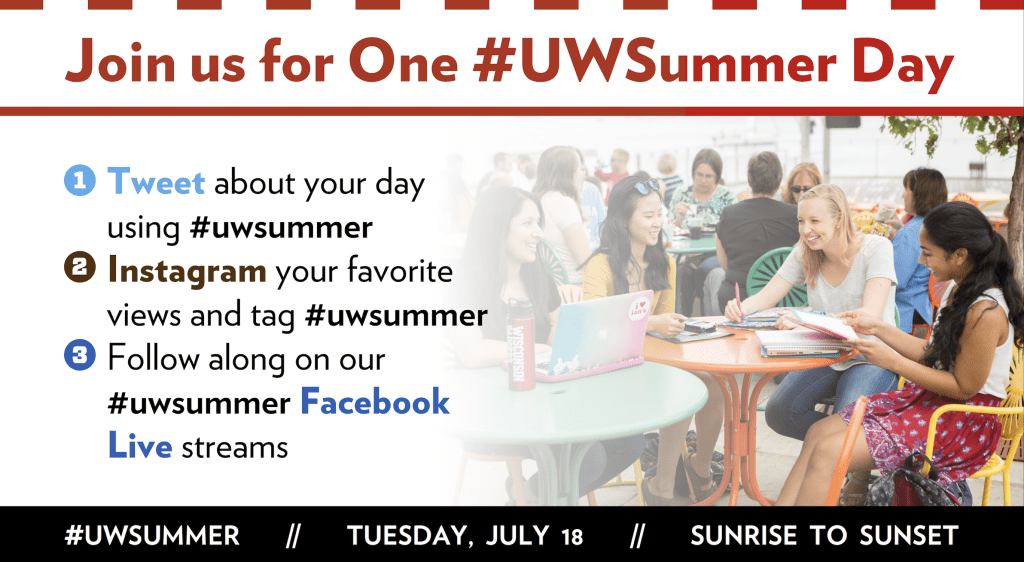 Summer Term at UW–Madison brings its own vibe. Campus is still a very busy place — the learning never stops — but there's a little more elbow room, a little more space to breathe.
On Tuesday, July 18, UW photographers, videographers and writers will fan out across campus from dawn to dusk to capture the vibrancy and variety of a typical summer day on campus — those special moments that make it both fun and beneficial to stick around here in the summer. We'll be dropping in on summer classes, hanging out at the Terrace, shadowing student researchers, and tagging along with high school summer campers. We'll even check in on Bucky.
You can follow the project as it unfolds live on social media that day, and we hope you'll consider contributing your own photos, videos and musings.
Participating on social media is easy — and highly encouraged. Here are three easy ways to share about your One #uwsummer Day:
1. Tweet about your day using #uwsummer.
2. Instagram your favorite views and tag #uwsummer.
3. Go Live on Facebook and show off the sights and sounds of One #uwsummer Day in your shoes.
Share what you're up to and tell the world why Madison is the best place to be in the #uwsummer.