Following Molly: A new student's first day
Molly Sequin of Howard, Wis., is in good company: She's one of more than 7,500 first-year and transfer students who are getting to know campus one day at a time this semester — and Sept. 3 was a biggie: the first day of classes. Granted, she had attended SOAR, and a MadBiology BootCamp held last week, and her three sisters are currently Badgers, so the UW is a little bit familiar. Photographer Jeff Miller of University Communications tagged along with Sequin and posted 15 photos of her day.
6:40 p.m. Molly checks phone messages as she leaves open crew practice for the UW Women's Rowing and heads along Temin Lakeshore Path returing to her residence hall.
6:08 p.m. Two-mile practice run following an orientation and open crew practice for the UW Women's Rowing? No problem. Molly, at left, is ready to go.
4:34 p.m. The residence hall door for roommates Sarah Mueller and Molly Sequin is already already adorned with a little personality. The message, "stop taking so long to change" was jokingly left by a friend for Molly.
4:21 p.m. Left of center, Molly, and a few of her classmates ask questions of undergraduate-peer mentor Qwateesha Stephens, seated at center, following a Biology 100 discussion class in Van Hise Hall.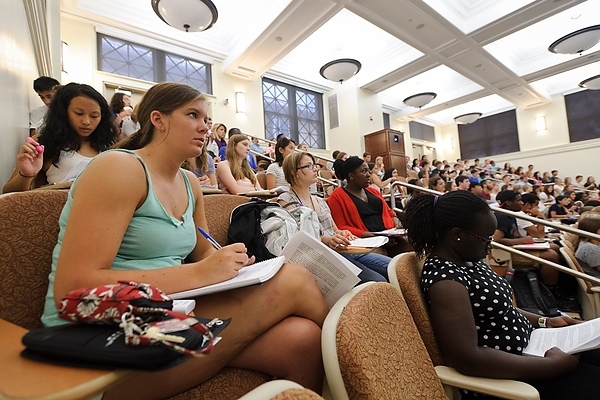 2:54 p.m. Molly, left, takes notes during her Biology 100 class in Sterling Hall. The class,taught by a team of professors and teaching assistants, is followed by a smaller-group discussion format.
1:59 p.m. Molly back stops at her room before heading to her next class. Even though she has been on campus for a week. she says "it still feels a little weird" to think of her room as her new home base.
12:55 p.m. Molly and her three siblings — all Badgers — meet for lunch at The Sett in Union South. Clockwise from lower left are Liz, a senior studying rehabilitation psychology; Chelsea, a senior studying industrial engineering; Katie, a junior studying economics and international studies; and Molly.
11:45 a.m. Back in her room, Molly talks to her mom, Jane Sequin. They chat about her first class and — creating a story within a story — this coverage of Molly's day.
10:47 a.m. Molly, right, and roommate Sarah Mueller, left of center, compare class schedules as Mueller waits for her astronomy class to start in Sterling Hall.
10:36 a.m. Molly reviews her course schedule before heading to class. First lesson learned when she visited a professor's office in Van Hise Hall: It's not the same as Sterling Hall, where she meant to be.
10:24 a.m. Back at her room in Elizabeth Waters Hall, Molly, left, checks in with her roommate, Sarah Mueller. The two are best friends from high school.
10:24 a.m. A Badger fan at heart, Molly's residence hall closet is packed full of Wisconsin-branded clothing – more than half of her wardrobe, she guesses.
10:02 a.m. Following a brief round of introductions in her Math 211 class, Molly discovers that she and classmate Lisa Haas, right, know another person from the same family.
9:48 a.m. Molly climbs the steps toward Van Vleck Hall for her first class, a discussion group for Math 211.
8:35 a.m. Before attending her first class Sept. 3, Molly greets the new day with a bike ride on the Temin Lakeshore Path along Lake Mendota.