Family affair: Milwaukee electronics manufacturer is flying high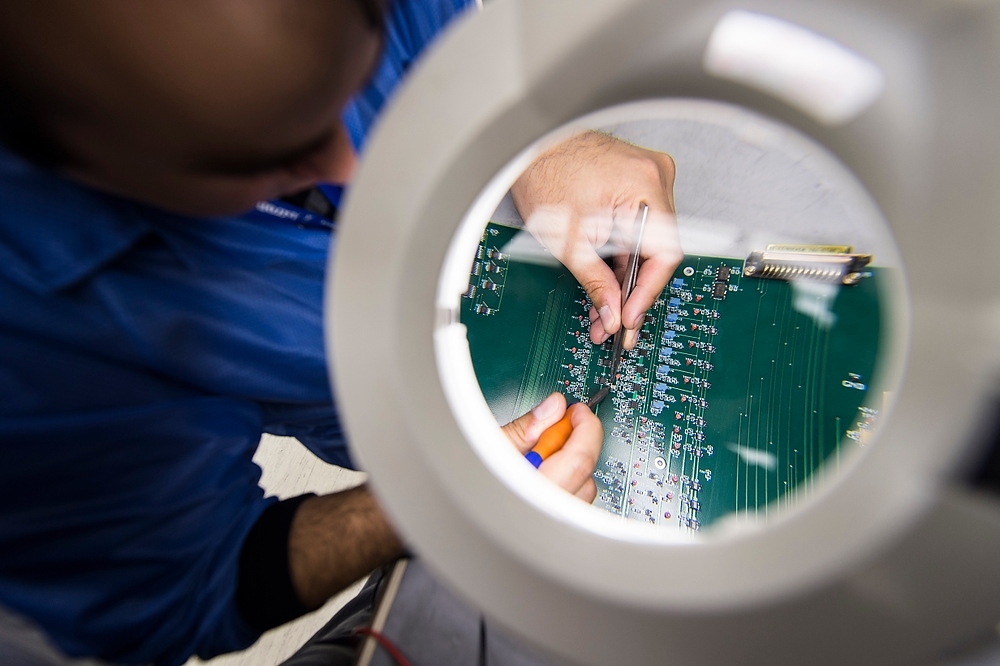 A worker bundles wires on a component in a research and development facility at Astronautics Corporation of America, an aviation instrument manufacturer in Milwaukee founded by UW–Madison alumnus Nathaniel Zelazo.
Photos: Jeff Miller
From a distance of practically eight decades, Nathaniel Zelazo can smile about the failure of his first entrepreneurial venture.
A Polish Jew who landed in New York in 1928 at age 10, he earned money for his schoolbooks peddling ice cream on the streets of Manhattan. "Needless to say, I had no license and got arrested," he recalls. "The guys in the same cell were killers and my liquid assets were melting."
In court, he says, "I promised I would not repeat the same mistake, and the judge believed me, so I ended up selling vegetables from a horse wagon." When his customers warned of another police sweep, he ran off. "So the horse got arrested, but not me." When his horse was released, he led it away from the station house. "It took courage, but they never asked me 'How come you are taking that horse?'"
Nathaniel Zelazo
That hybrid of courage and determination — call it chutzpah — took Zelazo, who had arrived with no English, to two meccas for young scientists, Stuyvesant High School and City College of New York. And after college, after World War II and earning a master's degree at the University of Wisconsin–Madison, those same traits propelled him to found Astronautics Corporation of America in Milwaukee in 1959 — and to succeed in the high-tech business of selling electronic instruments to aircraft makers.
Astronautics makes devices that register inertial guidance, navigation, runway traffic and airplane maintenance, among many other tasks. The firm has about 500 employees in Milwaukee, and another 800 at its Kearfott Corp. subsidiary, headquartered in Little Falls, New Jersey. The company's displays sit in front of pilots on more than 150,000 flying machines, including the Boeing 787 Dreamliner and the F-16 fighter.
In the 1960s, Astronautics created the first navigation instruments that showed moving charts on a television screen. Today, its "electronic flight bag" displays digital images of flight manuals, airport maps and approach charts on LCD screens. Able to optimize fuel consumption and show the location of other aircraft, the flight bag is standard on the 787 and available for other Boeing models.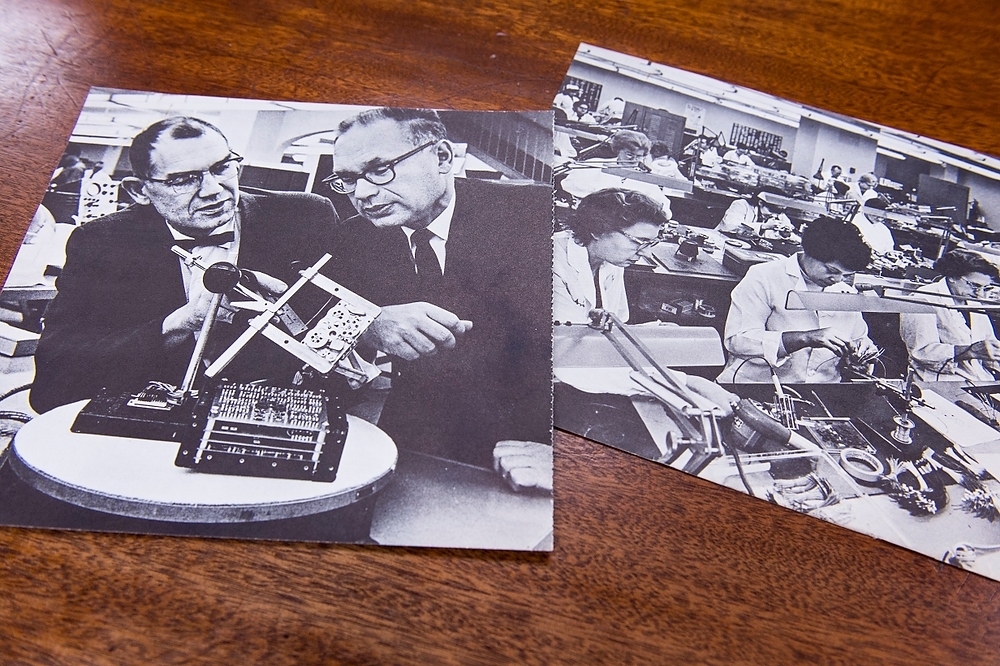 A vintage photo, circa 1960s, of UW–Madison professor Robert Parent, at far left, and Nate Zelazo, founder of Astronautics Corporation of America.
Zelazo's path to the aviation industry began when he worked on radar for the Navy during and after World War II. He moved to Racine to work in the avionics division of the John Oster Manufacturing Co. Propelled by wartime innovations, the airplane industry was advancing quickly, so to stay ahead, Zelazo enrolled in UW–Madison's graduate program in mechanical engineering. He worked with meteorologist Verner Suomi (father of the weather satellite) and engineering professor Robert Parent on a satellite instrument that measured Earth's heat budget.
By the late 1950s, Zelazo was planning to return to the East Coast to open an avionics business. His professors persuaded him that Wisconsin needed his drive, intelligence and enthusiasm. In 1959, he rushed the company's formation to accept its first contract, for an Air Force study of fuel use in space travel.
Astronautics opened its doors at 5219 N. Hopkins St. in Milwaukee.
From the first day, it was a family business. The co-founder was Zelazo's sister, Norma Paige, a New York corporate lawyer who served as executive vice president and, for many years, chairman of the board. (Although brother and sister both retired in 2000, Nate, as he is known around the company, still comes into work occasionally even at age 96.) Norma's daughter, Holly Russek, is vice president for administration and corporate attorney. Nate's son, Ronald, is CEO and chairman of the board, and Ronald's son, D. Eyton Zelazo, a 2006 UW–Madison School of Business graduate, is a program manager.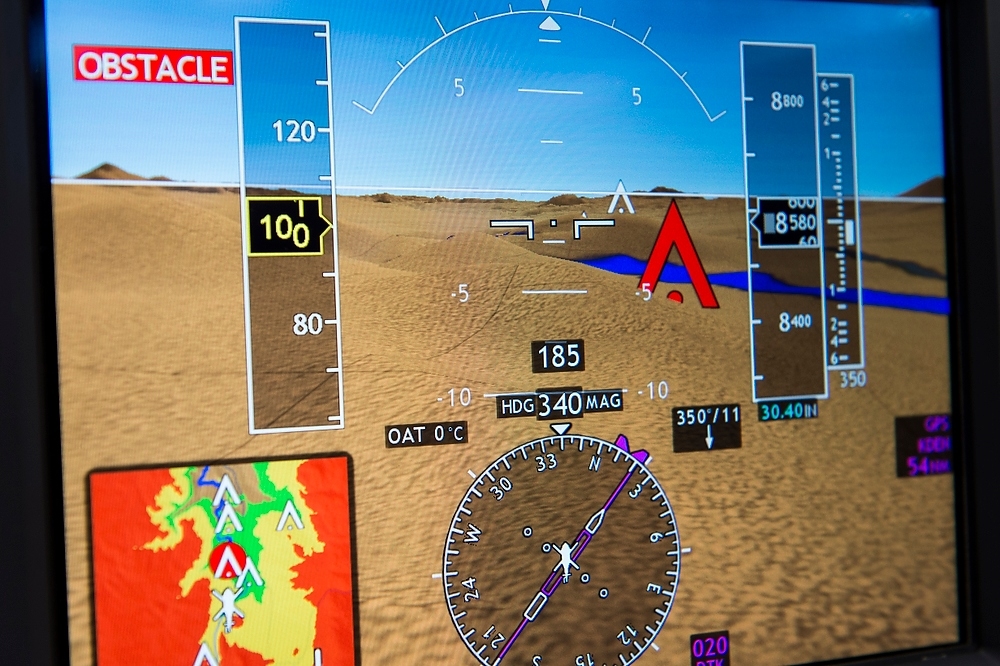 An aircraft system display manufactured at Astronautics Corporation of America.
Robert Seinfeld, a John Oster colleague and fellow UW–Madison alumnus, followed Zelazo to the brand-new company. Their UW–Madison connections were critical to the young Astronautics, Seinfeld says. "Without Professor Parent, our journey would have been very difficult."
For his master's thesis, Seinfeld worked on astronomy professor Arthur Code's "star tracker," which shot the first photos of stars taken from beyond Earth's atmosphere (where air did not block ultraviolet light). Astronautics built the star tracker, which flew to the edge of space on an X-15 rocket plane.
On the commercial side, Astronautics created electromechanical instruments — combinations of circuits, switches, motors and gears. Its attitude direction indicator, for example, showed the position in flight and flight direction.
Once an instrument was envisioned, it had to be sold — to the military, an airplane maker or later, an airline. The upstart company struggled to marshal every advantage as it competed with the industry bigs, Seinfeld says.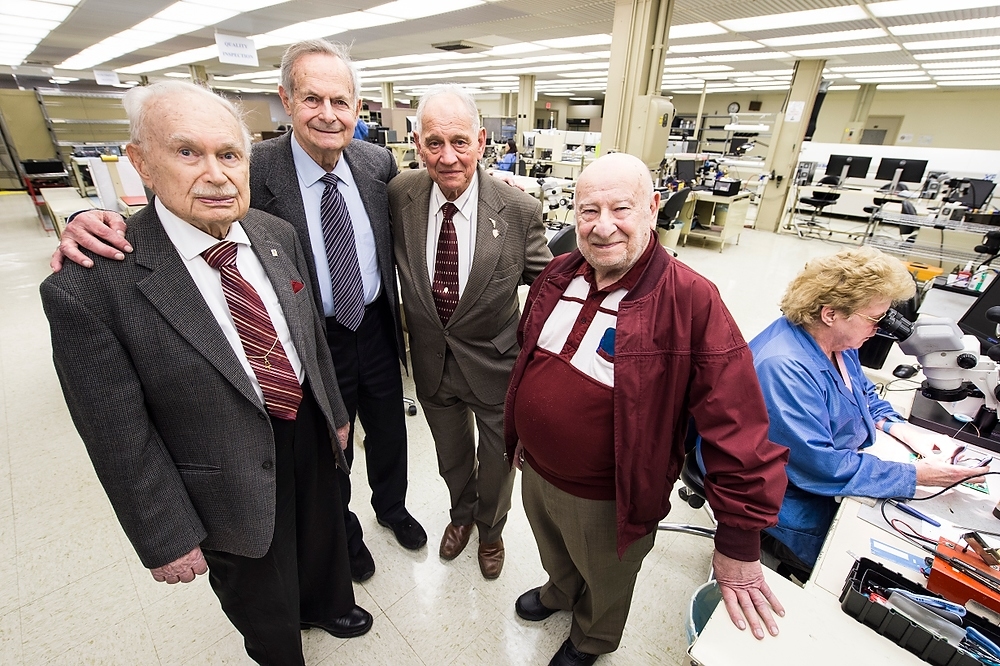 From left to right, "old-timers" Nate Zelazo, Robert Seinfeld, Norris Servais and Rollie Voith at the Astronautics production facility in Milwaukee. The family company was founded in 1959 by Zelazo.
There again, Zelazo's chutzpah proved handy.
When Lockheed was developing the P-3, a long-distance propeller plane, it offered Astronautics a contract for the attitude indicator, but not the flight director computer. At a meeting, "Nate shocked everyone and said, 'If we can't get them both, we can't accept the attitude indicator,'" Seinfeld recalls. Lockheed's buyer talked briefly with a superior and returned with an approval for the combination.
"We had done individual parts, but this was our first involvement in a whole system," Seinfeld says, an experience Astronautics needed to stay abreast of the industry trend toward consolidating instruments. "We sold it, yes we did. With Nate, you cannot say no."