ESPN's College GameDay returns to Bascom Hill
ESPN's College GameDay visits Bascom Hill for Saturday's historic matchup between the Wisconsin Badgers and the Ohio State Buckeyes. University officials want to make sure that the experience is safe, fun and enjoyable for everyone.
The network last filmed its popular pre-game show at UW–Madison in 2011. This is a special opportunity for Badger fans to have a fun, spirited and safe time in the heart of campus.
Preparations for the broadcast will begin Wednesday and will affect some walkways, parking lots and a portion of Observatory Drive. The majority of the setup will occur Thursday, beginning at 7 a.m. The broadcast will run from 8 a.m. to 11 a.m. Saturday.
Campus traffic
The main event location will be in the middle section of Bascom Mall. Several large trucks will be parked along Observatory Drive from North Hall to Bascom Hall.
UW-Madison employees who park in lots 9, 10 and 11 will experience additional congestion and changes in the traffic flow.
Observatory Drive will be one-way westbound from North Park Street to North Charter Street starting at 1 p.m. Wednesday through Saturday. There will be no right turns allowed out of Lots 9, 10 and 11.
Madison Metro bus routes will continue normal operations. On Saturday Observatory Drive will be closed from North Park Street to North Charter Street, except for lots 9, 10 and 11 permit customers, who will need to show their permit in order to enter their lots.
Employees who need to park for work-related reasons on Saturday may choose to avoid some congestion and park in lots 5, 6, 21, 22, 26, 28, 30, 82, 85 or 131. Remember that you must display your annual parking permit.
If you have special parking needs or would like advice for work-related parking during this event or have other questions, contact Transportation Services representatives at customerservice@fpm.wisc.edu or call 263-6667.
Saturday broadcast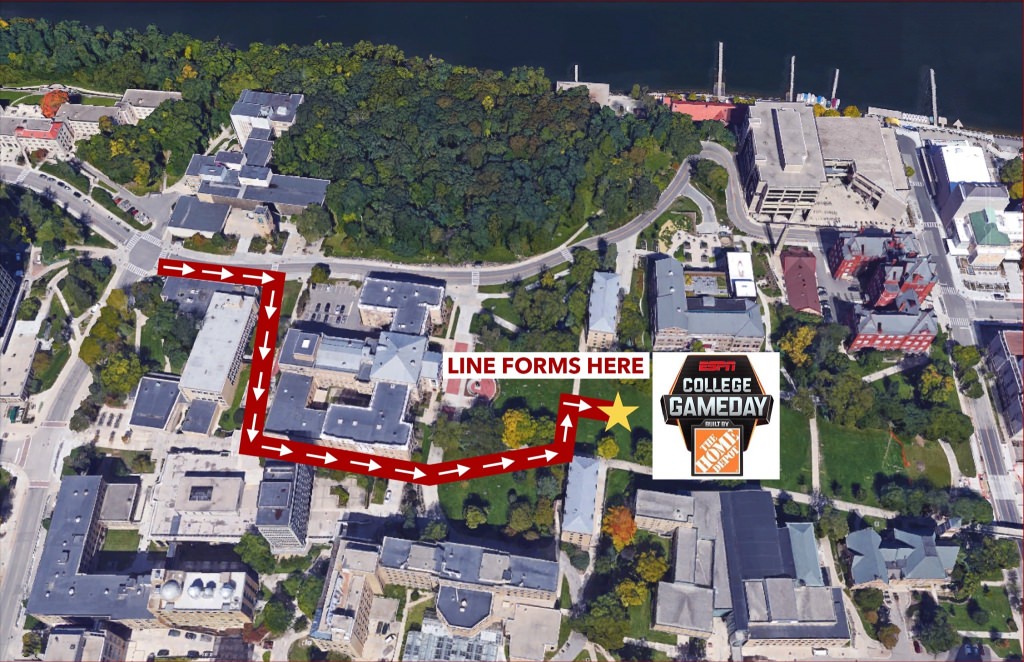 Lines are expected to form for fans to gain access to the areas closest to the stage.
Early birds should be aware that Chapter 18 of the Wisconsin Administrative Code bars camping on campus. Camping includes the pitching of tents or the overnight use of sleeping bags, blankets, makeshift shelters, motor homes, campers or camp trailers.
ESPN does not allow backpacks, purses or other bags into the area closest to the stage.
Authorities also advise participants that signs on sticks will not be permitted at the event. For those admitted to the areas close to the ESPN stage, note that network personnel will screen signs, items, appearance and attire for appropriateness.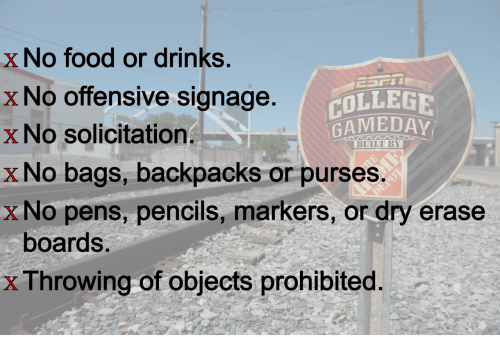 Saturday at Camp Randall Stadium
Police at UW–Madison are also reminding fans of stadium polices to help ensure that everyone has an enjoyable experience at this sold-out 7 p.m. game.
If you're coming to the game, here are some important things to keep in mind:
Gates open 90 minutes prior to kickoff.

Plan to arrive at the game early to ensure enough time for parking and entry into the stadium.

Items permitted inside the stadium are: bags no larger than 8.5 inches by 11 inches, binoculars, cameras (lens 100mm and smaller), blankets, jackets, items related to a medical condition, chair backs not more than 16 inches wide, and diaper bags for those with a child.

Items not permitted inside the stadium include: bags larger than 8.5 inches by 11 inches (including backpacks), food, beverages, containers, strollers, laser pointers, umbrellas, banners, flags, signs, noisemakers, weapons, inflatables, laptops, video recorders, monopods, tripods or any items deemed dangerous or inappropriate. All items and spectators are subject to search. Storage facilities are not available for checking prohibited items. Items left at gates will be disposed of accordingly.

Open intoxicants are not allowed on City of Madison property, such as streets and sidewalks, and are also not allowed inside Camp Randall Stadium.

If you leave Camp Randall, there is no re-entry into the stadium.

For more information, visit

Wisconsin Athletics

.

Campus police will also be posting additional information throughout the events on Saturday. For this information, follow @UWMadisonPolice on Twitter or follow University of Wisconsin Madison Police Department on Facebook.