DreamUp Wisconsin selects 11 initial proposals for boosting the middle class in Dane County
When UW–Madison was selected by Schmidt Futures as part of its Alliance for the American Dream Initiative, the grant came with a significant challenge: Produce innovative ideas for increasing the net income of 10,000 Dane County families by 10 percent by 2020.
DreamUp Wisconsin, the local implementation effort launched to meet the challenge, has selected 11 proposals, from a total of 46 submitted by teams of community and university partners, which offer innovative ideas to grow and support Dane County's middle class.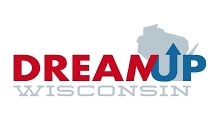 Ideas include: a 10-step financial literacy and holistic financial well-being program; a transportation system linking workers with employers outside Madison; legal services through direct representation and technology to reduce employment barriers; a plan to provide wrap-around services and more meaningful connections with local employers to enrolled students as well as those who had to stop attending Madison College for financial reasons; a multi-pronged approach to transform the early childhood and out-of-school time sectors; a plan to help workers advance beyond their first job; a place-based approach to improving housing and work supports; engagement of the manufacturing, construction, and service sectors to improve employment opportunities; a multi-faceted plan to transform the regional food system; a medical debt forgiveness program; and a plan to increase renewable energy sector jobs and reduce energy costs.
These 11 proposals, all of which include a UW–Madison-community collaboration, will advance to the initiative's next round of competition.  And all, says Institute for Research on Poverty director Lawrence Berger, have the potential to improve the lives of families in Dane County and to inform ways to strengthen the middle class throughout the United States.
"Through this first phase of DreamUp Wisconsin, we engaged the community in identifying ways to improve families' economic well-being, as well as ways to expand and strengthen the middle class in our county. This is a key issue in Dane County where the strong economy, including relatively high median household income and low unemployment rate, often belies the struggles of its most vulnerable residents and leaves many out of the middle class," says Berger. "We continue to be thrilled with the community's response to this initiative and with the innovative ideas for building a strong and diverse middle class."
Over the summer, DreamUp Wisconsin facilitated  community-university discussions during weekly "office hours"; attended numerous community meetings with local organizations, businesses, and policymakers; and interviewed Dane County residents to better understand what makes it difficult for families to get ahead financially, what could help decrease their expenses, and what might help increase their incomes.  The 46 proposals submitted to DreamUp Wisconsin were based on insights gleaned from these discussions.
"We continue to be thrilled with the community's response to this initiative and with the innovative ideas for building a strong and diverse middle class."

Lawrence Berger
Each of the 11 teams whose proposal was selected by the DreamUp Community-University Proposal Review Committee will receive $10,000 in development funding and additional in-kind resources, such as access to university and community expertise, to develop ideas into full proposals before December. By December 10, three proposals will be chosen as finalists and advanced to the broader Alliance for the American Dream Initiative level. Schmidt Futures has committed to further supporting at least one team from each partnering university in 2019.
The DreamUp Wisconsin Proposal Review Committee's members include: UW–Madison Chancellor Rebecca Blank; CUNA Mutual Group Executive Vice President & Chief Enterprise Services Officer Cedric Ellis; Associate Vice Chancellor for Social Sciences Jan Greenberg; UW–Madison School of Education Associate Dean of Innovation Rich Halverson; Madison & Dane County Director of Public Health Janel Heinrich; President of Government Policy Solutions Forbes McIntosh; UW–Madison College of Letters & Science Associate Dean of Operations & Staff (and Distinguished Researcher) Jennifer Noyes; founder of conNEXTions Saran Ouk; co-founder of Synergy CoWorking Space Eugenia Podesta; UW–Madison Graduate School Associate Dean Parmesh Ramanathan; Dane County Office for Equity & Inclusion Director Wes Sparkman; and Michael Best Strategies Principal Karen Timberlake. The committee's facilitator is EQT By Design founder and CEO Annette Miller.
UW-Madison was one of four universities selected to participate in Schmidt Futures Alliance for the American Dream Initiative (the others are Arizona State University, the University of Utah and The Ohio State University). The Alliance for the American Dream initiative is committed to "raising the level of collective ambition in driving the breadth, depth and pace of innovation across the country."
UW-Madison's Institute for Research on Poverty was seen as the ideal partner for tackling the challenges of poverty and the shrinking middle class. IRP is the nation's longest-standing center for poverty research and currently serves as the national Poverty Research Center, funded by the US. Department of Health and Human Services.