Dinners On Wisconsin brings together students, staff over food
"Let's talk after class" – normally, a phrase that would instantly ignite a flurry of terror in a student's mind.
Not this time – thanks to Dinners On Wisconsin, a biannual event hosted by the Wisconsin Alumni Student Board, known around campus as WASB. The event's mission is to make UW–Madison feel a little more like home for both students and professors.
Last month, in twelve locations over three days, UW–Madison students, staff and their families sat down around dinner tables with warm plates of home-cooked meals. As everyone took their seats at the table and settled into the designated topic of conversation for the meal, stories flowed freely and an appreciation for each other's experiences grew.
The familiar, heart-warming feeling of sitting around the table, sharing food and stories is not always easy to replicate on a college campus for students. Each student at UW–Madison has a unique day-to-day life. They're involved in things like class, jobs, research positions, volunteering and extracurricular activities. A day that ends with a sit-down meal where students, professors and/or alumni share stories is a special treat. These dinners can reconnect students to big-picture goals and remind professors of the impact that they have on students.
Dinners On Wisconsin is a staple event for WASB; sharing a meal with classmates and professor is passed down from generation to generation within the club.  When Mia Ogorchock, UW–Madison student and event leader of DOW, thought to herself,  "I wish I  could have a home cooked meal," she realized her want for community wasn't unique. Ogorchock and fellow WASB members Henry Rutman, Leah Kramer, and Violet Allscheid took steps to grow Dinners On Wisconsin to be accessible to more students. After sorting through logistics and organizing times with professors, Dinners on Wisconsin continued to grow. 
The events are thoughtfully curated with professors and like-minded students. The students look up to UW–Madison professors as people who have been through it all, who have stories and insights about life after college. The professors can look around the table and see seats full of potential. The idea was to, in effect, shrink campus to a smaller size, as students gain deeper connections with academics and peers.
The difference between professors and students is vast; one attended college years ago and has excelled in their work, the other is just getting started on their journey. The student is facing countless time-sensitive decisions about the future. The professor has an abundance of experience and stories that reflect the weathered intellectual journey. 
When both student and professor are seated together at the dinner table, passing the warm pasta around, their differences begin to dissipate and the community they have in common is enriched.
Here's a look at some of the dinners, from the perspective of students who attended:
"Happiness, purpose, and how to make choices about what's next in your life" 
Hosted by Professor Christine Whelan, School of Human Ecology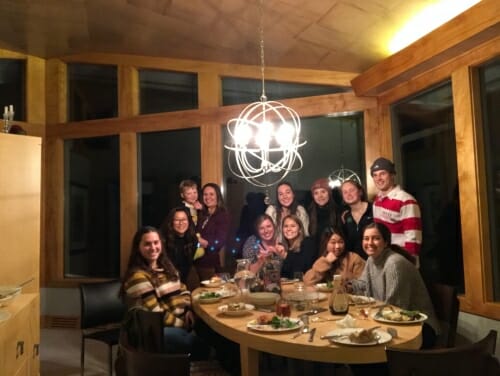 Rachel Kwon, 4th year student: "Dr. Christine Whelan was my First-Year Interest Group leader during my first semester at UW–Madison. I saw this opportunity to reconnect with my favorite professor on campus as a senior. Her leadership on Ecology of Human Happiness FIG left a lasting impact on me and my peers throughout the past 3 years at UW–Madison. I was incredibly excited to see that she was participating in DOW this semester!
"The dinner took place in her home in Shorewood. Her house was decorated with her children's drawings and toys. Although we were only 15 minutes outside of campus, it felt like home. There were multiple lessons that she shared with us:
 You don't have to have everything figured out right now. Even if you do, your plan will last for 2 years. Then, you can start all over again.

The network that you build right now matters more than the grades that you get in class. 

Get involved, meet new people, go to office hours. Study something that you're curious about, and then apply/transfer your skills in unexpected industries.

Study abroad if you can, travel to different places when you are able.
"Some of the benefits of attending a Big Ten university is that there are endless opportunities to get involved and meet new people. Everyone has their own unique story and background that they can share with you if you are willing to open yourself to conversations. This is a perfect example of taking a chance on yourself and putting yourself in an uncomfortable situation to attend a dinner with people you've never met before."
"History, Literature, Art & Cooking" 
Hosted by Patricia O'Callaghan, UW–Madison alumna and employee.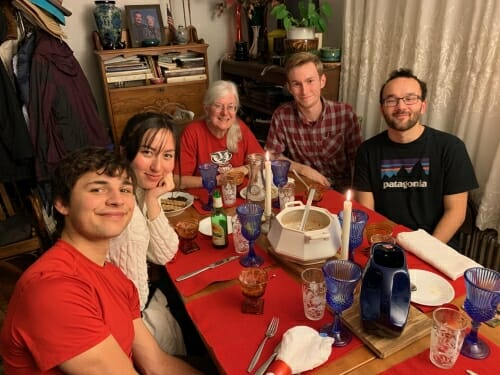 Will Fitzgerald, 2nd year student: "I chose this dinner due to my interest in discussing and learning about history with people, whether the discussion is about local or global historical trends. The dinner was not too far from campus – only about half mile northwest of Camp Randall. It was at Patricia's own home! 
"There was no one particular moment of the conversation that stood out above the rest, it was just very interesting to share a home-cooked meal with other students, discuss current Wisconsin events such as the continued presence of Foxconn in Milwaukee, and learn some neat cooking tips!
"This event would be incredibly beneficial to those students in need of a break from their routine. It can be very easy to forget the importance of relaxation when college courses and extracurricular obligations demand so much attention and active participation. It is important to recognize that we need a break sometimes to enjoy an evening of unwinding supplemented by the embrace of fellow students and alumni. It can also be beneficial to students who are longing to immerse themselves in the University of Wisconsin community. In my opinion, this event is the quintessence of connecting Badgers of the present and past, and serves as a reminder of communal bonds shared by students, professors, and alumni of UW that make this campus so special!"
"Outside the Classroom, into the Future"
Hosted by Katie Hepler & Patty Shinners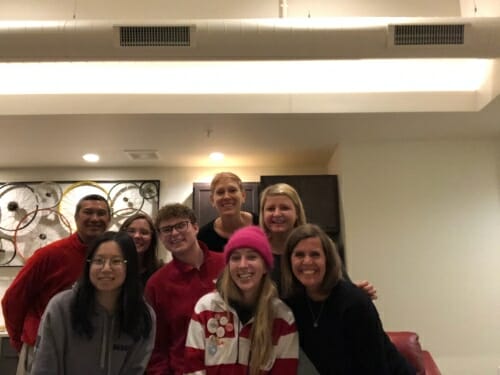 Giovanna Donna, 4th year student: "I would say that I chose a dinner hosted by alumni to talk about my future plans and worries. I chose it because I am a graduating senior and know that my end here at UW is sadly approaching. I am anxious about what lies ahead.
"It was at the apartment of one of the owners on the east side in Madison. It was really nice to be so far outside of campus and to see family and successful young adults. We ate in the communal hall of the apartment where they had games and a TV – it was super relaxing and chill."
"I really enjoyed learning about how UW has changed in the eyes of alumni. Our hosts told us how they used to sign up for classes, telling us how they would run around campus and sign a piece of paper and would have to go back to buildings to change sections because there was no automated system that told them what would conflict. I thought its was super interesting to hear their stories about housing as well, and the application process. For example, when one of our hosts applied there were no applications and that is why he applied here because he did not want to do any extra work.
"This experience can be so beneficial to others because it provides an easy enjoyable evening usually off campus that allows for a nice break during midterm season. Free, home-cooked, amazing dinner and fun discussion to learn about things that you are actually interested in! Additionally, it is also a great opportunity to engage in discourse on a topic in which you may not realize you are interested in; a free dinner is just an added treat."