Davis gift to Human Ecology to benefit design students
During her 30 years as a professor in the School of Human Ecology, Ruth Danielson Davis showcased student work in the rooms, hallways, and cabinets of the Human Ecology Building. Now, a $4.6 million gift from her estate to the School of Human Ecology will play a major role in getting student work even more exposure in the future.
The gift supports the Ruth Davis Design Gallery, named in her honor when the gallery moved into the school's new Nancy Nicholas Hall in 2012. Davis, who died in 2011, served as a professor for more than 30 years.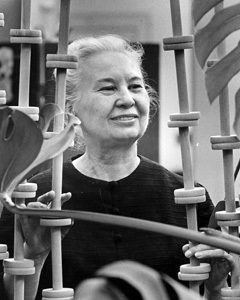 Ruth Danielson Davis
"Professor Davis recognized very early how important it is to give students the experience of critical public exposure of their work," says Virginia "Terry" Boyd, interim director of the TREO (Textile, Research, Education and Outreach) Design Lab. "It is essential in their growth as a design professional. The new gallery now gives students a professional environment for their work."
Earlier this year, the gallery hosted an MFA exhibition and Design 2013, a juried exhibition of the creations of students in the interior design and in textile and apparel design programs.
"Ruth's gift epitomizes a respected tradition of women's philanthropy, sends a wonderful message, and sets a bar for faculty philanthropy," says human ecology Dean Emerita Robin Douthitt, who knew Davis well. "She felt forever grateful for being a faculty member here, and her gift will undoubtedly inspire many to follow her powerful example."
In addition to students, the Ruth Davis Design Gallery offers a valuable venue to faculty and community artists, as well as a climate-controlled environment for visiting exhibitions, says current human ecology Dean Soyeon Shim.
"Ruth's gift epitomizes a respected tradition of women's philanthropy, sends a wonderful message, and sets a bar for faculty philanthropy."
Robin Douthitt
"Davis' generosity not only provides a campus exhibition space, but it also supports the third largest gallery in Madison," she adds.
Growing up near Horicon Marsh, Davis viewed the natural environment as the source for sound design thinking and was a pioneer in green and sustainable design. She drew and photographed bark textures and incorporated rocks, reeds and flowing water in her textile panels. Davis created a technique for applying watercolors, dyes, and inks directly to textiles, which she exhibited around the globe.
Davis developed the artistic talents of thousands of undergraduate and graduate students, as well as UW-Extension workshop participants. She authored a textbook, "A Review of Design Fundamentals," and initiated the school's early exhibitions of student work.
The current exhibition, Clothing, Culture, Context in South Asia: Selections from the Helen Louise Allen Textile Collection, runs through Oct. 20.