Convocation offers formal welcome for new students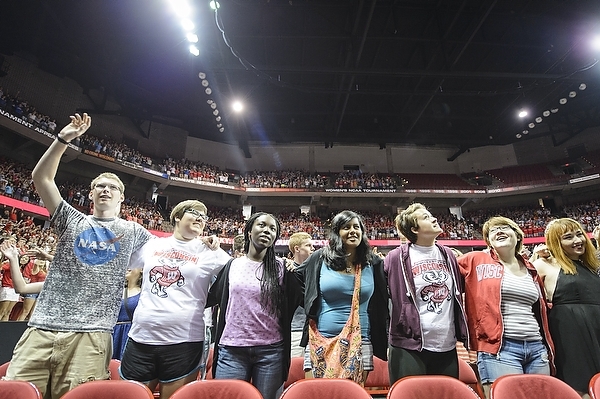 First-year students lock arms and sign "Varsity" during the Chancellor's Convocation for new students at the Kohl Center in 2014. This year's Convocation will take place Tuesday, Sept. 1.
Photo: Bryce Richter
For thousands of students new to the University of Wisconsin–Madison, the Wisconsin Experience officially begins when they meet Chancellor Rebecca Blank at the Kohl Center.
Amidst the hubbub of getting adjusted to new roommates and buying supplies, the Chancellor's Convocation offers a chance for first-year and transfer students to come together as a class, experiencing the traditions of the UW–Madison campus.
The event, presented through the Center for the First-Year Experience (CFYE), takes place on Tuesday, Sept. 1, from 10:30-noon at the Kohl Center.
The pageantry and scope of this formal ceremony serves as a bookend to Commencement. This year's theme, "Be the Change," links to the Go Big Read theme of "Inequality in America," encouraging all Badgers — students, faculty and staff — to take a leading role in creating a just community for everyone.
Redefined, a coed a cappella group, will lead the singing of "Varsity" and the national anthem.
Aaron Bird Bear, interim assistant dean for student diversity programs in the School of Education, will once again host the event. In addition, he will draw on the history and heritage of the Four Lakes region to introduce new students to the 12,000-year-old human landscape of UW–Madison.
Hiwot Adilow, a First Wave Scholar originally from Philadelphia, is this year's student speaker. A singer-songwriter and poet who is active in many student organizations, she is a junior in the College of Letters & Science.
Patrick J. Sims, vice provost for diversity and climate and professor of theatre and drama, will speak on behalf of the faculty.
As students leave the arena, faculty, staff and special helper Bucky Badger will distribute copies of this year's Go Big Read selection, "Just Mercy," by Bryan Stevenson.