Observatory Drive to be closed for 3-4 weeks starting Wednesday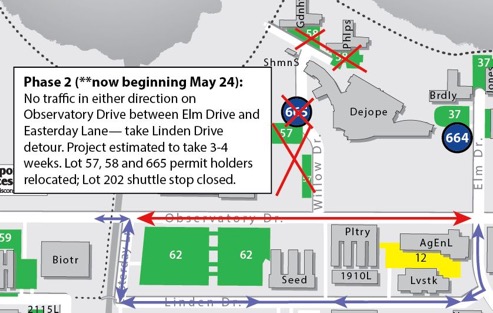 As utility work trenching across Observatory Drive continues, a planned full closure of several blocks of it will start earlier and last longer than originally planned.
Due to safety concerns during Phase 1 of construction, Phase 2 has been moved up to start Wednesday, May 24. Observatory Drive will be closed to both directions of traffic for an estimated three to four weeks. All traffic between Elm and Easterday will be detoured to Linden Drive. Some parking lots are affected:
• Lots 57 and 58 permit holders — lots will be inaccessible, so permit holders are relocated to Lot 62 until construction is completed. Remember to display your annual parking permit. Annual permits are valid in permit stalls only. Please do not park in reserved stalls.
• Moped Lot 665 permit holders—lot will be inaccessible, so permit holders are relocated to Moped Lot 664 (east of Dejope).
In addition, work scheduled for May 20 has been rescheduled to June 3 due to rain. On June 3, a contractor will apply the top layer of asphalt to the stretch of southbound pavement between Observatory Drive and just south of the main Lot 75 ramp exit. Transportation Services has worked to minimize the impact to traffic of all sorts, but there will be some:
• Southbound travel between Observatory Drive and the Lot 75 exit will be closed. The detour will be a left turn (eastbound) from Highland to Observatory Drive.
• Turns from the main exit of the ramp left (north) and right (south) onto Highland will be possible most of the day. During the two hours when the exit itself is being paved, only southbound (right) turns will be possible. For 10 minutes or so, no turns out of this entrance will be possible. Those in the lot should consider using the exit on the Lower Level (north side of the lot) that exits out onto Observatory Drive.