Commuter Solutions offers spring biking tips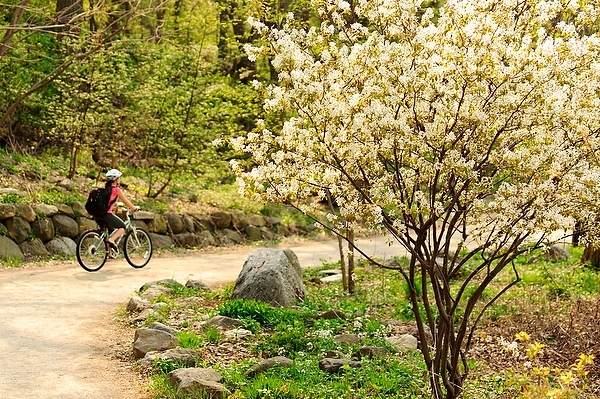 A bicyclist pedals along the Howard Temin Lakeshore Path.
Photo: Bryce Richter
It really is springtime — finally! Many people find one of the best ways to shake off winter and get outside is to jump on a bicycle. Staff members from Commuter Solutions, part of UW–Madison's Transportation Services, share nine top tips for making those early rides safe and fun.
The days are still short, and motorists may not yet be accustomed to seeing more bicyclists on the road. Wear reflective clothes when biking in the early evenings or at night. Use a white front light and a rear red reflector (or even better: add a red rear light) for safety. Plus, it's the law!
Want to learn more about taking care of your bike? Stop by the University Bicycle Resource Center in the basement garage of Helen C. White Library anytime between 4 and 8 p.m. through early May. You can also take free classes, such as "Shifting and Derailleurs," on Wednesday, April 15 at 6 p.m., or "Introduction to Truing a Wheel" on Wednesday, May 6 at 6 p.m.
Don't have a bike? Borrow one from Madison B-cycle. UW students and employees can join for a year for only $20. New kiosk locations are popping up every day. 
If you're looking for the best routes to take on your journey, using Google Maps for bike directions can help, especially when used in combination with the City of Madison bike map. 
Always wear a helmet and eye protection when bicycling. University Bicycle Resource Center has coupons for discounts on helmets and lights, and the Kohl Safety Center at UW Hospital sells helmets for just $10.
Be sure to use a quality bike lock. Lock both the frame and front wheel to a bike rack. Remember that on campus you may not lock to trees, handrails, benches, signs or anything besides a bike rack. 
Register your bicycle with the City of Madison. Besides being a legal requirement, it can assist you in getting your bike back if it is ever stolen — as in the case of UWPD's recent bike bust. 
Bicycles are legal vehicles, so follow the rules of the road.
If you're leaving campus, don't forget to take your bike home at the end of the spring semester. Bicycles left on campus for more than 72 hours can be impounded and will be transferred to UW SWAP by the time you return in fall. Bicycles left outside overnight also make easy targets for thieves.
Some top biking destinations are:
UW Arboretum: Peaceful and scenic, these routes lead riders around Lake Wingra and through Nakoma.
Lake Monona Loop: Start at Monona Terrace and follow the signs for an easy ride of about 90 minutes (with plenty of spots to stop and refuel).
Military Ridge: Head out toward Verona and Blue Mounds for a 40-mile state trail with a gentle grade of 2-5 percent.