Charting a map library's transition to the digital age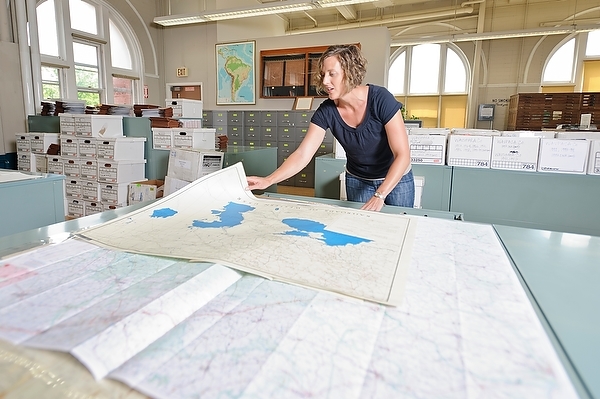 Jaime Stoltenberg, map and geospatial data librarian in the Department of Geography, is pictured in the Arthur H. Robinson Map Library in Science Hall.
Photos: Bryce Richter
In stories, maps lead to treasure.
But in real life, maps are the treasure. They reveal history, showing us how we once viewed our world, and help us understand the world as it exists now. And sometimes they hold mysteries of their own.
On a sunny afternoon on the third floor of Science Hall, Jaime Stoltenberg is fielding a call from a geology professor at UW-Fox Valley looking for help deciphering the meaning of symbols on a map from the 1890s.
In 2003, Stoltenberg took over the Robinson Map Library, founded with a collection of World War II maps belonging to well-known cartographer Arthur H. Robinson, who taught on campus from 1945 until his retirement in 1980.
Coming to the UW represented a homecoming for Stoltenberg, a Wisconsin native who earned her bachelor's and master's degrees from UW-Milwaukee. There, she worked on campus at the American Geographical Society Library, home to the second-largest map collection in the western hemisphere, after the U.S. Library of Congress.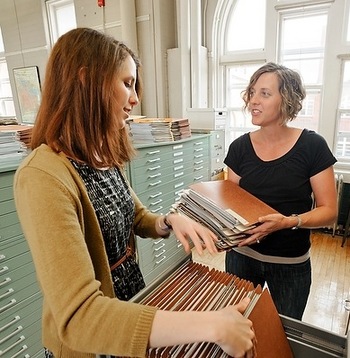 Stoltenberg talks with student worker Chloe Quinn (left) as they file aerial photographs.
"It's huge. It's over a million items," she says. "So it was really an amazing collection to get exposed to the field."
After graduation, she started her career as a GIS librarian at Cornell University. She was in Ithaca, N.Y., for two years when the position at UW–Madison opened up. Stoltenberg saw a window of opportunity: the previous librarian held the job for 38 years.
"I thought, 'I have to apply, I want to go back to Wisconsin,'" she says. "This field is so specialized — map and GIS librarianship — there's only (so many jobs)."
Since beginning work in Science Hall, Stoltenberg has focused on leading the map library into the 21st century.
"It's really completely transformed from the way it was when I got here. It really did function like an old school print map library," she says. "There were no computers, which is something students today expect when they walk into a library."
One of Stoltenberg's biggest projects was collaborating with the State Cartographer's Office and UW Digital Collections to scan 38,000 historic aerial photographs from the 1930s and 1940s, with help from a 2008 grant from the Ira and Ineva Reilly Baldwin Wisconsin Idea Endowment. The photos were decaying from years of use and are now safely packed away in storage.
"It's really completely transformed from the way it was when I got here. It really did function like an old school print map library."
Jaime Stoltenberg
The map library has established itself as the largest archive of historic aerial photographs in the state, a status reinforced in the last six months with an influx of 40,000 photos from the Wisconsin Department of Natural Resources forestry office in Tomahawk, dating from 1998-2010.
Students are spending the summer stamping, indexing, and shifting the new batch of photos, which will bring the library's total collection to 266,000. To make room, the library sent hundreds of wall maps to UW SWAP (Surplus With a Purpose), where shoppers nostalgic for a piece of their memories of childhood classrooms could take them home.
"We carried armfuls down the stairs, because the elevator was under repair," Stoltenberg says.
The library still has printed maps, including a collection of Wisconsin maps, and materials from the federal agencies including the U.S. Geological Survey, U.S. Forest Service, National Parks Service and National Oceanic and Atmospheric Administration. And Stoltenberg says the library continues to keep its print collections up to date, focusing on a continent or two each year when buying new maps.
Going forward, Stoltenberg is working on a project to make the library's data collections downloadable so students can more easily access the information, such as assessment data and tax parcels. "(It) kind of defeats the purpose of born-digital data when you really think about it, someone having to be a gatekeeper," she says.
And she spends time talking to students in geography, landscape architecture, and urban and regional planning courses about the library's resources and how they can request data.
"Our primary mission is to support research and teaching on campus," she says.