Chancellor welcomed with 'Bec-Key Lime Pie' ice cream
As the new chancellor, Rebecca Blank has plenty on her plate. But on Monday, she got the scoop on a new Babcock ice cream, named in her honor.
Bec-Key Lime Pie will be available campuswide starting Sept. 1. Blank got a sneak taste of the flavor, which was selected from more than 400 suggestions during a contest.
"I was amazed at how many people were coming up with names," Blank says.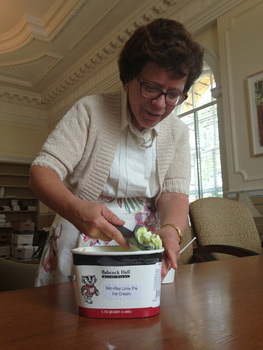 Chancellor Blank scooping the ice cream named in her honor in her Bascom Hall office.
Photo: Nate Moll
There was lots of alliteration — and creative combinations of flavors: Blankenberry, Berry Becky Badger, Rebecca of Buckybrook Farm, Rebeccappuccino, Teach Me How to Becky.
Mary Jensen submitted the cleverly named combination of key lime pie flavored with graham cracker swirl online. She'll receive a gift of ice cream for her suggestion.
"It was the best name by far," Blank says.
For Blank, the ice cream was the surprise part of her new job.
"Not even the president gets his own ice cream," Blank said.
The Babcock Dairy Plant produces about 75 flavors a year with 20, like vanilla, offered year-round. Four "feature flavors" are offered per month. Bec-Key Lime Pie will be available through September, and maybe October — 300 gallons were made and once it's gone, it's gone.
But don't worry. It will be offered at the spring employee appreciation ice cream social on Bascom Hill.
"I expect it to be a great product," says Bill Klein, Babcock Dairy Plant manager. "It's always fun coming up with new flavors."
The key ingredient to Babcock ice cream's success is freshness. The plant makes a limited amount, ensuring it's always fresh. Oftentimes, you're eating ice cream that's just a few weeks old.
New flavors offered for a limited time help create demand.
"People like what they can't have," Klein says.
Some sound better than they actually are, Klein says. Peanut butter and jelly ice cream wasn't exactly a hit. But it's fun to try new flavors, Klein says.
"If I like it, everyone will like it," Klein says. "I'm the average guy."
While change can be good, some things like Babcock ice cream are tasty just the way they are.
"We've been using the same formulation since 1951," Klein says. "The only thing that changes are the flavors."
So get some Bec-Key Lime Pie while it's hot. Or cold.