Chancellor visits Wausau businesses to discuss partnerships
What do business leaders in central Wisconsin say they need above all else?
That's the question Chancellor Rebecca Blank asked at a recent meeting with executives whose companies have global reach.
The answer: talented workers.
On August 5, Blank visited Wausau to talk with representatives of Greenheck Fan Corp. and Eastbay.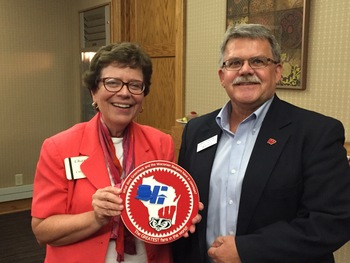 Chancellor Rebecca Blank met with Greenheck Fan Corp. Chief Financial Officer Gary Stroyny and other Wausau-based executives to discuss partnership opportunities.
Photo: Lee Sensenbrenner
Greenheck is a privately held company that has been in Schofield since it was founded in 1947 by two brothers, Bernie and Bob Greenheck. The company produces ventilation equipment found on many campus buildings and far beyond — including the Burj Khalifa, the tallest tower in the world, in the United Arab Emirates.
It has broken ground on a 70,000-square-foot Innovation Center that is scheduled to open in the spring of 2016 and bring new capabilities for testing, research and development.
Greenheck employs more than 50 UW–Madison graduates, including Executive Vice President and Chief Financial Officer Gary Stroyny and Senior Vice President of Human Resources Jon Krueger. Their recruits come primarily from the College of Engineering. Greenheck air moving equipment also powers a wind tunnel at the Department of Engineering Physics.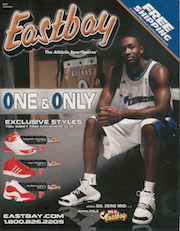 Eastbay, of Wausau, markets athletic apparel and footwear.
Eastbay began in Wausau and is now owned by Foot Locker, which has generated around $850 million in sales this year and is aiming for $1 billion next year. Bob Stephan, Foot Locker's vice president of marketing, says the company hopes to attract digital marketing specialists to Wausau, where the work demands close and active collaboration to market and distribute athletic apparel and footwear to high-school athletes.
Stephan and Blank discussed ways to engage students on campus and raise awareness of opportunities at the company. One example is a recent student project, sponsored by Eastbay through UW–Madison's E-Business Consortium, to develop a Web strategy to better serve female athletes in high school.
Blank says UW–Madison wants to build on the partnerships that bring talented workers to these industries — and that economic development is strengthened in Wisconsin when students have access to a world-class university.
"Economic development is an important part of why I'm here," she says.