Chancellor Blank discusses challenges of proposed budget cut at Board of Regents meeting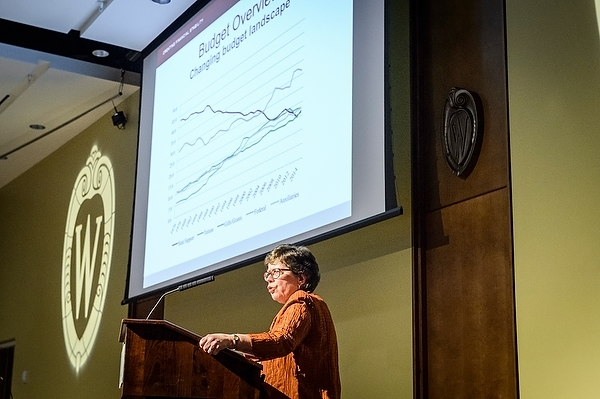 UW-Madison Chancellor Rebecca Blank speaks about the proposed cut in state support for the UW System at the Board of Regents meeting on Thursday, Feb. 5. "This is a time to invest and grow and continue to build," Blank said.
Photo: Bryce Richter
University of Wisconsin–Madison Chancellor Rebecca Blank told the UW Board of Regents Thursday that a proposed $300 million cut in state support for the UW System would reduce student programming, lead to job lapses and layoffs, and reduce financial aid and access to the university.
"They are just way too big," she said of cuts proposed in Gov. Scott Walker's 2015-17 budget plan, which proposes a 24 percent reduction in state support for UW–Madison.
Addressing the board at Union South on the UW–Madison campus, Blank said a cut of the magnitude proposed would leave a $91 million budget hole in the next year — including $57 million in general purpose revenue, $6 million in loss of state support for the Wisconsin Bioenergy Initiative and municipal service payments, a $23 million reduction in continuing costs that were covered in the current year by reserve funds, and an expected $5 million in expected costs to retain the best faculty and staff.
Blank said the budget hole facing the UW in the coming year is the equivalent of eliminating 650 faculty positions or 1,083 staff positions; eliminating five of the university's smaller schools — Business, Law, Nursing, Pharmacy and Veterinary Medicine; or eliminating two midsize schools, such as Engineering and the College of Agricultural and Life Sciences, Blank said.
"I don't know how I am going to cope with these cuts come July 1," she said, adding that the cut is the largest decline in state dollars in university history.
Blank noted that while Wisconsin is considering cuts to higher education, other states are putting more resources into higher education.
"This is a time to invest and grow and continue to build," Blank said. "I can promise you our competitors are not standing still."
UW-Madison and the UW System have had an enormous impact on Wisconsin, with the Wisconsin Idea of using the resources of the university to enhance the lives of residents in every corner of the state.
The budget reductions would result in fewer Wisconsin students staying in state for college, and make it harder to lure them back once they've left the state. It would result in fewer startup businesses and lessen Wisconsin's ability to lure new industries. And it would weaken Wisconsin's reputation nationally, Blank said.
"We have a legacy of service to this state and this nation, and I want to build on that," Blank said.
"The cuts are too large. They are too large for our university, and they are too large for the state," Blank said.