Chadbourne director Zumbrunnen celebrates student-centered, active learning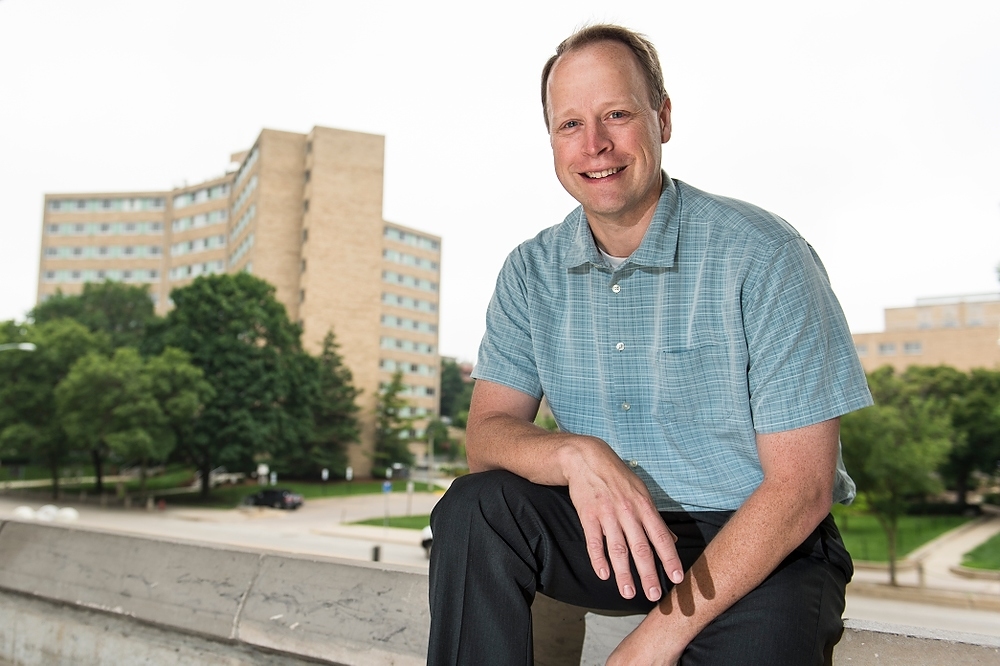 John Zumbrunnen, a down-to-earth political science professor, is breaking down barriers to make a large university seem much smaller as the new faculty director of Chadbourne Residential College.
Photo: Jeff Miller
Political Science Professor John Zumbrunnen has always embraced a down-to-earth, familiar approach. Students in several classes have seen photos of his kids and dogs used to explain principles of political thought such as freedom and power.
It's all part of breaking down barriers to make a large university seem much smaller. Becoming the new faculty director of Chadbourne Residential College (CRC) is a perfect challenge for Zumbrunnen, who loves exploring how students can engage with fellow citizens.
The college, housed in Chadbourne and Barnard residence halls, offers a variety of special programs and seminars for its approximately 700 students. It's one of 10 such learning communities operated by University Housing.
Zumbrunnen talked about his new position recently with Susannah Brooks.
What attracted you to this position?
Residential learning communities like CRC help students see connections between their academic lives, their extracurricular lives and their personal lives. That's crucial to a good liberal arts education.
As you get farther from your own college years, you can lose touch with what's going on in students' lives. Joining the CRC team gives me a chance to learn about what's going on in the residence halls and about all the wonderful things that students do on campus and out in the community.
What do you think set you apart during the selection process?
One thing I emphasized was the Wisconsin Idea, which means a great deal to me. My dad was a University of Missouri extension agent; I grew up with the idea of university outreach.
As a faculty member, I want to help students think about how a liberal arts education can contribute to their lives as citizens. That's an important part of the CRC mission already and something I want to build on.
This fits, too, with my own teaching, scholarship and service. In political science, I direct a program called the American Democracy Forum, which focuses on the principles of American political thought and their place in democracy today. One of my favorite ADF programs involves working with high school educators to develop new curriculum for their classrooms.
Programs like that let UW faculty and staff share their knowledge with people around the state, the nation and the world. But the Wisconsin Idea is for students, too, and we need to challenge them to embrace it. You're coming here, being offered a world-class education. What are you going to do with it? How can you use the knowledge you gain at UW to improve people's lives? And how can you do that in a way that's true to the spirit of democracy?
How has your approach to undergraduate education evolved?
Being involved with UW's Educational Innovation initiative, I've become more comfortable using technology in and out of the classroom. This summer I'm teaching my first fully online course. I have 60 students and I may never meet any of them in person. It's fascinating. There are students taking the course while they're in Korea, Israel, on the East Coast, the West Coast, and here in Madison.
Recognizing that taking a summer online course might be a better option for students living busy, complicated lives is part of the broader idea of taking a student-centered approach to undergraduate education. That means asking, "Who are my students? Where are they now and where can we go together?"
I've also realized that it's possible to have active learning even in an online course, using things like team discussion forums and roleplaying. That's important, since most of us learn better when we're not just passively absorbing material, but doing something with it and connecting it to our own lives.
Now there are obviously many differences between an online course and a residential learning community like CRC. But I think the basic idea of student-centered active learning is crucial to both.
What do you think will be different about interacting with students in a residential learning context instead of as a professor?
At a big school, it can be a challenge to convince students to approach you as a faculty member. A place like CRC is designed to break down that barrier.
Meeting students in small settings like CRC's first-year seminar helps. It also helps when the students know each other well. When there's community among the students, you get included in that community as a faculty member.
What sets Wisconsin apart from other schools?
I would not trade being at a land grant research institution for anything. This place has an important, special and distinctive history.
There's something incredibly appealing about a large university that aims to be the best at everything. We aim for excellence in every discipline. And we aim for excellence in scholarship, teaching and service. You can't say that about every school.
And then, again, there's the Wisconsin Idea. Sharing what we learn with our fellow citizens—and recognizing that we have something to learn from them, too—can be messy and challenging. But it's also incredibly energizing.