Ceremony to honor John Muir, legendary preservationist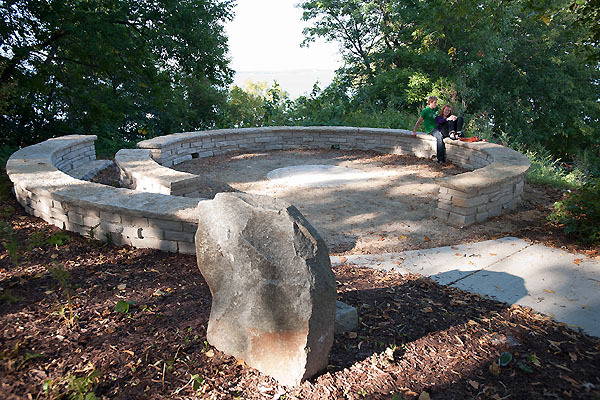 Undergraduates enjoy a quiet moment while sitting on the stone wall of the Robert E. Gard Memorial Storyteller's Circle at Muir Knoll in September 2010. A new plaque to John Muir will be dedicated nearby, close to Muir's old dorm room in North Hall.
Photo: Jeff Miller
To recognize the 175th anniversary of the birth of John Muir, and to honor one of history's most influential preservationists, a plaque will be dedicated on Thursday, June 20 within sight of Muir's dormitory room in North Hall. The plaque recalls the naturalist's first botany lesson, received under a black locust tree growing next to the historic building.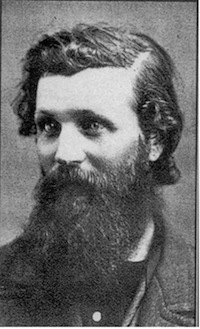 John Muir
Muir spent five terms on campus before dropping out to join what he called the "University of the Wilderness." He went on to found the Sierra Club, and spearhead the effort to create Yosemite National Park and several other parks, earning him the title of "Father of the National Parks."
Muir was born in Scotland. His family moved to a farm near Portage in 1849, and he entered the University of Wisconsin in 1861, when the young institution had just 77 students and four buildings. And although he did not graduate from the UW, his two-and-a-half years on campus had a lasting impact.
Daniel Einstein, the UW's historic and cultural resources manager, has researched Muir's time on campus. "It's been suggested that his travels throughout the glaciated areas of Wisconsin, and the geology and botany courses he took here, were key to his novel theories about the role of glaciers in forming his beloved Yosemite Valley."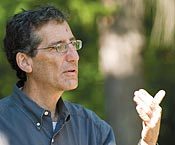 Daniel Einstein
Photo: Jeff Miller
Muir changed the way we look at wilderness, and received an honorary degree from UW–Madison in 1897, and yet it's hard to notice that he lived, studied and walked here. "I love historic sites," says Einstein. "There are some places that are imbued with a person's spirit. At Taliesin you can imagine Frank Lloyd Wright looking out a window and designing buildings to harmonize with the landscape.
"However, it is a little harder to feel Muir's presence on campus. Yet if you take a moment, and stand atop Muir Knoll and look out across Lake Mendota, you just might imagine a young Muir walking out to Picnic Point on a 'botanizing' excursion — a little trip that helped launch him on a lifelong journey. Maybe this new plaque will bring us a little closer to Muir."
Einstein and Andrew Carroll, author of "Here is Where," a book on little-known historic places and events, will speak at a brief dedication for the plaque at Muir Knoll on Observatory Drive at 5:30 p.m. on Thursday, June 20. (Access is suggested via Charter Street to Lot 10 behind the School of Education, due to road construction.)
Participants can tour Muir's dorm room in North Hall, a national historic landmark. The event is cosponsored by the Wisconsin John Muir Chapter of the Sierra Club and the UW Sierra Student Coalition.