Carbine takes the lead: Former downtown Madison exec to direct Alumni Park
Mary Carbine has forged her career by building up Madison's cultural venues and downtown destinations. She'll take charge of a new venue when she becomes managing director of the Wisconsin Alumni Association's Alumni Park.
Carbine will assume leadership of the park project Oct. 12. For the last decade, she's served as executive director of Madison's Central Business Improvement District (BID), which supports State Street and the Capitol Square. Prior to that, she was the director of the Wisconsin Film Festival at the UW–Madison Arts Institute.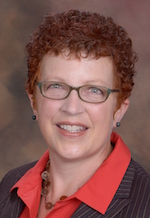 Mary Carbine
"I am inspired by the vision for Alumni Park as a celebration of the contributions of University of Wisconsin–Madison alumni," says Carbine. "I am thrilled by the opportunity to create a vital, new campus and downtown destination — and rich digital storytelling environment — and to bring together alumni, students and the community through programming and events that realize the Wisconsin Idea."
Alumni Park is a gift to UW–Madison from its graduates. Conceived of during WAA's 150th anniversary celebration in 2011, the park celebrates the Wisconsin Idea — the principle that the UW's purpose as a public university is to bring about practical good throughout the state and around the world. Sited on the shore of Lake Mendota between Memorial Union and the Below Alumni Center, adjacent to the Red Gym and Library Mall, the park is part of UW–Madison's ambitious Lakefront Gateway plan.
In addition to managing Alumni Park, Carbine also will have responsibilities for overseeing programming for One Alumni Place, a new alumni gathering space on the west end of the Below Alumni Center. One Alumni Place is expected to be completed March 1, 2016.
"I'm excited to have Mary join our team," says Paula Bonner, WAA's president. "Her experience with downtown Madison, and the energy and enthusiasm that she brought to the Wisconsin Film Festival, will help ensure that Alumni Park becomes a beloved campus landmark."
During her time with the Central Business Improvement District, Carbine created such events as the Downtown Madison Family Halloween and Downtown Holiday Open House. She worked closely with city and business leaders to plan the redevelopment of the 700 and 800 blocks of State Street as well as Peace Park and its visitors' center. She headed the film festival from 2000 to 2005, a period during which ticket sales grew from 3,000 to 24,000.
Founded in 1861, the Wisconsin Alumni Association works to unite, inform and engage UW–Madison alumni in support of their alma mater. Its Alumni Park project has been under construction since 2013, when the Goodspeed Family Pier was installed on Lake Mendota behind WAA's office. Work on the foundations of the park itself began in the summer of 2015.