Campus, law enforcement communities reading 'Just Mercy' as semester begins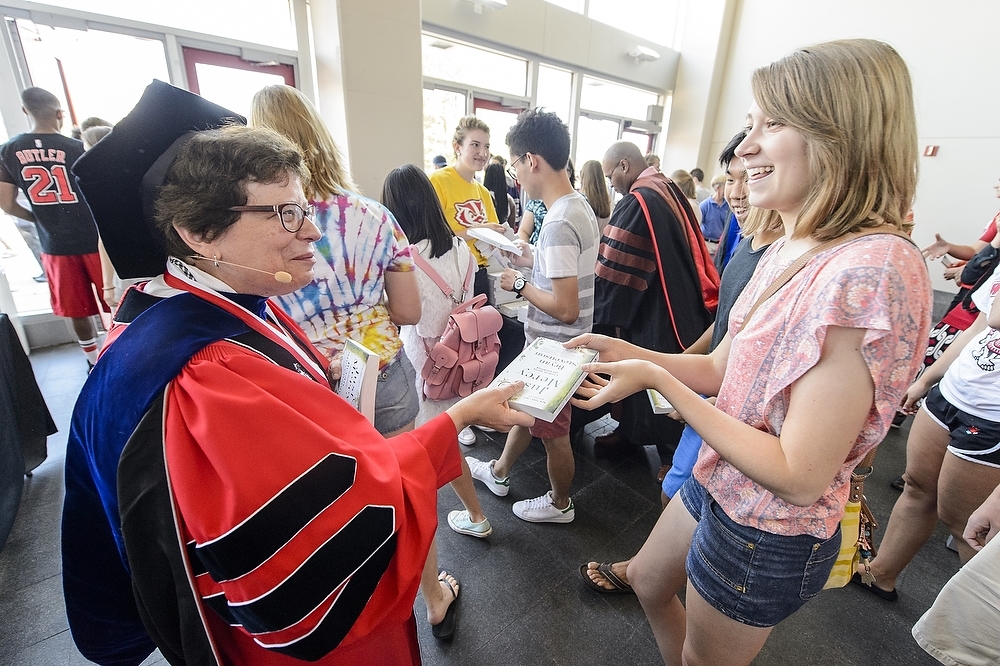 Chancellor Rebecca Blank helps distribute complimentary copies of "Just Mercy" to students following the Chancellor's Convocation. The book is the 2015-16 selection for Go Big Read, the UW–Madison common-reading program.
Photo: Bryce Richter
Bryan Stevenson is one of the leading voices in America for reforming a justice system that produces strikingly different results depending on a defendant's race and economic means. Readers across the UW–Madison campus and around the Madison community, including law enforcement, will join that discussion this fall as they confront the contradictions between that system and our nation's founding principles of equality, freedom and justice.
More than 5,000 students who attended the Chancellor's Convocation prior to the start of the fall semester received copies of "Just Mercy: A Story of Justice and Redemption." Stevenson's book is the selection for the seventh year of Go Big Read, the university's common book program. This year, organizers encouraged the campus community to suggest titles that fit into a theme of inequality in America. Chancellor Rebecca Blank selected the book from a list of finalists culled from more than 200 titles.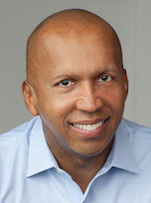 Bryan Stevenson
Photo: Nina Subin
"Bryan's stories will make you angry. They will make you think about how and why the promise of America sometimes falls so short," Blank told students at the convocation. "And I hope this book will prod you to think about what matters to you, what you're curious about, what you're passionate about, what you want to do after you leave here … where you can 'be the change' that matters."
In the 1980s, Stevenson co-founded the nonprofit Equal Justice Initiative, based in Montgomery, Alabama. Since then, he has argued before the U.S. Supreme Court five times and played a role in landmark court cases that have transformed how the criminal justice system deals with violent youths.
Last year President Barack Obama appointed Stevenson to a task force established to recommend police practices that can improve relations between officers and the people they serve, particularly in minority communities.
In October, every member of the UW–Madison Police Department will read "Just Mercy" leading to upcoming training sessions on ethics, and fair and impartial policing. "I've dedicated my life to working in this system that is so profoundly flawed. … It was very emotional for me to read the book," UW Police Chief Sue Riseling says. "I personally found the book, at times, very gut-wrenching."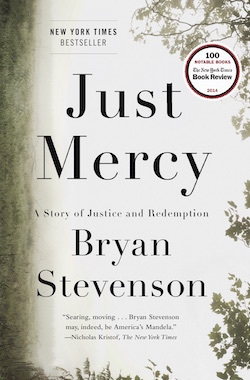 But Riseling felt so strongly that law enforcement should read "Just Mercy" that in April she discussed it with other members of the Dane County Chiefs of Police Association. Almost all police agencies in Dane County have ordered at least one copy of the book, Riseling says.
Madison Police Chief Mike Koval assigned his 24 new recruits to read "Just Mercy" before reporting for duty on Sept. 14, and the department plans to incorporate the book into their instruction. In Middleton, Chief Chuck Foulke ordered books for his entire staff, as well as the city's elected officials. On Oct. 12, the Middleton Public Library will host a panel discussion, featuring Foulke and other community leaders, called "And Justice for All."
"We've got disparity, not just in the criminal justice system, but in a lot of systems in Dane County," Foulke says. "It brings it back to, we're not doing things by any means close to perfectly here."
On campus, the book will be used in more than 150 sections of courses during the fall semester in disciplines including business, education, English, history, law, nursing, political science and social work. Students enrolled in those courses will receive free copies of the book.
"I personally found the book, at times, very gut-wrenching."
Sue Riseling
All first-year law students received a copy of the book to read and discuss before participating in a community-service day at nonprofits in the Madison area during their orientation week in August. Cecelia Klingele, an assistant professor of law, is using the book as a supplement to her course for first-year law students in Substantive Criminal Law. The course covers the development of American criminal law, and teaches students how to read and apply modern criminal statutes. Klingele says "Just Mercy" gives students a glimpse into how the laws they are studying affect real people's lives. 
"The book is a stark and necessary reminder that the criminal justice system — a system with 'justice' in its name — does not always produce 'just' results for victims, defendants or communities," Klingele says. "The more we are aware of our own ability to do injustice, the better prepared we are to guard against it. The stories Bryan tells are helpful reminders, even though they are painful to face."
Stevenson's visit to campus will include his public talk on Oct. 26 at 7 p.m. at Varsity Hall in Union South. The event is free and no tickets are required.