Camp Randall commencement celebrates old and new traditions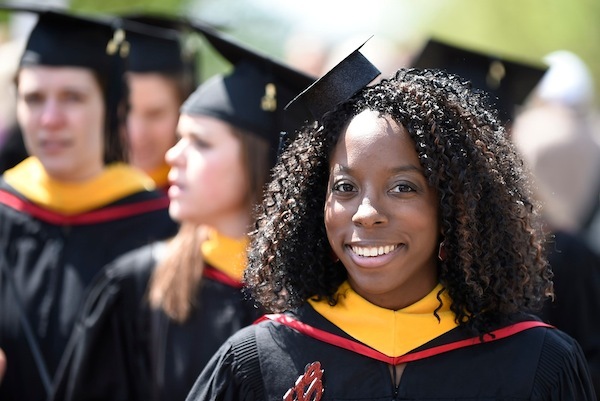 Ruby Braxton, graduating with a master's in speech pathology, sports a graduation cap a little smaller than the norm, but an out-sized smile that makes up for it.
Photo: Jeff Miller
As the University of Wisconsin–Madison celebrated its first outdoor commencement in 25 years, the weather was perfect: sunny, with just enough breeze to lift a few illicit beach balls over the heads of the graduates.
Of course, as Chancellor Rebecca Blank pointed out in her remarks, "it can't hurt that the head of the National Weather Service holds not one but three degrees from UW–Madison."
With a crowd estimated at more than 44,000, graduates' family and friends extended into the upper deck. The cheers were louder than ever; the views more spectacular, with sunshine illuminating the faces displayed on Camp Randall Stadium's massive video screens.
The excitement was palpable as graduates spilled onto the field down the same ramp used by the UW Marching Band during football games. Some literally stopped in their tracks, awed by the sheer spectacle even before seeing the full layout.
Before the ceremony, Julia Van Susteren, originally from Mukwonago, Wis., had never been inside Camp Randall Stadium. A triple major in journalism, political science and gender and women's studies, she's been "a full-time student, all the time."
"This is so cool!" said Van Susteren, absorbing her surroundings as others took photos around her. "This venue is so much more pertinent to the state of Wisconsin than the Kohl Center; it's huge and impressive and beautiful. I just feel so glad that I'm graduating here."
Customized graduation caps were seen everywhere, showing the Badger spirit.
Photo: Bryce Richter
Sean Wang, from Beijing, China, graduated with a Master of Science in Industrial engineering. This was his third time at Camp Randall — the first two being Badger football wins.
"It's a huge ceremony," said Wang, scanning the stands for his girlfriend. "I have never seen this ceremony before, in China or other countries in the world. University of Wisconsin–Madison is the best university. It's famous. I really appreciate all of the students, the faculty and all of the people serving us."
Jon Huntsman, the former governor of Utah and ambassador to China, seemed equally wowed as he addressed the graduates.
"Does life get any better than this?" asked Huntsman. "Unbelievable. All those exams, all those papers have led to this: a failed rock-and-roll musician as your commencement speaker."
Huntsman's message focused on problem-solving, of reaching across invisible boundaries to those who seem different from others — and, he noted, it's the kind of environment these graduates have experienced almost every day at UW–Madison, where an electrical engineer can share a lunch table with a classics major.
Chancellor Rebecca Blank and Commencement speaker Jon Huntsman, a former Utah governor and U.S. ambassador look out on a sea of new graduates.
Photo: Bryce Richter
"This is the way progress gets made: when we refuse, despite our differences, to write each other off."
The theme of coming together despite differences united many of the remarks — an appropriate theme, given the skepticism that some continued to hold about a ceremony in which graduates didn't walk across the stage or hear their names called.
Elton Ferdinand, a chemistry graduate from Guyana via New York, considered it a matter of "personal perspective" — not just graduating together, but the ability to have both graduates and family members hear a name echo through the arena.
"I thought [the ceremony] was interesting," said Ferdinand. "It was better than I thought it would be. It was very concise, very organized."
But Linda Rasmussen of Little Chute, Wis., whose daughter Maggie graduated with a degree in communication arts, seemed convinced.
"I thought it was wonderful," said Rasmussen. "I was a little bit disappointed this year when I heard what it was going to be like, but I really thought it was very nice."
With a new format came new traditions. As the deans of each school and college conferred degrees, the crowd on the field grew in waves as first CALS, then Business, Education, Engineering, Human Ecology (live-tweeted by Dean Soyeon Shim), Letters & Science and Nursing rose, then remained standing with fellow graduates. Dean Jeanette Roberts did a little dance when she spied her small but mighty contingency from the School of Pharmacy.
"Students create traditions, and alumni carry them forward," said Jay Sekelsky, representing 400,000 fellow alumni as chair of the Wisconsin Alumni Association board of directors.
After much anticipation, one longstanding Camp Randall tradition found a new audience when senior class president Joe Meeker remarked that "it looks like we're about three quarters done with this ceremony."
With that, the sounds of "Jump Around" filled the air, and 5,400 graduates — and more than a few friends in the stands — started celebrating a little early.
Chancellor Blank summed up "Jump Around" with words that could stand for many graduates' Wisconsin experience: "Definitely awesome."