C-SPAN 2's 'Book TV' to feature UW-Madison authors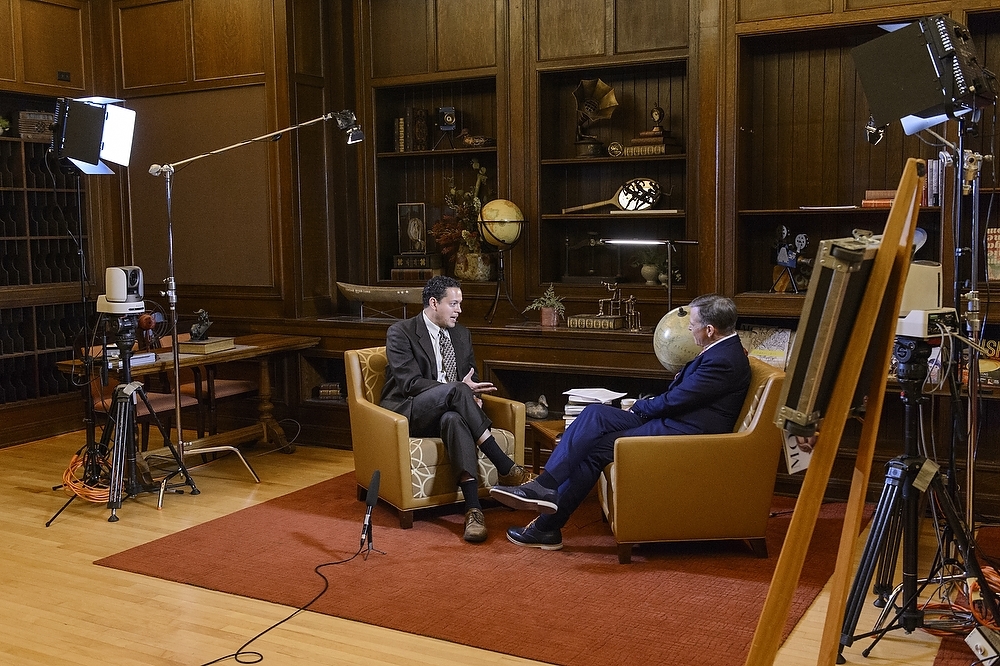 William Jones (left), professor of history, is interviewed by host Peter Slen during a taping of the C-SPAN 2 television show "Book TV" in the Hamel Family Browsing Library at the Memorial Union.
Photo: Bryce Richter
The forecast calls for curling up with a good book.
Why not choose one from a UW–Madison author? Nine will be featured in upcoming episodes of C-SPAN 2's "Book TV." Longtime host Peter Slen and a crew visited campus Oct. 26 to talk books, books and more books. "Book TV" was already in town for the Wisconsin Book Festival.
Each weekend, "Book TV" features 48 hours of nonfiction books from 7 a.m. Saturday to 7 a.m. Monday. The Memorial Union's Hamel Family Browsing Library provided the backdrop for Monday's filming.
Books and authors featured include:
Jerry Apps, professor emeritus, continuing and vocational education, "Limping Through Life: A Farm Boy's Polio Memoir"
Menzie Chinn, professor of public affairs and economics, "Lost Decades: The Making of America's Debt Crisis and the Long Recovery"

Donald Downs, professor, political science, law and journalism, "Arms and the University: Military Presence and the Civic Education of Non-Military Students"

William P. Jones, professor, history, "The March on Washington: Jobs, Freedom, and the Forgotten History of Civil Rights"

Alfred McCoy, professor, history, "Torture and Impunity: The U.S. Doctrine of Coercive Interrogation"

Ronald Numbers, professor emeritus, history of science and medicine, "Newton's Apple and Other Myths about Science"

Ryan Owens, professor, political science, "The Solicitor General and the United States Supreme Court: Executive Branch Influence and Judicial Decisions"
Jennifer Ratner-Rosenhagen, associate professor, history, "American Nietzsche: A History of an Icon and His Ideas"

John Diamond, associate professor, education, 

"Despite the Best Intentions: How Racial Inequality Thrives in Good Schools." 
The show features authors in their own words — talking about their own works.
"'Book TV' is one of the only outlets for extended interviews with authors of scholarly books," Jones says. "It was a great opportunity to share my research with a broad audience of potential readers."
Jones spoke not only of Martin Luther King's moving "I Have a Dream" speech, but of many lesser-known speakers from that day when thousands gathered for the March on Washington. "That was phenomenal," Slen said when the interview ended. "We all learned something today."
Air dates for the featured UW–Madison authors haven't been confirmed yet so stay tuned.