Bus-pass fee to remain the same; parking rates go up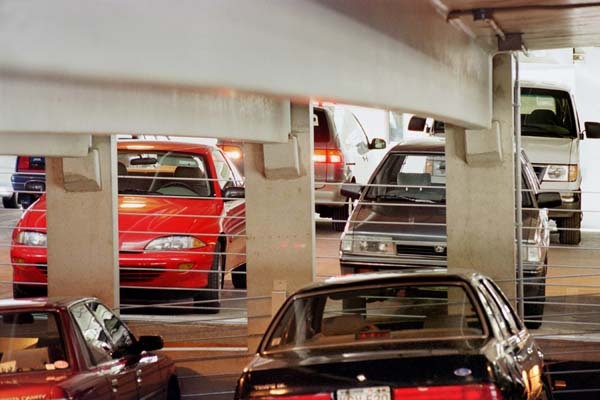 Parking rates will rise in 2014-15, as Transportation Services implements the second step of a six-year plan to condense campus parking rate categories.
Photo: Jeff Miller
Transportation Services has announced its rate structures for next year, maintaining the current $24 employee bus-pass fee and raising parking rates.
Many fees will remain the same for the 2014-15 parking year, including:
Employee bus pass, $24 
Afternoon parking permit, $250 
Night surface parking permit, $125
Night garage-specific parking permit, $40 
For the 2014-15 parking year, Transportation Services will implement the second step in the six-year plan to condense the campus parking rate categories from three rates down to two rates.
The six-year plan culminates in all Level 1 parking lots being merged into the Level 2 category, and all garages and high-demand lots that are currently in the Level 2 category being merged into the Level 3 category.
By 2018 the plan will align all garages, ramps and high-demand surface lots in one category and all remaining surface lots in another.
The new rate structure was driven by a series of factors, including increased operational and maintenance costs, self-sufficiency, the resources required for long-term support of our functions and programs and increased replacement costs of surface stalls lost to construction and building projects.
This six-year plan provides incremental increases as opposed to a one-time, large-scale increase.
The first step of the incremental adjustments was applied for the 2013-14 parking year.
For the 2014-15 parking year, lots that are continuing to merge to a higher category will see a 10 percent increase and lots that are not changing categories will see a 3 percent increase, as follows:
Base Lot Level 1 converting to Level 2 up $59
Base Lot Level 2 (with no conversion) up $24
Base Lot Level 2 converting to Level 3 up $87
Base Lot Level 3 (with no conversion) up $35
Other increases to permit rates that will be effective Sept. 1 include:
Motorcycle permits up $3
Moped permits up $3
Park and ride up $7
Department service permits up $30
Vendor permit up $50
Transportation Services believes the new rates will better represent the funding levels required to deliver core services.
There are many commuter support programs for faculty, staff and students including the campus bus, cost sharing through carpool and vanpool programs, the University Bicycle Resource Center, comprehensive route planning for a variety of alternative transportation modes and more. For more information, click here.