Athletics and advising team up for Wisconsin Football Spring Game
Want to get a sneak preview of football season while supporting a good cause? Come to the Wisconsin Football Spring Game and you can do both.
The annual exhibition game kicks off at 3 p.m. on Saturday, April 25, at Camp Randall Stadium. This year, dollars raised through ticket sales will go to the UW–Madison Office of Undergraduate Advising, which is dedicated to helping students develop a game plan for accomplishing their academic and career goals.


"Like Badger football with Coach Chryst, it's also a new era for undergraduate advising at UW–Madison," says Undergraduate Advising Director Wren Singer. "The stakes are higher now and students need to pair a good academic program with a variety of other experiences. Working with one of our advisors can be a game changer in a student's life."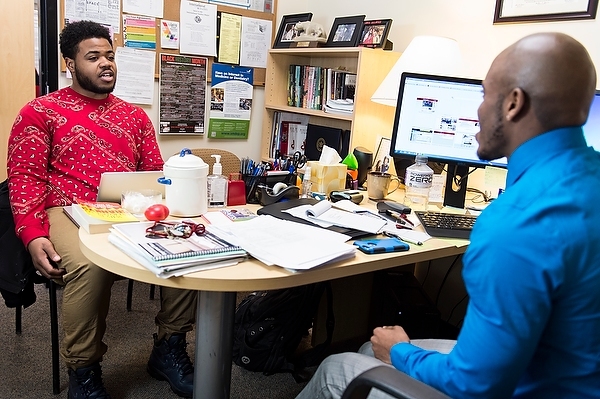 Quortne Hutchings (right), a college scholar advisor to students who are part of the Pre-College Enrichment Opportunity Program for Learning Excellence (PEOPLE), meets with undergraduate Brian Allen.
Photo: Jeff Miller
"Earning a degree from the University of Wisconsin–Madison is meaningful. Students work hard to earn their diplomas," says Director of Athletics Barry Alvarez. "Advisors are critically important in that process by helping students understand what they need to do inside and outside the classroom to be successful. We look forward to working with the Office of Undergraduate Advising to promote our Spring Game and through the game's proceeds, improve the undergraduate advising experience."


An added bonus: UW–Madison students who attend the game are eligible to win season football tickets and other prizes.
Tickets cost $5 and are available online at UWBadgers.com or by calling 1-800-GO-BADGERS. Tickets can also be purchased in person at the Wisconsin Athletic Ticket Office, 1440 Monroe St.

The game is part of a full day of Wisconsin Athletics events, including the Crazylegs Classic 8K, Badger Kids Fair and the Badger women's softball game against Nebraska.