Alumna Zoë Timms to address December graduates
In the years since Zoë Timms graduated from the University of Wisconsin–Madison, she's never had a job interview.
It all started with a life-changing decision she made in a sociology class. When her professor, Joe Elder, lifted a brochure for the university's Year in India program, she was ready to take that leap.
"I just knew I wanted to do something new, exciting and interesting," says Timms. "I didn't want to party on the beaches in Europe; I wanted to have a significant experience."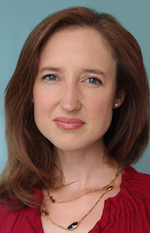 Zoë Timms
Her time in India set her on the path to becoming a social entrepreneur whose work as founder of the Women's Education Project (WEP) has helped change the lives of hundreds of women. Timms will deliver the charge to the graduates at UW–Madison's winter commencement ceremony on Sunday, Dec. 20 at the Kohl Center.
All students who completed a degree in summer 2015, or who will complete a degree in fall 2015, are welcome to participate in 2015 Winter Commencement, including bachelor's, master's, doctoral and professional degree candidates from all schools and colleges.
The ceremony begins at 10 a.m. and will last approximately two hours. Tickets are not required, and the ceremony is open to the public.
After graduating in 1997 and spending a few years working in New York, Timms returned to India to work for UW–Madison's Year in India program in Madurai, Tamil Nadu. During her time there, she met many young women whose poverty stood in the way of higher education and other goals. Many of these women faced early marriages, unsafe jobs and low wages that contributed to debt and illness.
In 2002, Timms founded WEP and its first center in Madurai. She had hoped that the center could provide scholarships, academic support and resources for these young women to complete high school or college and enjoy professional, fulfilling careers. She also wanted the center to be welcoming and homelike, where women could gain confidence among friends.
"Not everybody is going to start a nonprofit in India. But whatever you do, you can make it rewarding for yourself."
Zoë Timms
Today, 280 students attend WEP's three centers in South India. More than 500 others have graduated; many work as teachers, nurses, legal secretaries, computer operators, technicians and entrepreneurs. 
UW-Madison's thoughtful preparation helped Timms explore India — first in Hyderabad as a student, then in Madurai as a professional. Studies included not only the language and customs but how to fit in with what young men and women were doing at that place and time.
"A lot of Professor Elder's values were instilled in the program," says Timms. "We learned to be inquisitive and sensitive to that new culture. Because we were really prepared as students to study, the year was incredible."
Though most of December's graduates will follow a different path from her own, Timms hopes her message will resonate nonetheless.
"I think the key to being successful is finding your supporters," she says. "Not everybody is going to start a nonprofit in India. But whatever you do, you can make it rewarding for yourself."
For all of her enthusiasm, Timms can relate to new graduates apprehensive about moving into a new stage of life. She recalls touching down for the first time in India: walking across the tarmac in Chennai to a crowded, rundown airport stained by the ubiquitous paan (chewed betel nut).
"I felt like getting back on the plane," she says. "Soon, though, our UW monitor stepped out of the crowd; a month later, I was eating paan on the street."
That year, rich with adventure, Timms found inspiration and friendships that have remained strong for nearly 20 years. 
"Despite the challenges," she says, "getting off the plane is the only way to discover the adventures ahead." 
For more information about the December commencement ceremony, visit commencement.wisc.edu.