'Active learning' takes center stage at School of Nursing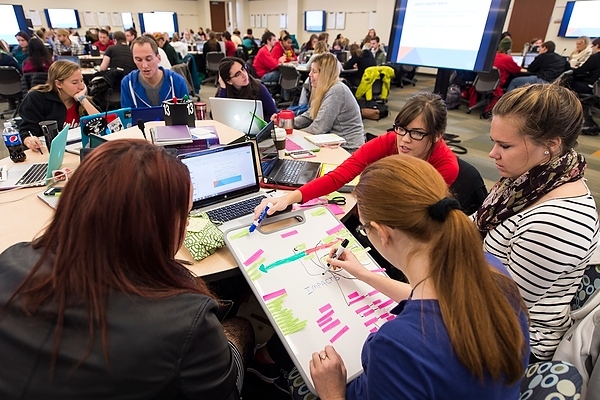 Nursing students work on "concept boards" in small groups during a section of N310: Mental Health and Mental Illness, a School of Nursing class taught in the Active Learning Classroom (ALC) at the new Signe Skott Cooper Hall. 
Photos: Jeff Miller
The classroom is changing.
Massive lecture halls used to mean you could sit quietly in the back, with rows of fellow students perched above a lecturing professor.
But you won't find any lecture halls in the School of Nursing's Signe Skott Cooper Hall. For students at the new Active Learning Classroom (ALC), the learning is — well, active.
There are 150 students in the class, but when you enter, there is no echo, echo, echo of the lecture hall. There's a buzz.
Groups of nine students are seated at 17 tables in each of the two rooms. They're talking about how early it is. About assignments. About what's for lunch.
It's this type of collaboration, both big and small, that the ALC encourages.
Today's discussion in the Mental Health and Mental Illness class is on eating disorders. And it is a discussion. Yes, associate professor Earlise Ward leads the talk, but she isn't talking at students. She's talking with them.
The interactive classroom features clustered seating — encouraging collaborative efforts like this coping mechanisms "concept board." 
"How many of you have a comfort food?" she asks. "When I was an undergrad, it was Cheetos."
Students turn to each other, nodding their heads in agreement.
"And chocolate," someone calls out.
Yes. And chocolate, most agree.
The discussion moves into the "continuum of eating regulation responses," symptoms of disordered eating and the causes. All the while, various students from different tables add their own thoughts, their own experiences.
They watch a clip from "Nightline" about a young woman who struggles with binge eating. All can follow on screens throughout the ALC.
Each table is equipped with power and data access for student laptops, a large flat screen for projecting images from them or from the instructor's computer, a video-switching panel and microphones. The state-of-the-art facility is designed to support 30 percent growth in faculty numbers, research programs and enrollment.
One of the largest known active learning classrooms of its kind, the ALC provides the environment and technology for students to develop the skills necessary to work effectively in teams, and to quickly analyze, discuss, understand and solve complex, real-life challenges in health care.
This class is made up of seniors, all majoring in nursing. This is not what they're used to. And yes. It's been an adjustment.
"It forces you to be a more active participant in your learning," says Nicole Rohde, who's enrolled in the course. "It feels like there's a greater pressure to participate in this environment."
The seats are assigned. If you skip class, it's much more noticeable than in the traditional lecture hall. Many of the students already knew each other but have gotten to know each other much better because of the structure of the ALC.
Collaboration comes more naturally in small groups, says nursing student Breann Passe.
"You're working in a group atmosphere every day," Passe says. "It's definitely ideal for group work."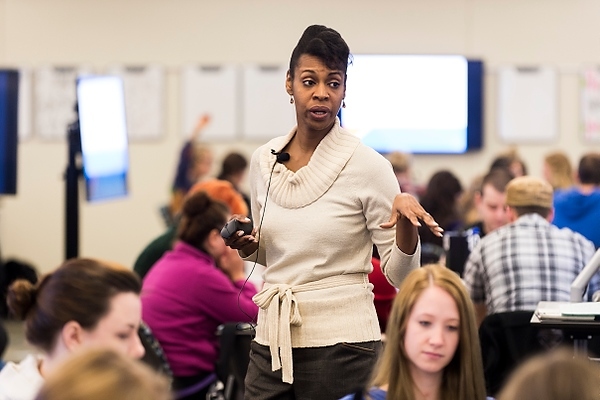 Associate professor Earlise Ward co-teaches a section of the Health and Mental Illness nursing course. The interactive classroom hosts state-of-the-art computing and audio-visual technology to spur student engagement.
It wasn't just an adjustment for students but also for Ward, though she was a believer from the beginning.
"I knew I could really actively engage with students," Ward says. "In a huge lecture hall when you're at a podium, you don't ever even have eye contact. In this room, students are more present, physically and cognitively."
Discussions happen more naturally because of how the room is set up, Ward says. The more students adding to the discussion, the better.
"I truly believe this room offers opportunity for engaged, active learning," Ward says. "I'm not talking down to students. Here, we're on the same level. I'm not a voice in the crowd. There we have a better sense of community."
"The level of engagement they have here transforms to the level of engagement they have with a patient."
Earlise Ward
Ward says what and how they're learning in the ALC will help them as they begin their careers, no matter what area of health care they pursue.
"The level of engagement they have here transforms to the level of engagement they have with a patient," Ward says. "We're modeling for their future."
The 166,348-square-foot building, located at 701 Highland Ave., opened to students in the fall. It is named after Signe Skott Cooper, who devoted more than 60 years of her life to nursing education at UW–Madison and within the UW System. In 2000, Cooper — a UW–Madison graduate — was inducted into the American Nurses Association Hall of Fame. In 2003, Cooper was named a "Living Legend" by the American Academy of Nursing. She died July 16, 2013, at the age of 92.
Note: An open house will take place from 4 to 6 p.m. today, Nov. 20. Visitors will have the opportunity to learn more about the new home for nursing, visit the Center for Technology-Enhanced Nursing, learn about the history of nursing in Skott Commons, and interact with the digital displays throughout the building. Dean Katharyn A. May will share remarks from 4:30 to 4:45 p.m. in the auditorium.