Accessible Observatory Hill shuttle offered
Getting up Observatory Hill will now be easier for members of the campus community who are not physically able to make the trip.
A new, accessible shuttle is being provided by Transportation Services and will run until the Route 80 campus bus can once again return to its regular route. Continued construction has caused a detour for the bus, expected to last through October.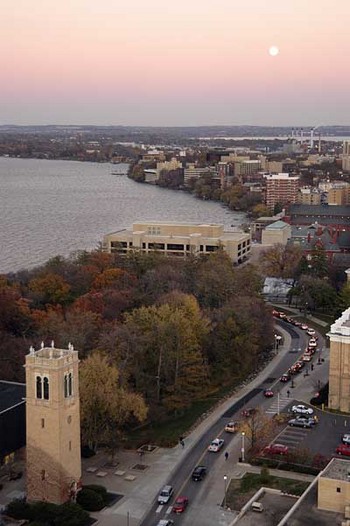 An accessible shuttle is now running with service up the Observatory Drive Hill. File photo from Van Hise Hall by Michael Forster Rothbart.
The Observatory Hill Shuttle will offer service from central campus to the corner of Observatory Drive and Charter Street.
It will run from 6 a.m. to 6 p.m. weekdays. While expected to arrive at stops approximately every 15 minutes, there will be no set schedule.
The shuttle is free. There will be no eligibility check for riders. The shuttle will be marked as "Observatory Hill Shuttle" with an accessible symbol.
The shuttle will travel a clockwise loop. Stops and other information can be found on the Transportation Services website (pdf).
For questions, email tdm@fpm.wisc.edu or call 608-263-6666.
Students and employees are also eligible to apply for campus paratransit service. More information and application information is posted on Madison Metro's paratransit website.