A grieving campus: Recalling the JFK assassination, 50 years later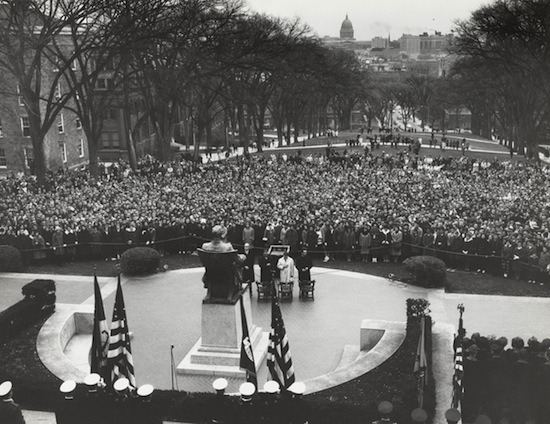 The university community, stunned and saddened, gathered for a memorial service in the days after the JFK assassination. University President Fred Harvey Harrington can be seen to the left of the podium, in front of the Lincoln statue.
Photo: UW Archives
Each generation has a "where-were-you-when" moment that serves as a generational touchstone.
For Baby Boomers, that moment happened 50 years ago this Friday, the day President John F. Kennedy was assassinated while riding in a Dallas motorcade.
On campus, stunned students, faculty and staff shared the burden of a grieving nation.
President John F. Kennedy
A senior at the time, Lewis Bosworth was at the Social Sciences Building, taking a course in Comparative Grammar of English and French. A student had heard of the shooting, and asked the professor if he could keep his radio on at low volume to follow the news.
"She agreed and tried to discuss the assignment for the day," Bosworth says. "We listened more to the radio than to the professor, and after about 20 minutes, she dismissed us.
"I started to walk down Bascom Hill toward the Union, and for no reason turned to look at the top of Bascom Hall and saw the flag being slowly lowered. My heart sank and tears flooded my face. I will remember that moment as long as I live."
Not far away, Virginia Brenneis (nee Crownhart), class of '64, was in a medical terminology class. When the professor failed to arrive, word began to spread.
"We were all kind of astounded, upset," she recalls. "We waited for a while for the professor to come and then we left."
She returned to her sorority house.
"There were people crying," Brenneis says. "I remember sitting on the floor, all of us huddled around a small TV, watching everything that was going on. I just remember watching Walter Cronkite, and his tearing up and being upset as the rest of us were."
Nick Topitzes, class of '66, was in an Italian restaurant near the corner of State and Lake. The restaurant had a TV on.
"We were sitting in the bar area and somebody stuck their head around and said 'Kennedy has been shot.' We said, 'What are you talking about? Don't even joke around.' We stood up and looked and we were aghast," he recalls.
In the sociology department, staff member Ann Wallace and a group of women were taking a departing employee to lunch at the Ivy Inn.
"I started to walk down Bascom Hill toward the Union, and for no reason turned to look at the top of Bascom Hall and saw the flag being slowly lowered. My heart sank and tears flooded my face. I will remember that moment as long as I live."
Lewis Bosworth
"We heard some rumblings around the restaurant during the end of our lunch, and then we heard the news on the car radio on the way back to the office," Wallace recalls. 
Later, she showed up for a class that was cancelled. "The rest is a fog," she says. 
Judy Christenson, a staff nurse at UW Hospital, was leaving Madison for a week, traveling by train to Minneapolis to meet her parents, then driving to Colorado for Thanksgiving. 
She was waiting for a cab to take her to the depot when the news broke.
As the train left Madison, she noticed that flags were already lowered to half-mast.
"The president must be dead, I thought," she recalls. "When we arrived at the Minneapolis-St. Paul train depot, the still-partying, boisterous crowd was suddenly silenced. There it was, a huge sign strung across the width of the depot saying, 'President Kennedy has been Assassinated, the Wisconsin-Minnesota Football Game set for Tomorrow is Canceled.'"
Robert Graebner, also recalls his whereabouts: a class called Chamber Music in Performance, taught by Gunnar Johansen, the first artist-in-residence at an American university, and Rudolf Kolisch, first violinist of the Pro Arte Quartet. They were preparing to perform Beethoven's Kreuzer Sonata.
Five minutes later, word of JFK's death arrived.
"We all left Music Hall to a silent and shocked throng on Bascom Hill," Graebner says. "The Beethoven was performed after Thanksgiving break, and a concert version of their performance is still available on CD. Chamber Music in Performance continues, in the same time slot, 50 years later."
At the same time, Charles Scott, a new assistant professor of English, began giving an exam in Bascom Hall. But he dismissed students when Professors Ed Lacy and Tom Dunseath appeared at the back door of the room to relay the news.
"It was impossible to have eye contact with anyone as that would have given reality to what I hoped was unreal."
Diane "DeeDee" Foster Rikkers
"To this day, I wonder how we got through the nation's vast tribulation," Scott says.
A lab tech working at the Institute for Enzyme Research, Sandra Rolland Winder, remembers colleagues returning from lunch delivering the news. 
"My first thought was Teddy Kennedy, not the president, because members of the Kennedy family were here the day before for dedication of the Waisman Center," she says.
Sharing the generation-shaking moment was Diane "DeeDee" Foster Rikkers, a sophomore living at Ann Emery dormitory on Langdon Street. She was in her room listening to the radio when the news came. She joined housemates in front of the building's only television.
"No one spoke," she recalls. "It was impossible to have eye contact with anyone as that would have given reality to what I hoped was unreal."