2015 Wisconsin Science Festival seeks proposals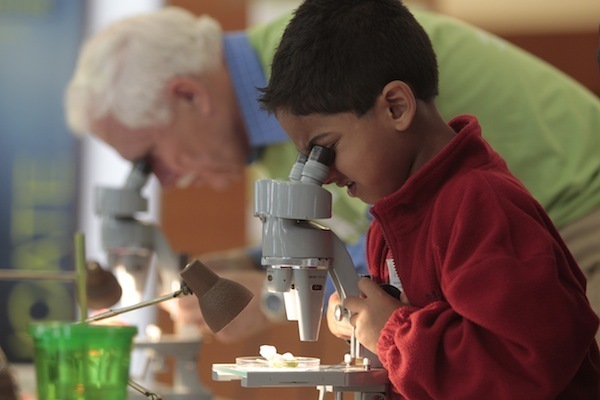 The Wisconsin Science Festival offers events for almost every age. The festival draws visitors from across Wisconsin and around the world.
Photo courtesy of Wisconsin Alumni Research Foundation
Organizers are seeking ideas and participants for the 2015 Wisconsin Science Festival, to be held Oct. 22-25 in Madison and around Wisconsin.
This year's theme is "Made in Wisconsin," a frame that can encompass products, technologies, art, performance, or natural resources or features emblematic of or unique to the Badger State. Proposals are encouraged from universities, colleges, nonprofits, and K-12 schools engaged in the sciences, arts and humanities, or any combination of those disciplines.
Proposals should seek to explore new ways of thinking, learning and communicating science, and engaging creativity. Presentations or activities can range from 15 minutes to several hours, depending on the format and location. All events will be open to the public and most will be free.
Proposals are due June 19. Proposed festival activities and participants are selected through a curated process to ensure quality and programmatic balance. All proposals are reviewed for safety and content, and additional criteria such as audience appeal, technical feasibility and site availability are factored into the selection process.
To propose presentations to be held at the Discovery Building on the UW–Madison campus, including exploration stations, workshops, lectures, performances and other activities, visit this webpage.
To propose events and activities in locations other than the Discovery Building, visit this site.