UW-Madison Day brings slice of campus to state fair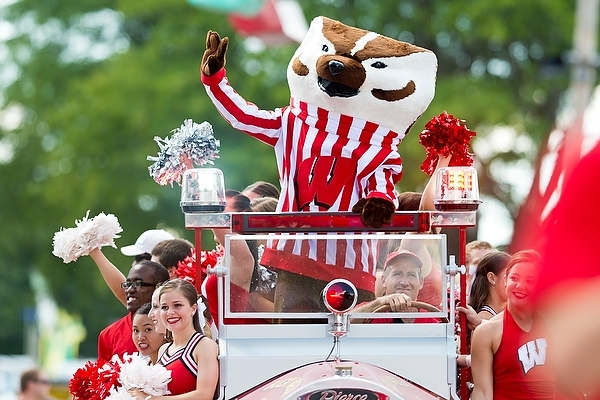 Bucky Badger waves from the Bucky Wagon as he leads the day's parade through the fairgrounds during UW–Madison Day at the Wisconsin State Fair in August 2013.
Photos: Bryce Richter
For the fourth consecutive year and sixth year overall, UW–Madison will host its own day at the Wisconsin State Fair as a way to promote education and give back to the community.
This year, the day will take place on Wednesday, Aug. 6, with activities filling Central Park from 8 a.m. to 4 p.m. Faculty, staff and students along with volunteers from the Wisconsin Alumni Association will be on hand to ensure that the day's many activities — including science exhibits, hands-on activities, and a pep rally with the Badger band and cheer squad — run smoothly.
"This day is a great opportunity for us to demonstrate UW–Madison's many resources while also showing visitors the variety of ways we help give back to the people of Wisconsin," says Vince Sweeney, vice chancellor for university relations.
Two budding scientists examine plant specimens at the botany exhibit last year.
The day will be highlighted by engaging activities in Central Park in coordination with a school supply drive at the gates where fairgoers can donate school supplies and receive a $4 adult discount voucher.
The donated supplies will go toward Milwaukee public schools in need. Last year, 125 55-gallon bags were collected and dispersed to Oliver Wendell Holmes, Bruce, Congress Year Round and Morse-Marshall schools.
According to Beth Giles, a UW–Madison education outreach specialist who works with the Milwaukee public school district, the supplies often go to schools that have large numbers of transient students. When families are constantly on the move, school supplies can be difficult to afford or keep track of.
Last year, volunteers began accepting cash donations at the gate and collected $5,500. This money allowed South Division High School to purchase iPads for science classrooms and update its curriculum.
A father photographs his son as he tries on an iconic W helmet.
In addition to the supply drive, UW–Madison Day at the State Fair focuses on activities to engage visitors and showcase what the university has to offer.
There will be dozens of stations at Central Park with campus outreach staff to help fairgoers experience the discoveries of UW–Madison with fun, hands-on activities.
Fairgoers can learn about out-of-this-world astronomy and get advice on routine aspects of life. For example, the College of Agricultural and Life Sciences will be on hand offering insight into personal lawn care. A presentation by The Wonders of Physics, a fast-paced demonstration that combines entertainment with education, will also take place.
Several student-athletes will be on hand for part of the day with UW Athletics' Badgers Give Back program. The UW band and cheer squad will also be in attendance to host a pep rally and march in the daily state fair parade, bringing an element of school spirit while also featuring one of the nation's most recognizable mascots, Bucky Badger.
As the largest, most visible outreach event of the year, Sweeney hopes visitors of all ages take note of the impact the university has across the state.
"We hope our younger visitors might begin to picture themselves at UW–Madison as a college student," Sweeney says. "And we hope the adults who stop by learn about some of the amazing things happening at UW that have an impact on their health, well-being and quality of life in Wisconsin."
—Jim Dayton