The name's the same: Better watch how you fill in the Blank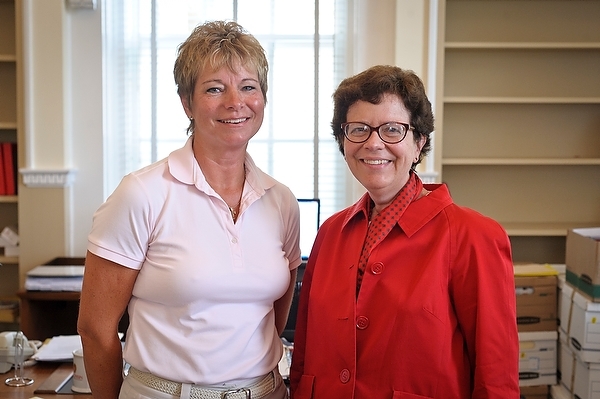 Look up the name Rebecca Blank in the UW–Madison directory and you will find entries for Rebecca M. Blank (left), who coordinates officiating for college basketball games, and Chancellor Rebecca M. Blank (right), who invited referee Becky to meet her in her Bascom Hall office.
Photo: Bryce Richter
Whether you're looking to score football tickets or trying to request a meeting with the chancellor, you may want to double check the email addresses and name(s) that come up in the campus directory before you hit the send button.
With more than 60,000 students, faculty and staff on campus, a few prominent names are bound to repeat — sometimes with unexpected results. Here are a few of UW–Madison's name-tag doppelgängers, including David Ward, Liz Waters and Gary Anderson/Andersen.
Among them, the most surprising might be that campus is actually home to a pair of Rebecca M. Blanks.
Rebecca Blank
While Chancellor Rebecca Blank is close to the heart of campus in her office on Bascom Hill, referee Becky Blank is closest to the action on the court during college women's basketball games. 
As coordinator of women's basketball officials for the Wisconsin Intercollegiate Athletic Conference, Blank selects the basketball referees who officiate the women's basketball games in the WIAC, the Division III conference in the UW System. Blank contracts with the officials, helps train them and reviews their performance. 
When not doing her WIAC duties, she also officiates women's college basketball games at the Division I and Division II levels in Wisconsin and the surrounding states.
"I played volleyball, basketball and softball in high school and softball in college," Blank says. "Sports have always been a big part of my life and officiating is a way to stay in the game."
Blank says she chose to go with the name Becky, like the chancellor also prefers, since it was shorter and less formal. She and Chancellor Blank also share the middle initial "M" (though not the same middle name), similar September birthdays and parenting high school-aged daughters.
Referee coordinator Blank first became aware of the "other" Rebecca Blank while she was working as the acting secretary of commerce. While she was surprised to find someone with the same name, she was even more surprised when the university chose her as the new chancellor.
When the news broke, a number of referee Becky's friends and coworkers sent her emails and texts congratulating her on her new job. Since then, Blank has received several misdirected emails — some personal — intended for the chancellor, per week.
The pair had a chance to chat on Aug. 12 as Chancellor Blank was settling into her duties.
"I'm Becky Blank," said the referee.
"Of course you are," laughed the chancellor.
Gary Anderson
Spelling his last name with an "o" rather than an "e," like UW football head coach Gary Andersen, did not stop Gary Anderson from receiving emails from potential recruits for the team.
"So at one time, I emailed the coach and said 'I'm the other Gary Anderson. I've been getting emails from potential recruits. Do you want me to forward them on to you?'" Anderson says. "He replied, 'Sure you don't want to get some recruits for us?'"
Anderson has also received ribbing from coworkers at Kegonsa Research Campus, where he works, and from his friends.
"I walk into a bowling alley with all the people that know me and they all say 'Hey coach, how's it going?'" Anderson says.
As the buildings and grounds supervisor for the Kegonsa Research Campus, Anderson oversees the offsite UW facility in Stoughton containing the Madison Dyanmo Experiment, Physical Sciences Lab and Synchrotron Radiation Center, which features the campus's electron accelerator.
Anderson came to campus as a custodian in 1988, later working as a labor specialist and in facilities repair before coming to the Kegonsa campus and rising through the ranks from maintenance mechanic to building and grounds supervisor.
A football fan, Anderson says he usually tries to get to at least one Badger game during the season, watching the rest at home.
Elizabeth Waters
Elle Waters, short for Elizabeth Waters, has been getting questions on whether she lived in or attended Elizabeth Waters for most of her life.
"When people find out my name is Elizabeth Waters, it's usually the first question they ask," Waters says.
Originally from Fond du Lac, Waters received questions from teachers and others throughout middle and high school on whether she attended Elizabeth Waters Elementary School, named for the same UW Board of Regents member.
Elizabeth Waters was a German teacher and later principal at Fond du Lac High School and an actual relative of Elle — her great grandfather's cousin.
While Elle Waters lived in Sullivan Hall her first year, she said she considered living in Elizabeth Waters Residence Hall, although she clarified that it was not because she had the same name as the building.
She is currently planning to study nonprofit management, hoping to interact directly and indirectly with communities in need.
"It's a good way to be involved in the community directly, helping people in need, and to touch other regions in the world," Waters says.
David Ward
David Ward first became aware of the former chancellor and interim chancellor who shares his name while a graduate student on campus.
Ward, now a senior lecturer in the Wisconsin School of Business, teaches professional communications courses to undergraduate business majors and works as a communications coach for first-year MBA students.
Before he started his teaching career, he was a dissertator in the English department, studying 19th century British writers such as Charles Dickens, Matthew Arnold and George Eliot.
"Given the fact that I did my graduate work here and I've been teaching here for 15 years, I've had lots of opportunities for misidentification and misdirected messages," Ward says. "It's come in just about every imaginable medium — phone calls, email, regular mail, you name it."
Ward felt a slight sense of relief when the "other" David Ward left the chancellorship in 2001. However, when he returned as interim chancellor in 2011, the misidentifications returned.
"I remember seeing that online and thinking 'No, not again,'" Ward says. "So I wish him well, but I feel that by now as a grad student and a lecturer for 15 years, I've done my duty."
—Sean Kirkby