'Share the Wonderful' aims to generate broad-based support
What's so wonderful about the University of Wisconsin–Madison? You're about to find out.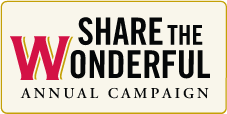 The "Share the Wonderful" annual campaign kicks off its second year in October and runs through the end of the year.
"The deep passion Wisconsin alumni feel for their alma mater is one of our great advantages and we hope that passion can translate into regular annual gifts to support the university," says University of Wisconsin Foundation President and CEO Michael Knetter.
"Share the Wonderful" exceeded its $10 million goal in 2012, generating $10.2 million in priority annual funds for the Madison campus. The goal for 2013 is $11 million.
"The state of Wisconsin has built an extraordinary institution in UW–Madison over the past 165 years," says Chancellor Rebecca Blank. "It is now up to us — university leaders, students and alumni — to help create a future that will maintain and enhance one of the greatest public-private partnerships ever built."
Annual fund gifts provide the chancellor and deans with the resources needed to improve the educational experience for students, and to recruit and retain top faculty to inspire them.
Instead of multiple fundraising calls throughout the year, "Share the Wonderful" is a coordinated effort by the UW Foundation, Wisconsin Alumni Association and UW–Madison that redirects resources — streamlining requests and offering a new way to reach and engage alumni and friends. The "Share the Wonderful" website features a word game (Words On, Wisconsin!) that allows participants to tell the world — in their own words — how they feel about their alma mater.
"Annual giving is a powerful way to build on our excellence and ensure that the university can thrive year-in and year-out," Knetter says. "This campaign asks each of us to reflect on what the university means to us and to consider sharing that experience with others by giving back."