Pink flamingos will 'Fill the Hill' again Wednesday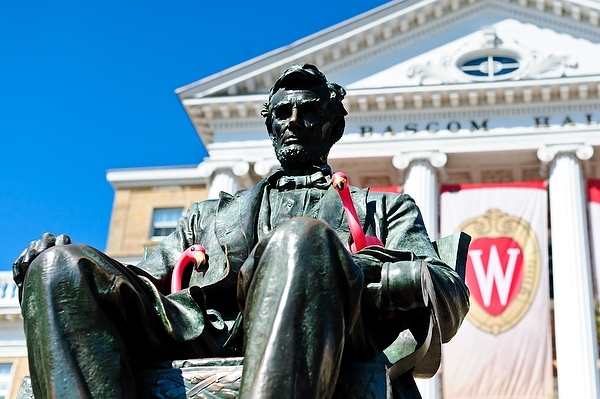 The goal of "Fill the Hill" is to receive enough donations to the Share the Wonderful campaign to fill Bascom Hill with flamingos, reaching Abe Lincoln's statue by 5 p.m. Wednesday as they did in a previous promotion.
Photo: Bryce Richter
Flamingos have been native to Bascom Hill since 1979.
They'll be flocking to their grassy home once again, this time as part of Share the Wonderful, UW–Madison's annual campaign.
From 5 p.m. Tuesday, Oct. 15 through 5 p.m. Wednesday, Oct. 16, alumni and friends are encouraged to "Fill the Hill" by making a gift to the university online at the Share the Wonderful website. 
Volunteers will place pink flamingos for each gift, starting at the bottom of Bascom Hill near Park Street, and mark the upward progress of the campaign. The goal is to have fun, fill the hill with flamingos and to reach Abe Lincoln's statue by receiving 365 gifts by 5 p.m. Wednesday.
"This is a wonderful opportunity for alumni from all over the world to see that we can achieve big things when we work together to support the UW, and that every gift really does make a difference," says Wendy Hathaway, community manager for the Wisconsin Alumni Association.
The Bascom Hill pink flamingos first appeared on Sept. 4, 1979 as part of what is widely considered to be one of the most successful pranks in the history of the university. Sponsored by the Pail and Shovel Party, the event tapped deeply into the UW's reputation of being a creative and inspired place. The bird was honored as the official bird of Madison in 2009.
Philanthropy plays an important role in supporting the university's core budget. Annual fund gifts provide the chancellor and deans with resources and flexibility they need to improve students' educational experience and to recruit and retain the top faculty who inspire them.
Those who give can track the progress and see the flamingo population grow through photos shared on the Wisconsin Alumni Association's Instagram account. Tweets about the event and campaign will live at #SharetheW.
The Share the Wonderful campaign is a collaborative effort between the University of Wisconsin Foundation, the Wisconsin Alumni Association and the University of Wisconsin–Madison. The goal for 2013 is to raise $11 million for the university's top annual funds from more than 10 percent of alumni.
—Nate Moll