Feedback on Library Mall design proposals sought
An oval. A great lawn. Or something more historic? Those are the three main options for the remake of the 700 and 800 blocks of State Street and Library Mall.
The campus is encouraged to submit thoughts and feedback by email to
cpetykowski@cityofmadison.com and gbrown@fpm.wisc.edu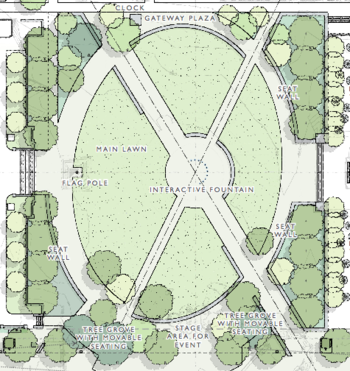 Detail of proposed oval design option for Library Mall. Click on link below for full maps.
The oval design includes an oval sidewalk system with a classic design that keeps with the original layout of Library Mall, says Gary Brown, director of campus planning and landscape architecture. The great lawn concept has more lawn space and a rectangular sidewalk system. The historic design's plans are still being constructed but would keep with a more historic restoration of Library Mall.
View proposed oval and great lawn designs (pdf).
A series of public meetings have been held to gather input about what type of design people envision. This meeting is being held just after the start of the school year to specifically give students, faculty and staff the chance to weigh in.
"We wanted to make sure they could participate in the process," Brown says. "The university is excited to be working with the city on their plans for the renovation of the 700-800 blocks of the State Street Mall and how those plans will be integrated into the future redevelopment of Library Mall. The options presented to date by the consultants show a much larger green space in Library Mall and options for continuing this area as an important public gathering space."
The focus of the design is to create a special place at the intersection of two iconic Madison corridors: State Street and the recently constructed East Campus Mall.
The city plans to reconstruct the State Street portion of the project beginning in May of 2014. The university will use preliminary plans for budgeting and reconstructing Library Mall in the future after funding is identified.
"We've received a lot of great feedback from the Madison community, including students, faculty and staff. It's clear we need more lawn, green, trees, shade and seating options in Library Mall and near the food carts," Brown says. "We are very happy to see everyone is engaged and willing to share their creative ideas. We hope to gather further input from faculty, staff and students."
Another public meeting will be held in October.