Chazen docents help bring art to life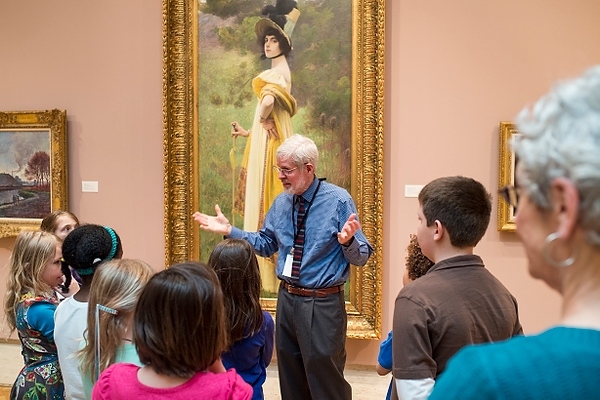 Volunteer docent John Young leads a group of third-grade students from Madison's Emerson Elementary School on a guided tour of artwork from the permanent collection on display at the Chazen Museum of Art. The museum also offers drop-in tours Thursdays at 12:30 p.m. and Sundays at 2 p.m.
Photos: Jeff Miller
More than 5,000 years of paintings, sculptures and other treasured artworks take on new dimensions and deeper meanings for visitors at the Chazen Museum of Art, thanks to a volunteer corps of dedicated docents.
The trained docents, who lead museum tours, range from retired university professors and elementary school teachers to pathologists and metalworkers.
No matter what their background, the Chazen's docents strive to bring the university's mission of giving back to the state through an appreciation of art and teaching.
"This is a really unique cultural institution for the campus and for the city," says John Young, a docent and UW professor emeritus of atmospheric and oceanic sciences. "It's a bridge between both groups when it's really working well. To me, I'm proud to be a volunteer at a place like this of high quality."
"The docents are attracted to the real reason for the university, which is teaching. There's a love of learning here and a pride in the university."
Anne Lambert
While every tour is different, some of the paintings and sculptures in the museum are guaranteed to get the attention of visitors. Among one of the docents' favorite paintings is the "Fall of Novgorod," an 1891 oil painting by Klaudii Vasilievich Lebedev measuring about 6-feet-by-9-feet.
The painting centers on a broken bell being taken away from a town, which was at the center of a 15th century republic, symbolizing its downfall. At the center of the painting, a woman stares blankly at the viewer in shock.
"It's clearly a story and it's so dramatic," says Sandra Ihle, a docent who has been with the program for almost 10 years. Ihle taught writing in UW–Madison's School of Business before coming to the program.
The painting often produces mixed reactions and emotions with its viewers.
"People bring Russian visitors to campus and the city, and bring them to see the painting," Gigi Holland, a docent since 2010, says. "It has reduced visitors to tears."
Docent John Young interacts with students as he explains a furniture exhibit at the Chazen Museum of Art
"It's really great because it even captures the kids," Young says. "The kids are looking around and going 'What's going on?' because it's all so massive."
Even though they are not professionals, docents are highly knowledgeable about the art they present to visitors.
Training to become a docent involves an intensive 22-session course, held Tuesdays and Thursdays during the fall and offered about once every three years.
Becky Oaks, a former elementary school art teacher, retired to volunteer at the museum.
"I taught second grade mostly, and I always did a unit on art," Oaks says, adding that her class would visit the Chazen. "I knew I wanted to sign up for the next class, and when I found it was going to be in 2004, I tendered my resignation and quit teaching because I didn't want to wait."
After completing their initial training, docents volunteer for at least two years, giving at least 15 tours during the year. Added to that are on-going education sessions for various exhibitions, which happen twice a month, such as a workshop with current artist-in-residence Ikeda Manabu.
While docents give a minimum of two years to the program, many stay for far longer. A few who still give tours in the museum were part of the original graduating class of docents, who came to the museum a year after the Chazen (then the Elvehjem Art Center) opened in 1970.
They offer one-hour tours in French, German and Spanish, often for undergraduates enrolled in language classes. A few docents have given tours in Chinese, Polish and Russian.
One former docent even offered tours in Yoruba, which is spoken in Nigeria, Benin and Ghana, for a special exhibit on African art.
"I have to admit – we didn't have too many requests," says Anne Lambert, the Chazen Museum's curator of education and leader of the docent program.
Occasionally, docents will give tours to those suffering from visual impairments. In cases of total blindness, the visitors and their docents have received permission from a curator to touch selected works of art while using curatorial gloves to describe them.  
Meeting the demands of teachers and visitors requires flexibility. Docents never give the same tour twice and often have to constantly adjust the tours.
Students listen as John Young discusses a painting in one of the Chazen galleries.
"Docents must be flexible," Lambert says. "They take an unknown group here, spend an hour and 15 minutes, do the best they can and then the students get on the bus and they may never see them again. Every tour is an improvisation."
Much of the time, docents present tours to K-12 students, which provides an interesting set of reactions. Holland says some elementary school-aged students often mention that a few of the statues in the museum "needed clothes."
Lambert recalls receiving a note from a visiting class, praising an impressionistic artwork of a women wearing a hat and thanking the docent for "showing us the lady with the salad on her head."
She says these stories and notes, along with solicited evaluation from group leaders, provide the museum and docents with feedback on how to improve tours. The docents are also constantly sharing information between themselves regarding the paintings to provide the people to whom they give tours with the most valuable information possible.
"Sometimes we're the ones that give information. People who want to learn are so hungry for this information that groups of us do walkabouts," Oaks says. "Everyone has different information. We learn from each other. "
Lambert says this love of learning is a critical aspect of the more than 90 volunteers who give tours of the Chazen and its collections.
"The docents are attracted to the real reason for the university, which is teaching," Lambert says. "There's a love of learning here and a pride in the university."