Faculty, staff get to know Wisconsin, from rivers to forests to cities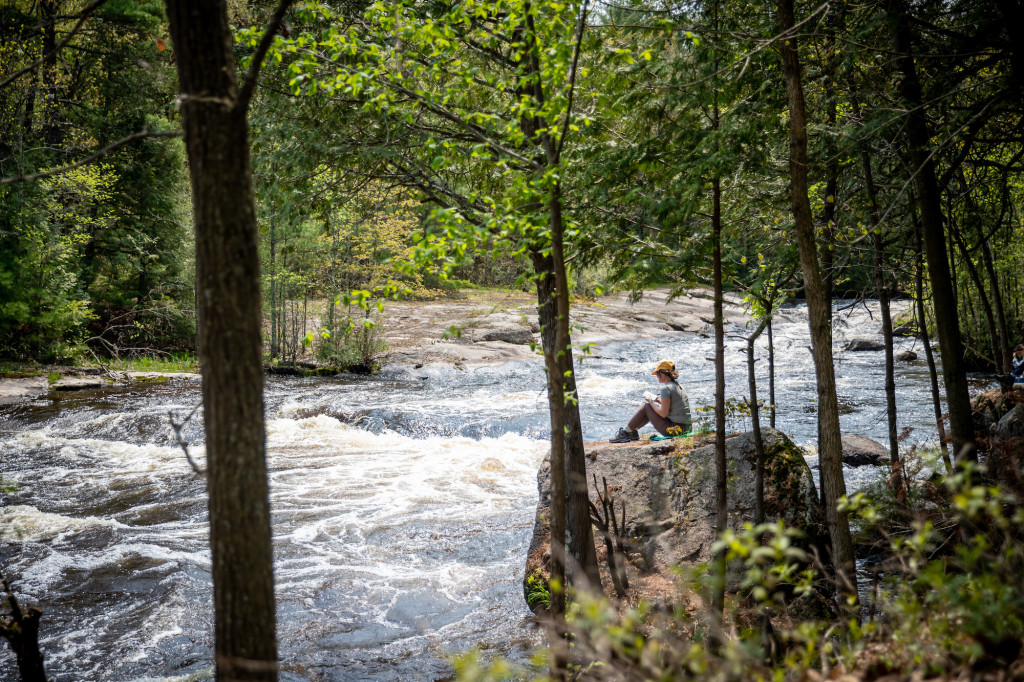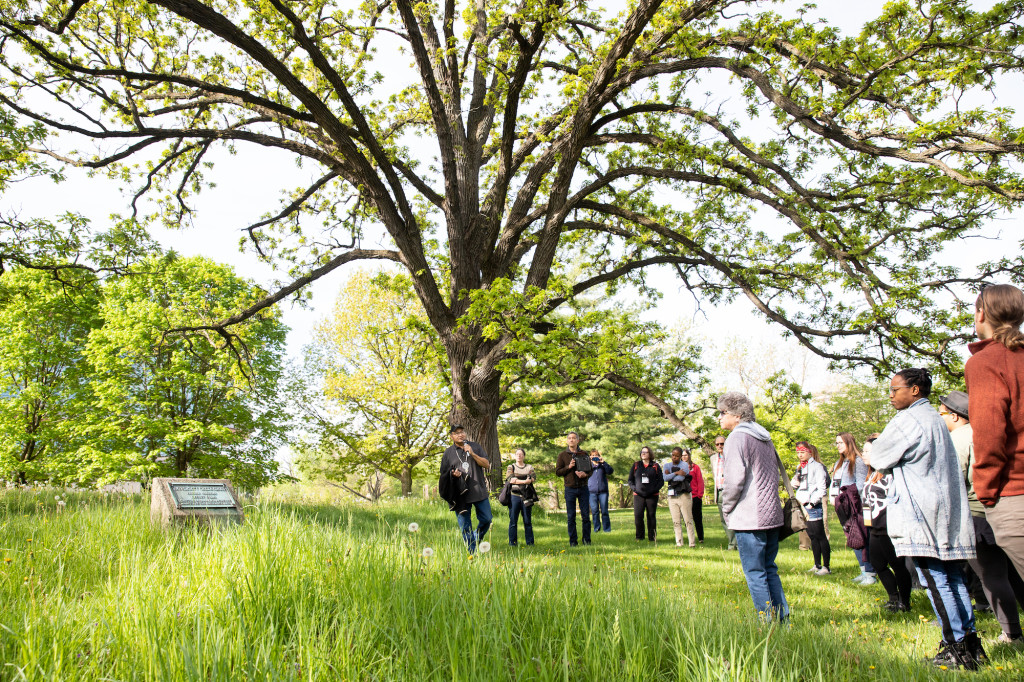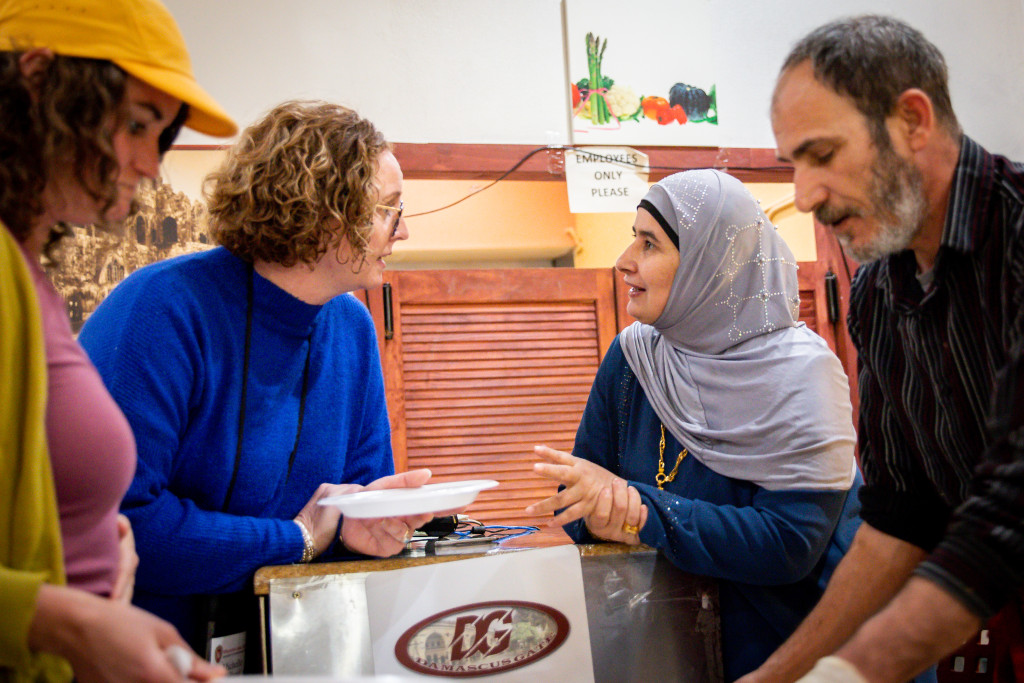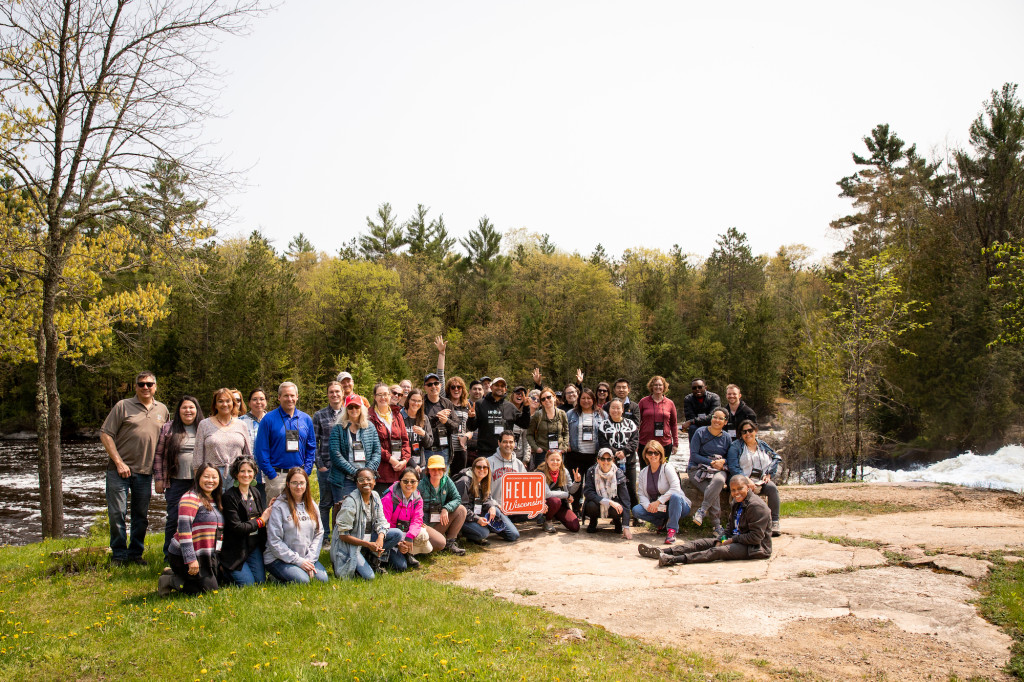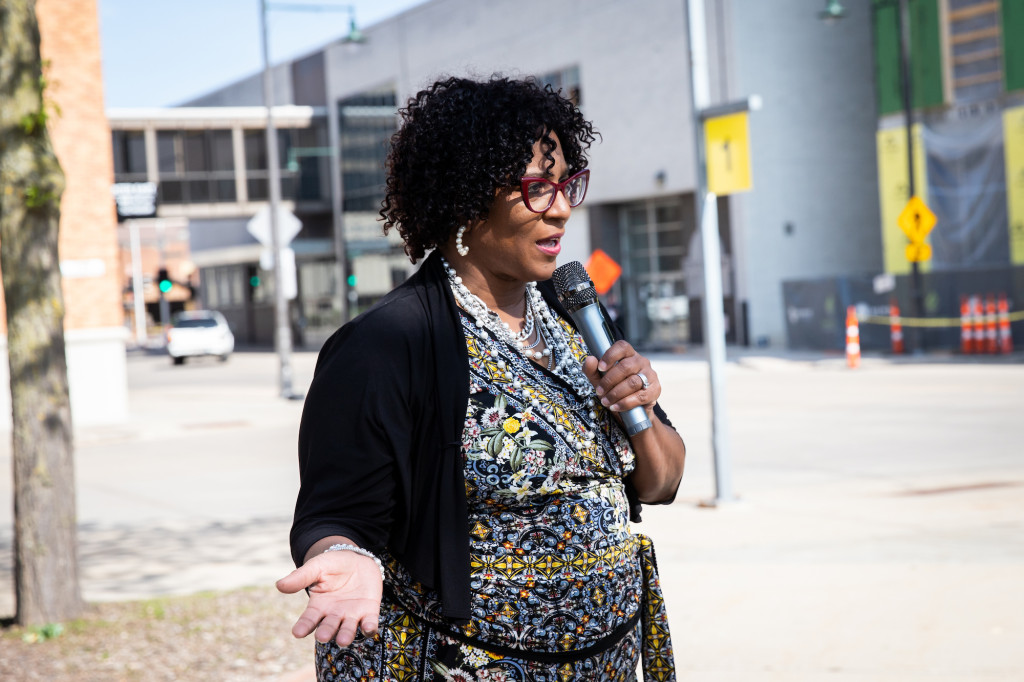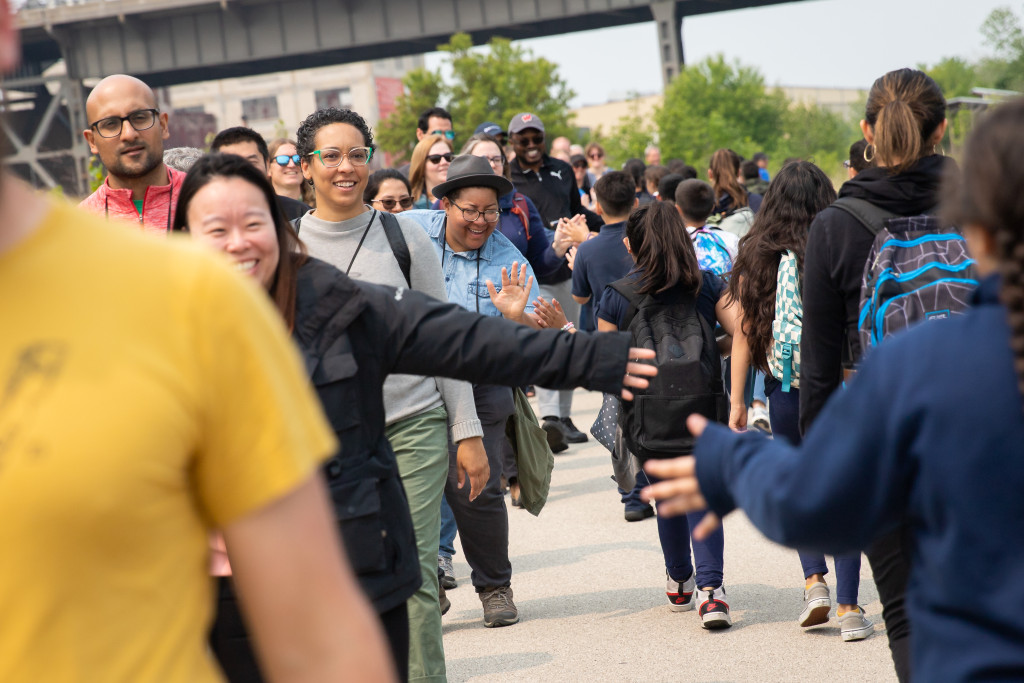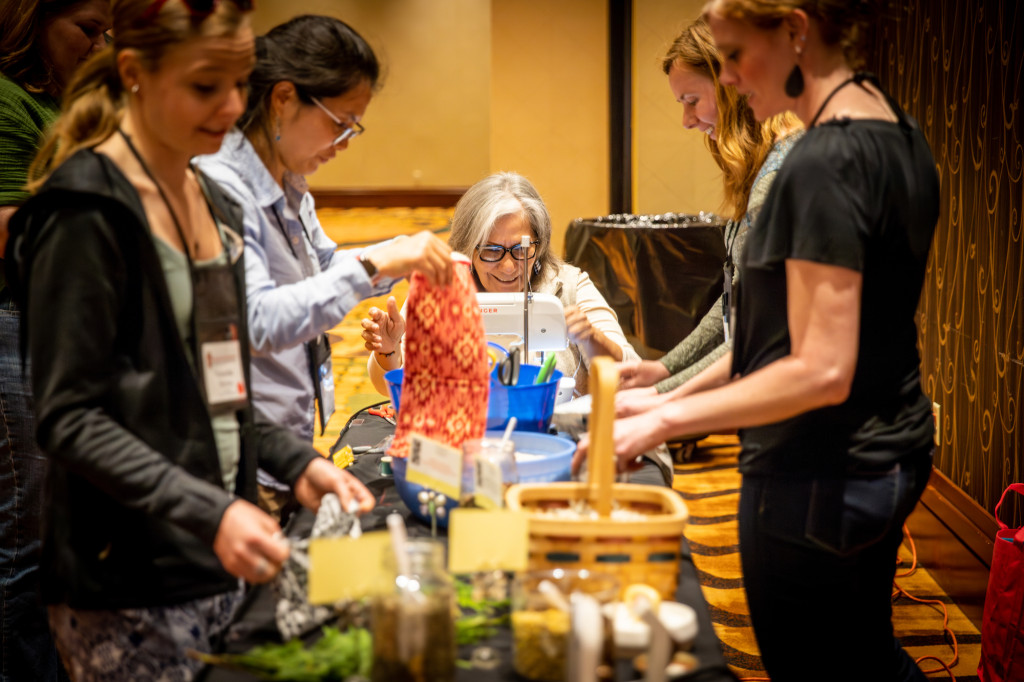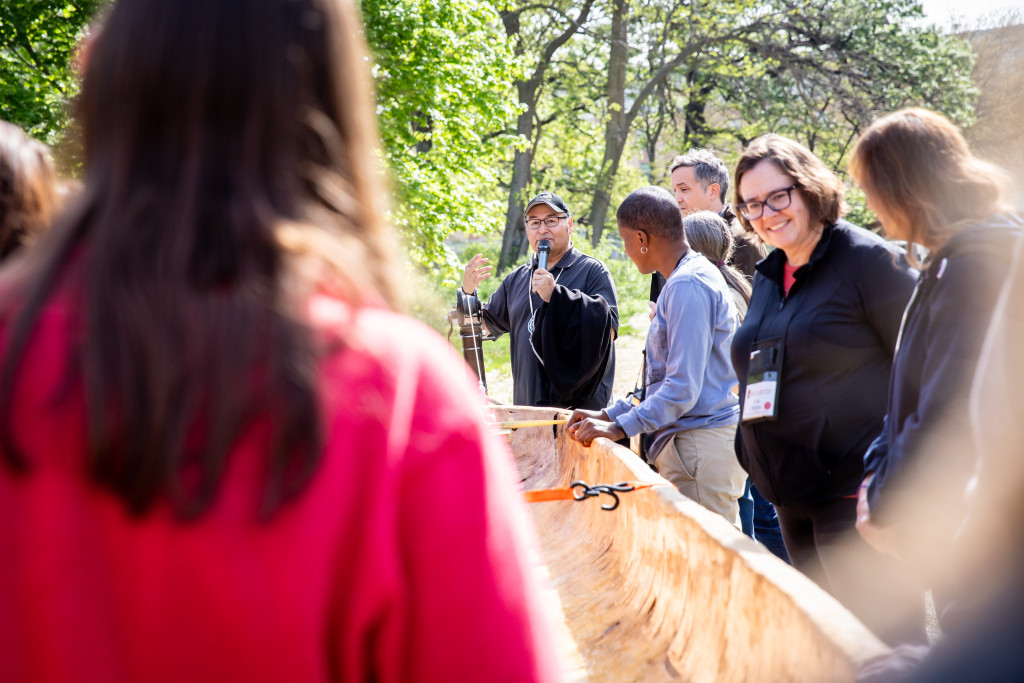 (Editor's note: Assistant Vice Provost Catherine Reiland is director of the Wisconsin Idea Seminar.)
The Wisconsin Idea Seminar's Forest + River experience started under a canopy of centuries-old bur oaks alongside mounds in Willow Creek Woods near the shore of Lake Mendota.
Forests like this one, an oak savanna managed by people and fire for millennia, was a fitting way to begin a 500-mile journey in which 39 faculty and staff contemplated cooperation, belonging, water, and place. Trees — and their forest communities — exemplify cooperation rooted in place.
The Wisconsin Idea Seminar is an annual five-day journey through Wisconsin that offers faculty and staff the opportunity to learn firsthand about the social and cultural contexts that shape the lives of many of our Wisconsin students, and to see what the Wisconsin Idea looks like when it is rooted in local communities and shaped by local priorities.
Faculty and staff became students of Wisconsin life and learned from folks who are deeply committed to the place where they live and who are fundamentally motivated by relationship-building, reciprocity and responsibility to people, land, and water.
We traced the contours of the land to Portage, a cultural and commercial hub for thousands of years, where the Wisconsin River angles toward the Mississippi and the Fox pivots northward to Lake Michigan.
We learned how Ho-Chunk people care for the land and how they preserve stories of place through food and language.
We saw innovation first-hand at Green Bay Packaging, a papermill that has set new standards for net-zero water.
We heard UW-Green Bay leadership describe how their institution serves the third-largest economic region of Wisconsin and how they respond to local needs.
In Appleton we learned how community historians of color are lifting up local histories, bringing to the surface the experiences of the first Black residents in the Fox River Valley who built hope for themselves and others.
We paused among the pines of the Menominee to consider the power of plants to heal and to bring comfort. Stacks of white pine in the log yard of the Menominee Tribal Enterprise reminded us that the products of their mill are at once hyper local and destined to regional and international markets.
We were lulled into quiet contemplation by the sound of the Wolf River, swollen with snowmelt, cascading down 20 feet at Big Smokey Falls.
We met high school students at Escuela Verde in Milwaukee who are sketching out their futures, inspired by collective care and interdependent learning.
We learned Menominee language action verbs from students and teachers of Menomini yoU, a program that is dedicated to the revitalization and renormalization of the Menominee language and lifeways. And we learned one of the most important words of all: wāēwāēnen (thank you).
We are so grateful to the tireless and generous hosts and collaborators across the state who spent months planning, consulting, and offering expert guidance and ideas that strengthened and enriched our collective learning.
And at nearly every stop, we met with UW–Madison alumni who are proud of their alma mater and who bring a Badger spirit to the work they do in their home communities.
The Wisconsin Idea Seminar is a program of the Provost's Office and is made possible with the support of many UW–Madison schools and colleges and the Evjue Foundation, the charitable arm of the Capital Times and long-time underwriter of the Seminar since 1985.
A special thanks to Phoua Holt, executive assistant in the Office of the Provost, whose excellent assistance contributed to the success of the 2023 Wisconsin Idea Seminar.
What they learned
"You leave the experience with a strong sense of our connectivity—to our ancestors, our state, and those all around us. The trip modeled respectful engagement, going into communities to learn, listen, and ask what partnership could look like from their perspective."
Lisa Ellinger, director of strategic initiatives, La Follette School of Public Affairs


---
"As a non-native, newly minted Wisconsinite, the Wisconsin Idea Seminar introduced me to just a few of the many diverse communities that make up the beautiful state of Wisconsin. The wide range of experiences, from a dairy farm to an urban high school, inspired me to think creatively about how to best harness university resources for the betterment of UW–Madison and surrounding communities. I feel better equipped to talk to my students about their hometowns and their interests and to imagine a broad range of possibilities for their aspirations and futures."
Brittney Edmonds, assistant professor, African American Studies


---
"Even before the Seminar, I was reflecting on how to balance work that fosters my scientific curiosity with addressing societal needs. Hearing so many different perspectives and entering environments that I do not experience in my daily life was transformative; I was unaware of how much tunnel vision I had in how I was viewing societal challenges."
Matthew Gebbie, assistant professor, Chemical and Biological Engineering


---
"The Seminar taught me that the UW–Madison community craves greater connection to the state, and that we have many potential colleagues outside Madison waiting to meet us.  It made me feel like a kid again, seeing my state with new eyes and sharing the joy of exploration with new friends."
Peter Moreno, director, Prison Education Initiative, Liberal Arts and Applied Studies


---
I found it very interesting how different groups conceptualized sustainability. We met with dairy farmers, cardboard manufacturers, forest managers, language keepers, and social change advocates. Whether they were concerned with a business/industry, the environment, culture, or communities, they all thought about sustainable practices
Kelly Ward, assistant professor, Gender & Women's Studies and Sociology